Salted Caramel Cheesecake Pudding dessert will be one of your favorites from now on!   Adding salt to this classic cheesecake pudding highlights and lets you enjoy the rich complexity of the caramel.  This Salted Caramel Cheese Pudding is a definite keeper.  It is so easy to make.
I slightly adapted this recipe is by Michael Moorhouse and appeared in the October, 2004 issue of Food and Wine magazine.  Pastry chef Michael Moorhouse sprinkles crunchy bits of fleur de sel on his moist, intensely flavored cheesecake topped with thick, golden caramel.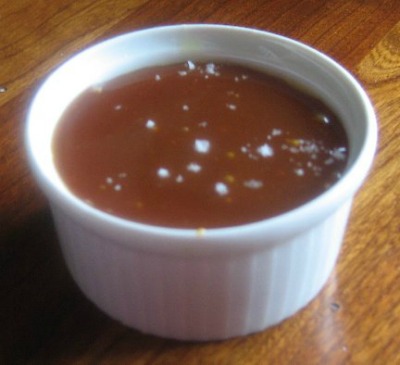 Salted Caramel Cheesecake Pudding Recipe:
Keyword:
Salted Caramel Cheesecake Pudding Recipe
Servings
:
5
to 6 servings
Ingredients
8

ounces

cream cheese,

room temperature

1/2

cup granulated

sugar

3

large

eggs,

room temperature

1/2

cup

sour cream

6

tablespoons

light corn syrup

1/2

cup plus 2 tablespoons granulated

sugar

3

tablespoons

unsalted butter

1/2

cup

heavy cream
Fleur de sel

or sea salt
Instructions
Preheat oven to 325 degrees F.

In a large bowl, beat cream cheese and sugar at medium speed of your mixer until smooth. Beat in the eggs, one at a time, then beat in the sour cream. Pour into six (5-ounce) individual ramekins or custard dishes.

Definition of Water Bath or Bain-Marie (bahn mah-REE):

A hot water bath or bain-marie are used to cook custards and baked eggs in the oven without curdling or cracking, and also used to hold sauces and to clarify butter.

Water baths are most often used for egg-based dishes.

The proteins in the eggs are very heat sensitive and only need to be warmed to cook thoroughly. They will start to get firm at only 145 degrees. Cooking them with a slow, gentle heat keeps the eggs soft and smooth.

Place ramekins or custard cups into an ovenproof roasting or baking pan. If cooking custards in a metal pan, cover the bottom of the pan with a layer of newspaper to ensure an even temperature on the bottom.

Bring the water for the water bath to a light simmer on top of the stove; carefully pour hot water into the baking pan to come half-way up the sides of the custard cups. NOTE: The most common mistake people make in baking custard is not putting enough water in the hot-water bath.

Bake approximately 15 to 20 minutes or until set around the edges but still loose in the center. The edges will have started to firm up, but the centers will still be soft. The cooking time will depend largely on the size of the custard cups you are using.

Turn off the oven and leave the cheesecakes in the oven for 30 minutes; remove from oven and transfer the ramekins to a rack and let cool completely. NOTE: The cheesecakes can be refrigerated for up to 2 days.

In a heavy saucepan over low to medium-low heat, heat the corn syrup. NOTE: I find that by maintaining a low heat, I have more control over the caramelizing process, as it is really easy to burn.

Stir in the sugar and cook, stirring constantly, until sugar dissolves and mixture just begins to simmer. After sugar dissolves and syrup is simmering, cook for approximately 8 to 10 minutes, without stirring. Every so often, hold handle of pan and gently tilt the pan off the heat to distribute color evenly as sugar caramelizes.

When sugar reaches a uniform golden brown (dark amber) color, immediately remove from heat. Off the heat, carefully stir in the butter with a long-handled wooden spoon. Stir in the cream in a thin stream. Transfer the caramel to a heat-proof pitcher and let cool. Once the caramel is cool, stir in 3/4 teaspoon of fleur de sel salt.

Serving Salted Caramel Cheesecake Pudding:

When ready to serve, pour 1 1/2 tablespoons of the caramel over each cheesecake and swirl to coat the tops. If the caramel is to thick, warm it in a microwave oven at 10-second intervals.

Refrigerate the cheesecakes until chilled, at least 3 hours. Sprinkle with fleur de sel salt just before serving.

Makes 5 to 6 servings (depending on size of the custard cups).
Comments and Reviews