Nothing could be a more typical, totally American, dessert than Strawberry Shortcake.  Plus what could taste better during your local strawberry season?  
There's nothing that says "Hello Summer" quite like eating a juicy vine-ripened strawberry that has been ripened to perfection in the early summer sunshine.  Strawberries serve more than just fulfilling the sweet tooth.  It is packed with hordes of health benefits, making a nutritious fruit for mind and body.  Did you know?  Strawberry shortcake parties became popular in the United States around 1850, as a celebration of the coming of summer.
My family would not be happy if we did not have this strawberry dessert during our local strawberry season.  So, either go pick some fresh local strawberries or buy some from your local market and make this delicious dessert for your family and friends.  This is the way my mother used to make Strawberry Shortcake, and this is the way I and my daughters still make it.  So good and yummy!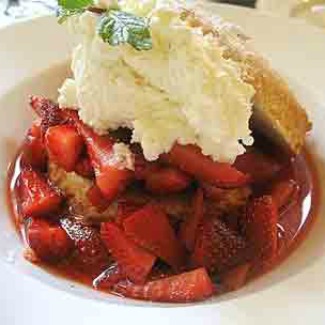 Click here to find out about Strawberry Hints, Tips, and Information and more Strawberry Recipes.
Old-fashioned Strawberry Shortcake Recipe:
Keyword:
Old-fashioned Strawberry Shortcake Recipe
Ingredients
Shortcake:
4

cups all-purpose

flour

1/2

cup granulated

sugar

2

tablespoons

baking powder

1/4

teaspoon

salt

1/2

cup

butter

or margarine, chilled

1

egg,

beaten

1 1/4

cups

milk
Instructions
Strawberry Filling Instructions:
Prepare and bake Shortcake.

Wash and hull strawberries. Remove the green caps (stems) with a light twisting motion or with the point of a paring knife. It is as easy as a twist of the wrist. You can also purchase a strawberry de-stemmer/huller at your local kitchen store or online. Either leave the strawberries whole or sliced.

Perfect Strawberry Slicing Tip: Use your egg slicer. Stem the strawberries first, then slice just like you would a boiled egg. (Much quicker than using a knife.)

In a large bowl, place strawberries and sprinkle with sugar; cover and refrigerate. Note: As strawberries tastes best at room temperature, remove from the refrigerator approximately 1 hour before they are to be used.

In a medium bowl, beat the whipping cream until stiff peaks form; fold in sugar.

To serve, split baked shortcakes into halves. Ladle strawberries onto top of shortcake and top with a dollop of whipped cream.

Tips: Shortbread is best served when warm. Shortcake can be reheated. The berries will be juicier if you crush a few before sugaring and let them sit for an hour before using.
Shortcake Instructions:
Preheat oven to 400 degrees F. Grease two large baking sheets.

In a large bowl, combine flour, sugar, baking powder, and salt. With a pastry blender or two knives, cut in butter or margarine until particles are the size of small peas; stir in egg and milk.

On a lightly floured surface, using 1/2 cup dough per biscuit, pat dough into eight (4-inch rounds).

Bake 15 to 17 minutes or until golden brown.
Recipe Notes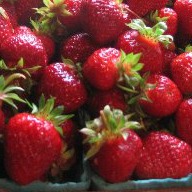 * When purchasing berries from the grocery store, shop with your nose.  Always pick the plumpest and most fragrant berries.  They should be firm, bright, and fresh looking with no mold or bruises, and fresh green caps (stems).  Berries should be dry and clean; usually medium to small berries have better eating quality than large ones.  Strawberries do not ripen after they have been harvested, so choose strawberries that have been picked fully ripened.
** Use sugar to taste. Sometimes the ripe strawberries are so sweet that you do not even need to add sugar - taste before adding.
Comments and Reviews