Vanilla Cheesecakes with lemon curd are just right for serving when you have friends visiting for an afternoon lunch, or tea, or for a weekend brunch dessert.  Lemon curd and cheesecake are a great combo.  Try making these with a graham cracker crumb base with a little bit of lemon extract added or finely grated lemon zest, to give them that extra lemon zing.
This wonderful vanilla cheesecake recipe, comments, and photo has been provided by Diana Baker Woodall from Diana's Desserts website.  The recipe is reprinted here with her permission.  Diana adapted this recipe from a dessert prepared by Executive Chef, Michael Mina, of AQUA Restaurant in San Francisco, California.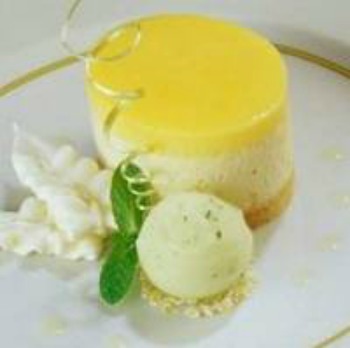 Individual Vanilla Cheesecakes with Lemon Curd Recipe:
Keyword:
Individual Vanilla Cheesecakes with Lemon Curd Recipe
Instructions
Vanilla Cheesecakes with Lemon Curd Instructions:
Lightly butter and sugar six (4-ounce) ramekins and set aside.

Prepare Lemon Curd. Fill ramekins 1/8th of the way up with lemon curd mixture. Set aside until you are ready to pour cheesecake mixture in ramekins and bake.

Put on a kettle of water to boil, or if you don't have a kettle, boil at least 2 to 3 quarts of water in a large pot. (This hot water will be used for a "water bath" when you bake your cheesecakes).

Preheat oven to 350 degrees F.

Using a mixer, cream together the sugar and cream cheese. Scrape the seeds from the 1/2 vanilla bean and add to mixture. Fold in cornstarch, scraping down the sides with a spatula; mix until soft. Incorporate eggs into mixture, one at a time, until combined; add vanilla extract and sour cream.

Spoon or pour the cheesecake mixture over the lemon curd in each ramekins and place ramekins in a deep baking or roasting pan. Add enough of the hot water to the baking pan to come 1/2 way up the sides of the ramekins.

Bake for 45 minutes to 1 hour or until center is set. Carefully remove pan (with water in it) to a cooling rack. Leave cheesecakes in pan with water for 15 minutes, and then remove them. Pour water out of pan (you are now through with the water bath water). Let cheesecakes cool on rack for 1 hour, then put them in the refrigerator to chill for at least 4 to 6 hours or overnight.

When ready to serve, remove from refrigerator, and invert onto individual dessert plates or serve in ramekins. Garnish with small slices of lemon and a mint sprig.
Lemon Curd Instructions:
In a double boiler whisk eggs, egg yolks, sugar, and lemon juice; cook, stirring constantly, until thick. Remove from heat and whisk in creme fraiche and butter until melted. Strain mixture through a sieve.

Reduce oven temperature to 325 degrees F.
Recipe Notes
* If you can't find creme fraiche, sour cream may be substituted.
Comments and Reviews