Enjoy this recipe for decandant chocolate truffles.  It will be love with each bite!   A perfect addition to your holiday goodie tray or as a gift.
This wonderful Chocolate Truffle recipe and photo are courtesy of Cynthia Detterick-Pineda of Andrews, TX.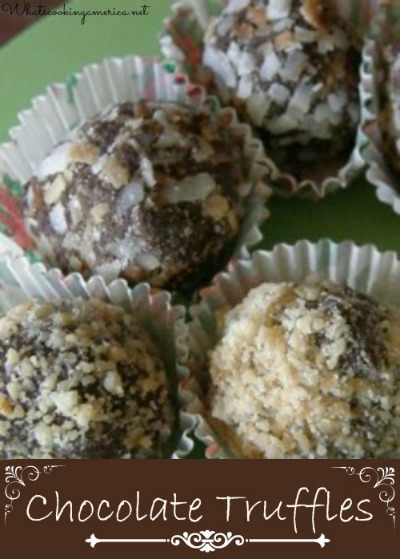 From as early as I can remember, holidays were a special time in the kitchen at our house, and at the houses of both my grandmothers.  It almost seemed that starting from the week before Thanksgiving (sometimes even earlier), until well after the New Year has rung in, the kitchens were all abuzz with activity.
I was just small child when I can remember helping my mom with the Christmas cookie and candy making.  It made me feel so special the first time you let me get up on the stool to help her when she made the divinity.  She careful poured this boiling hot sugary, syrupy mixture over the egg whites that she had allowed me to beat stiff with her old stand mixer.   I had become a part of the holiday candy making tradition from that moment on.
I will admit, I do love divinity, and fudge, and most any other candy (even some that come in wrapper at the store, even if they are not as good as what comes out of a kitchen stocked with love).  However, the first time I ever bit into a truffle, it was definitely love at first bite! The problem was, when you love something that much, you don't want to pay a fortune for a tiny box of them when you know you can make them yourself.  So I began to research, and experiment, and then research some more when my experiments came out like something from a B horror flick.  I took a little info here, and some there, and finally I came up with a recipe I think can match even the priciest truffles you can find to buy.  This recipe may look long, or you may even think it is harder than what it is worth, but try it just once and you will realize that despite the lines of text you see below, making truffles is an incredibly easy task that can more than pay for itself with the very first batch!
More wonderful Chocolate Recipes and Candy Recipes.
Chocolate Truffles Recipe:
Keyword:
Chocolate Truffles Recipe
Ingredients
10

ounces bittersweet

chocolate,

chopped very, very fine

3

tablespoons

unsalted butter

1

tablespoon

light corn syrup

1/2

cup

heavy cream

1/4

cup

liqueur

of your choice (I like to use Kahlua, DisArrono, or Amaretto)
Suggested Truffle Coating:
1/2

cup

Dutch-Process cocoa

Nuts,

finely chopped

Coconut,

toasted

8

ounces semisweet

chocolate

(for dipping) Chocolate candy coating can be used instead.
Instructions
In a microwave-safe bowl (glass bowl preferred because it retains heat and keeps the chocolate tempered for a longer time), place chocolate in the microwave for thirty seconds at a time on high power until the chocolate it melted. Be very careful not to overheat the chocolate. The chocolate may not look as if it has completely melted, because it retains its shape. The chocolate should be only slightly warmer than your bottom lip. You may still see lumps in it once you've stirred it, but don't worry; the residual heat of the chocolate will melt it.

In a small saucepan over medium heat, heat the butter, corn syrup, and cream until it just begins to simmer; remove from heat. NOTE: Stir constantly while doing this to avoid scorching the mixture on the bottom of the pan. Pour the cream/corn syrup mixture over the tempered chocolate and let it stand for about 2 minutes. The heat from the mixture will finish the meting of the chocolate. You now have a chocolate ganache.

Stir the chocolate ganache mixture carefully, but thoroughly until it is smooth and creamy. Stir in the liqueur (of your choice) and make sure it is mixed throughout the chocolate. Spoon the mixture into a 8-inch by 8-inch glass baking dish and cover it with plastic wrap. Place in the refrigerator to cool until it is firm, approximately 1 to 2 hours.

When the chocolate ganache is cooled and firmed, scoop out small amounts with a spoon or melon baler, and place on a cookie sheet lined with parchment paper or a Sil-Pat. Return this to the refrigerator to firm up again. You will see just how quickly the ganache begins to melt when it is removed from the refrigerator, especially if you are using your hands to form a more ball like structure with it.

While you are waiting for the ganache to get firm, get your Truffle Coating Ingredients ready:

Place the Dutch cocoa in a small bowl.

Finely chop the nuts in a food processor or similar (toasting the nuts before chopping can give them a deeper flavor). To toast pecans, almonds, or walnuts, place them in a dry skillet over medium heat and stir constantly to avoid burning until you can smell the aroma of the nut. Remove from the heat immediately and allow to cool before chopping.

Toast the coconut in a 350 degree F. oven for 10 minutes or until slightly brown. Remove from oven and allow the coconut to cool; then crush it in a plastic bag so that it is fine.

Chocolate candy coating can be melted in the microwave or on the stove with a double boiler. Follow the manufacturer's recommendations for melting.

Finely chop 8 ounces of semi-sweet chocolate and place into a medium-size bowl. Although this can be done on the stove with a double boiler, the easiest way, and safest way of keeping the chocolate "temper", is to use a heating source such as a hot plate on low to medium, or even a heating pad under the bowl. Stirring occasionally, heat the chocolate until it reaches 92 degrees F. on your CookingThermometer.

NOTE: Keep it at this temperature to maintain that crisp crunch when it is cooled around the truffle center. DO NOT heat your chocolate above 94 degrees F, the temperature at which you will loose the temper.

Now you are ready to rock and ROLL! Roll the truffles that is….

Remove the chocolate ganache from the refrigerator in small batches. Roll it in your palm to form a ball. Immediately place it in the coating of your choice and cover completely. Place the coated ball back on a lined cookie sheet and allow to set up in a cool dry place for at least 1 hour. To cover the balls with chocolate, use a small slotted spoon or a fork, and allow the chocolate to drip off after you have dipped it, then place on the cookie sheet with the others.

I like to make a variety of truffles, and it is just as easy as changing the coating, or even changing the liqueur you are using.

I get many readers asking what cooking/meat thermometer that I prefer and use in my cooking and baking. I, personally, use the Thermapen Thermometer. Originally designed for professional use, the Super-Fast Thermapen Thermometer is used by chefs all over the world.  I only endorse a few products, on my web site, that I like and use regularly.
You can learn more or buy yours at: Super-Fast Thermapen Thermometer.
Sponsored Content
Comments and Reviews