Did you know that more than 1 billion Marshmallow Peeps are made each year and that 4.2 million are made every day?  The most popular color of Marshmallow Peeps is yellow, with pink, lavender, blue, and white being next in order.
History of Peeps Candy: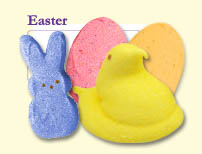 Following information is from the History Magazine, April/May 2011 Issue, History Trivia by Donna Alice Patton:
If you love Peeps, you can thank a man named Sam Born.  Sam was a Russian who moved to the United States from France in 1910.  While in France, he learned the fine art of making chocolate.  He later invented a machine that could put a stick in a lollipop automatically.  In 1917, Born opened a candy shop in New York. Everyday,  He make a new batch of chocolates and put a sign in his window, "Just Born."  This was to tell his customers the chocolate were ready. It is how his company got its name.
The Just Born Company moved to Pennsylvania in 1932 and kept making fine chocolates.  In 1953, he decided to purchased the The Rodda Candy Company that was famous for jelly beans and a funny little marshmallow chick.  They made each chick by squeezing marshmallow out of a pastry tube.  In 1954, Bob Born (son of founder, Sam Born) invented a machine to  make the chicks faster.  Just Born became the biggest marshmallow candy company in the world.
Also learn how to make Homemade Marshmallows and Homemade Marshmallow Fluff/Cream.
Peeps Candy Recipe - Marshmallow Peeps Recipe:
I adapted this recipe from the Oregonian FOODday newspaper in Portland, Oregon.  This sugar, soft, chewy treat nesting in the Easter basket is hard to beat when it is homemade.
Keyword:
Marshmallow Peeps Recipe, Peeps Candy Recipe
Servings
:
80
marshmallow Peeps
Ingredients
Vegetable oil

(for the pan)

Powdered sugar

(confectioners' sugar)

2/3

cup

water,

cold and divided

2

envelopes (2 tablespoons) unflavored

gelatin*

1 1/3

cups granulated

sugar

1/2

cup

light corn syrup

1/2

teaspoon

salt

1

teaspoon

pure vanilla extract

Colored sugar

(for decroating)

Tiny amount of

chocolate,

melted (for decorating)

Chick shaped cookie cutter
Instructions
Line the bottom and sides of a 13- by 9-inch baking pan with plastic wrap; oil and then generously dust bottom and sides with some powdered sugar.

In the bowl of an electric mixer, place 1/3 cup cold water; sprinkle the gelatin over the surface.

In a heavy saucepan with a tight fitting lid, add sugar, corn syrup, salt, and remaining 1/3 cup water; stir to dissolve sugar. Cover the pan and place over moderately low heat. Remove the cover after 4 to 5 minutes. The steam will have caused any sugar crystals to dissolve and the syrup will be bubbling lightly. Increase the heat to high, insert a candy thermometer, and boil the syrup, without stirring, until it reaches 240 degrees F. Immediately remove from the heat.

Fit your electric mixer with the whisk attachment. slowly and carefully pour the syrup into the gelatin while the mixer is beating constantly at medium speed. When all of the syrup has been added, increase the speed to high and whip for approximately 10 minutes until the mixture is lukewarm very white, and the consistency of marshmallow cream. Add the vanilla extract toward the end of mixing.

Pour the marshmallow mixture into the prepared pan; smooth the top and sprinkle liberally with colored sugar of your choice. Let the pan stand, uncovered, at room temperature to dry. out. NOTE: Depending on the humidity, this may happen in several hours or take up to 8 hours. Generally speaking the longer you let it set up, the easier the marshmallow sheet will be to cut.

When ready to cut, invert the pan of marshmallow onto a clean cutting surface; remove the plastic wrap and coat the top with colored sugar (it should adhere easily).

Use cookie cutters to stamp out your peeps (or bunnies) and toss them in a bowl of sugar to coat the edges. If you find your cookie cutter getting sticky, was it and lightly coat with vegetable oil. With a toothpick apply a dot of chocolate to form an eye.

Store the marshmallow peeps in an airtight container.

Makes about 80 marshmallow Peeps.
Recipe Notes
* Learn how to use Gelatin in your cooking and also the history of Gelatin, Gelatine, and JELL-O.  
Granulated or powdered gelatin, gelatin sheet, or instant gelatin can be used interchangeably in your recipes.  In order to achieve the correct results when preparing recipes includes gelatin, you must be able to handle gelatin properly and incorporate it correctly.
Comments and Reviews