Pumpkin Cream Cheese Truffles make a delicious fall treat, great for Halloween or Thanksgiving.  Are you a pumpkin lover? Are you looking for something new to make with pumpkin this fall? Maybe you have just a little pumpkin filling left over from the can? All pumpkin lovers will delight in these truffles filled with familiar pumpkin spices, cream cheese, gingersnap and graham cracker crumbs, rolled into balls and dipped in white chocolate, for a bite-size treat you won't want to share. They are addictive so be careful, you can't really just have one, or two so you better make extra because you are going to have to share. In fact they make a great holiday party treat, a platter of these will go fast.
I served them at our Halloween party and they were a big hit.  My husband likes to call them Pumpkin Pie Truffles; they are one of his all-time favorites because they are very rich, sweet, and oh so good.  They are made somewhat similar to the famous
Oreo Truffles
.
If you are obsessed with pumpkins, add these truffles to your list of pumpkin flavored treats this fall, you are going to love them! They are a very unusual, delicious, pretty, and bursting with pumpkin flavor.
Are you looking for a easy treat to make with kids? These are also a great no-bake treat to make with kids, they love rolling the balls and dunking them in chocolate.
Tip: Chilling the truffle mixture before rolling into balls as the truffle mixture is very soft. Refrigerate for at least 1 hour before rolling into balls. Give them a try this year and surprise your family and friends.
More wonderful Chocolate Recipes and Candy Recipes.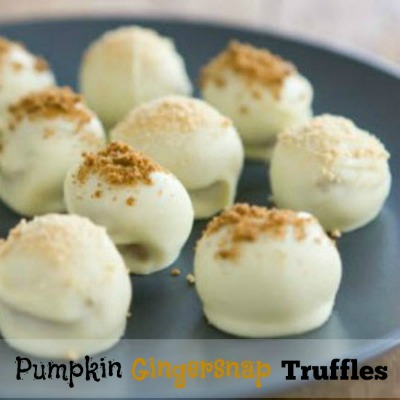 Pumpkin Cream Cheese Truffles Recipe:
Keyword:
Pumpkin Cream Cheese Truffles Recipe
Ingredients
2 1/2

cups

white chocolate

(top-quality), chopped into small pieces and divided*

1/3

cup

gingersnap cookie

crumbs, plus more for garnish

1/4

cup

pumpkin puree,

canned

1/4

cup

graham cracker

crumbs, plus more for garnish

1

tablespoon

powdered sugar

(confectioners' sugar)

1/2

teaspoon

orange zest

1/8

teaspoon

cinnamon,

ground

Pinch of fine

salt

2

ounces

cream cheese,

softened
Instructions
Add gingersnap crumbs, pumpkin puree, graham cracker crumbs, powdered sugar, orange zest, cinnamon, salt, and cream cheese to the melted chocolate; beat with an electric mixer until smooth. Transfer the mixture to a shallow bowl, cover, and refrigerate until just solid enough to roll into bells, approximately 2 hours.

Line a large baking sheet or tray with either parchment paper, wax paper, or a Silicone Baking Mat; set aside.

Melt the remaining 2 cups white chocolate in a double boiler; remove from heat and transfer to a small deep bowl.

Using your hands, roll 1 heaping teaspoon of the pumpkin/cream cheese mixture into a ball. Place the balls in the freezer to set back up before coating them. The colder the truffles are the easier they are to dip. If you can freeze them for a time the chocolate will adhere and harden instantaneously. The dough balls may be stored in the freezer for up to 1 week before dipping in chocolate.

Once the dough balls are well chilled, remove from refrigerator. One at a time, drop the ball into the melted white chocolate. Working quickly, gently spoon chocolate over the ball to coat. Using a small spoon or fork, lift the coated truffle ball out of the chocolate, shake off any excess and chocolate, and transfer to the prepared baking sheet or tray.

Dollop a bit of extra melted chocolate on any parts of the truffle ball that remains exposed, then sprinkle a few gingersnap or graham cracker crumbs over the top, if you like. Repeat process with remain pumpkin/cream cheese mixture and melted white chocolate.

Refrigerate the truffles until the chocolate is completely set, approximately 1 hour. For best results, chill truffles until you are ready to serve them.

Makes about 30 truffles, depending on the size of balls you roll.
Recipe Notes
* If desired, you could substiture a semi-sweet dark chocolate.  Always use a good-quality chocolate.  The taste and quality of the truffle is primarily dependent on the quality of chocolate you start with.
Source:  I slightly adapted this Pumpkin Cream Cheese Truffles recipe and the photo are from the Whole Foods Market's web site.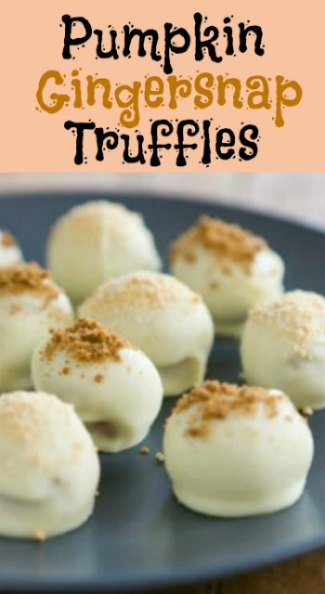 Comments and Reviews