Wheat-Free Food – Kamut and Chickpea Salad Recipe
By Charlotte Bradley
Check out all of Charlotte Bradley's Healthy Lifestyles columns.
Kamut (pronounced kah-MOOT) is an ancient grain closely related to wheat.  Recently, this nutritious and organically grown grain has gained popularity with home cooks, farmers and nutritionists.  "Kamut" is actually a name brand – the common name for Kamut is Khorasan.  It is a kernel similar in shape to a wheat kernel however it is about twice as big.  Kamut has a slightly sweet and nutty flavor.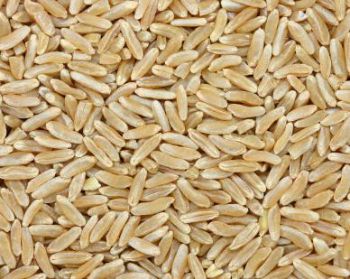 Modern legend has it that grains of Kamut were found entombed in the pyramids of Egypt and subsequently grown into modern crops.  It goes something like this … A U.S. airman based in Portugal bought 36 kernels of the Kamut grain from someone who claimed that it came from the pyramids of Egypt. He mailed the kernels home to his dad who was a wheat farmer.  His dad planted the grains and 32 of the 36 kernels sprouted.  Over the next six years the crops were carefully tended and with offspring, grew to 1500 bushels.
The unusual wheat was shown at the county fair where it was named "King Tut's Wheat."  The grains did not catch on at the time and ended up being fed to the farmer's cattle.  Bob Quinn (Kamut International's founder and president) was a young boy in the crowd at the time and years later, remembering the strange grain, he scoured the country until he found a pint of the seed.  He built up the strain and generated enough interest to market it commercially in the late 1980s.
The Egyptian pyramid tale makes for a very romantic though highly unlikely story!  It is widely accepted that Kamut is an obscure grain that was kept alive by peasant farmers in Egypt.  Unfortunately, in the last 50 years Kamut has vanished from its traditional lands being replaced by modern wheat varieties.  These days it is mainly grown in Montana and Alberta.
Why Eat Kamut?
Although Kamut is related to wheat, many people who are wheat intolerant are able to eat Kamut.  It is generally found to be more digestible.  Studies by the International Food Allergy Association (IFAA) concluded "For most wheat sensitive people, Kamut grain can be an excellent substitute for common wheat."
Kamut has many nutritional benefits.  It boasts about 30% more protein and 65% more amino acids than wheat and is rich in zinc, magnesium and vitamin E.  It is also higher in lipids and is considered a high-energy grain that is favored by some athletes.  One thing to note – Kamut is slightly lower in fiber than wheat.
Kamut is always grown organically; it has never been hybridized or genetically modified.  This has positive implications for sustainable agriculture as high-quality crops are achieved without the use of harmful fertilizers and pesticides.
Adding Kamut to your Diet
The whole Kamut kernel (also called the berry) can be used in place of just about any grain.  You can serve it hot (for example, in a pilaf) or cold (such as marinated in a salad – see the recipe below).
Kamut is also milled into flour and can be used in many recipes calling for wheat flour.  Characteristically, it's closer to durum wheat than harder wheat varieties (which makes it great for pasta) and does not contain as much gluten.  Kamut bread tends to be denser.  Some Kamut bread recipes call for the addition of wheat gluten to help create structure and a lighter loaf.  Kamut flour works well in cakes, cookies, crackers and homemade flatbreads.  It has a chewy texture and buttery flavor make great pizza dough.
Check for Kamut at natural food stores or in the organic section of your local grocery store.  Besides the grain itself, you may find it flaked or puffed for cereal, or sold in bulk bins as flour.
Cooking Kamut Berries
To cook, use 3 parts water to 1 part kernel.  Bring to a boil with a pinch or two of salt. Cover and simmer on low for 1 to 2 hours or until tender.  Let stand 15 minutes. Drain excess liquid if any.
OR
Cook in a pressure cooker for 35 to 45 minutes.
OR
Kamut kernels can be soaked overnight and then cooked for a shorter period – about 30 to 40 minutes.
Note: 1 cup of the raw berries will yield about 2 1/2 cups cooked.
Kamut and Chickpea Salad Recipe:
Keyword:
Kamut and Chickpea Salad Recipe
Ingredients
Kamut and Chickpea Salad:
Instructions
Kamut and Chickpea Salad Instructions:
Mix all the salad ingredients together with dressing (to taste) in a bowl. Best if marinated for about an hour before serving (gets better as it sits!)

Serve as is or spoon onto a bed of shredded lettuce.
Dressing Instructions:
Blend together the lemon juice, olive oil, Dijon-style mustard, garlic, salt, pepper, and fresh herb by hand or with an electric, handheld mixer).

Mediterranean Flavor (my favorite) – Add crumbled feta and chopped, fresh mint.

Mexican Flair – Substitute black beans for the chickpeas and cilantro for the parsley. You can use 1/2 rice and 1/2 Kamut.

Charlotte Bradley is the publisher of YogaFlavoredLife.com and an avid yoga practitioner.  She was a student of karate for many years and took up yoga only tentatively after the birth of her sons and a knee injury left her looking for a less high-impact form of exercise.  It was love at first pose as Charlotte saw how quickly yoga sped her rehabilitation along.  She also found that yogic relaxation techniques lent her proper focus, bringing balance into her life as well as a greater appreciation for how blessed she truly is.  She lives in Ottawa, Ontario with her husband and twin boys, Charlie and Patty, who keep her on her feet and on the go.  Her golden retriever supervises Charlotte's yoga workouts from a spare mat, with his eyes closed.
Comments and Reviews