You may think of millet as a key ingredient in bird seed and animal feed.  While it is used for these purposes, millet has been an important food source for a large part of the world's human population dating back to prehistoric times!  This is for good reason, as millet is a tasty and highly nutritious grain – a worthy addition to a varied and healthy diet.
Be sure and check out Charlotte's Millet Blueberry Muffins recipe below.

What is Millet?
The millet plant is a tall, erect grass that looks similar to maize.  The plant can grow from 1 to 15 feet tall, depending upon the variety.  The seeds are enclosed in colored hulls (different varieties are different colors).  Once hulled, a tiny, round, pale yellow seed is revealed.  For culinary purposes, the seed is either used whole or ground into flour.
Archaeologists hypothesize that millet was a very important part of the prehistoric diet.  It was considered one of the five sacred crops by the ancient Chinese and its cultivation was likely even more prevalent than rice.  It is believed that the Hanging Gardens of Babylon included millet among their treasured plants.
Today millet is considered to be the sixth most important grain in the world.  It is a significant part of the diet for one third of the world's population, particularly in India and Africa. India is the main producer of millet.
Benefits of Millet:
Like quinoa and buckwheat, millet is not an acid forming food which makes it one of the least allergenic and most easily digested of all grains.  It is also gluten-free, an excellent choice for anyone with Coeliac dDsease or a gluten-intolerance.
Millet contains high levels of several key minerals and nutrients, including B-complex vitamins, thiamine, riboflavin, iron, magnesium, phosphorous and potassium.  It is also high in fiber and protein and is well balanced in essential amino acids.
Besides the nutritional benefits, millet as a crop has the advantage of being a fast growing grain.  It can be harvested 65 days from the time of planting.  It fares well in harsh environments, growing in poorly fertilized, dry soil.  This makes it suitable for hot climates with little rainfall as well as cooler climates where the summers are short.  These factors make it suited to environments which may not be able to sustain other types of crops.
How to Use Millet:
Millet grain may be cooked and used as you would use rice or other grains.  Millet makes a nice side dish with stir fries and meat dishes.  It mixes well with any herbs and seasonings that are commonly used to flavor rice dishes.Add to casseroles, soups, stews and stuffing.  Combine with other grains such as quinoa or brown rice for an interesting taste and texture variation.
Millet makes a tasty hot breakfast cereal.  In both Russia and China, millet porridge is traditional fare where it is eaten either sweetened with milk and sugar, or savory with meats, vegetables and beans.
Millet seeds can be sprouted and added to salads and sandwiches.
In India, millet is ground into flour and used to make a traditional flatbread called roti.  Use some millet flour alongside all purpose or whole wheat flour in muffin and bread recipes.
Storing Millet:
Millet seeds store well, up to 2 years in a covered container placed in a cool, dry place.  The flour, however, deteriorates rapidly and should be stored in the fridge where it keeps well for up to 2 months
Cooking Millet Grains: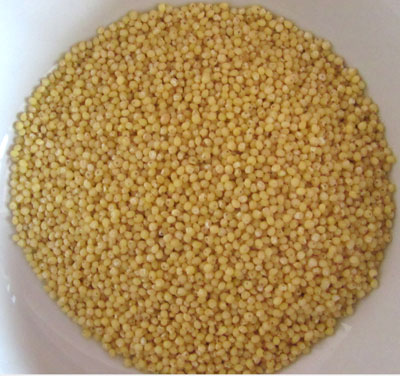 A good general guideline for cooking millet is to use three parts waterr or stock to one part grain.  Bring the water to a boil, add the grain and simmer, covered on low for around 30 minutes or until the water is absorbed.  Remove it from the heat and let it stand for about 10 minutes before serving.  When less water is used the grain has a fluffier texture; more water creates a moist and dense texture.
Tip: The flavor can be enhanced by toasting the grains beforehand.  Close them in a dry pan for about three minutes, shaking or stirring occasionally so as not to burn.
Toasted millet makes a great addition to muffins.  The grain adds a subtle, nutty flavor, boosts the nutritional value and creates a nice crunchy texture similar to that of foods baked with cornmeal.  Blueberry muffins with toasted millet are one of my boys' favorite treats!
Blueberry Muffins with Millet Recipe:
Keyword:
Blueberry Muffins with Millet Recipe
Ingredients
2

cups all-purpose

flour

(or whole-wheat pastry flour)

1/3

cup

millet grain,

toasted

1/2

cup granulated

sugar

1

tablespoon

baking powder

1/2

teaspoon

salt

1

cup

blueberries

(fresh or frozen)**

2

eggs

1

cup

milk

1/4

cup

butter,

melted

Zest

of one lemon
Instructions
Preheat oven to 400 degrees F. Either generously grease muffin tins or line with paper liners.

In a large bowl, mix together flour, millet, sugar, baking powder, salt, and lemon zest. Gently stir in blueberries.

In a separate bowl, lightly beat eggs. Mix in milk and butter. Add wet ingredients to dry ingredients, stirring until just moistened.

Spoon batter into prepared muffin tins, filling almost to the top.

Bake approximately 20 to 25 minutes until lightly browned and a skewer comes out clean; remove from oven. As soon as they have cooled enough to handle, remove the muffins from pan and place on a wire rack to finish cooling (if desired).

Serve warm or at room temperature.

Variations: Instead of blueberries, try 1 cup peeled and chopped apple or 1 cup cranberries tossed with a tablespoon or two of sugar.
Recipe Notes
* Toasting is optional but adds great flavor.
* Fresh Blueberries are obviously the best when you can get them.  If not, the frozen blueberries are the next best choice.  If using fresh blueberries, dust them lightly with flour; this helps prevent the blueberries from "bleeding" into the muffins.  If using frozen blueberries, add them frozen to the batter; this will help prevent them from "bleeding" our their juices.

Charlotte Bradley is the publisher of YogaFlavoredLife.com and an avid yoga practitioner.  She was a student of karate for many years and took up yoga only tentatively after the birth of her sons and a knee injury left her looking for a less high-impact form of exercise.  It was love at first pose as Charlotte saw how quickly yoga sped her rehabilitation along.  She also found that yogic relaxation techniques lent her proper focus, bringing balance into her life as well as a greater appreciation for how blessed she truly is.  She lives in Ottawa, Ontario with her husband and twin boys,  Charlie and Patty, who keep her on her feet and on the go.  Her golden retriever supervises Charlotte's yoga workouts from a spare mat, with his eyes closed.
Comments and Reviews