Steamed Clams Recipe – Travels in Andalusia, Spain

What could be easier to make and more delicious than these Spanish Steamed Clams with butter?  I can not think of anything else except maybe adding a glass of white wine and some crusty bread to dip in the delicious garlic clam liquid.
A few years ago on What's Cooking America's trip to Spain, we enjoyed these wonderful Steamed Clams that used olive oil instead of butter and had a hint of saffron.  They were delicious!  In Spain, they like to use use olive oil instead of butter.  The pinch of Spanish saffron gives the garlic-saffron broth an even better taste!  In Spain saffron is an indispensable ingredient in such famous dishes as Paella.  Please check out my Spanish Paella Dinner Menu (with recipes) using these delicious Spanish-Style Steamed Clams.  Also read all about What's Cooking America's Travels in Andalusia, Spain.
Learn about Spanish Saffron.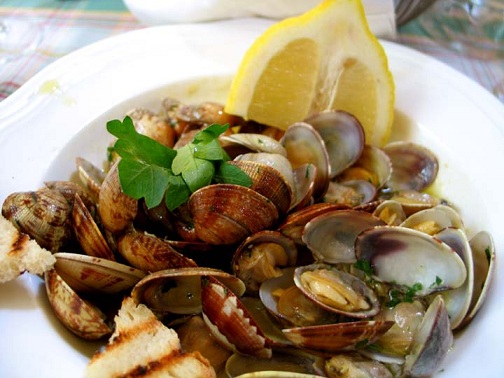 Spanish Steamed Clams Recipe:
Keyword:
Spanish Steamed Clams Recipe
Ingredients
3 to 4

pounds live small

hard-shelled clams*

3

tablespoons

unsalted butter

or olive oil**

1

small

white onion,

coarsely chopped

3

cloves

garlic,

lightly chopped

1

bottle

dry white wine

1/2

teaspoon

red pepper flakes

Small pinch

saffron threads***

Unsalted butter,

melted

Thick slices of

French bread

or country-style bread
Instructions
FDA recommendations are to soak steamer clams for several hours in seawater (or 1/3 cup coarse kosher salt and 1 gallon water) to which you have added 1 cup cornmeal. Use kosher or sea salt as the iodine in regular salt will kill the clams before they hit the boiling water.

One hour before serving, scrub the outside of the clam shells with a vegetable brush in cold water; rinse with water until free of sand (adding a little coarse salt to the water will help to remove the sand from the clams).

In a steamer pot or a large kettle, melt butter or olive oil; saute onion and garlic until soft. Add white wine, pepper flakes, and saffron threads; bring to a slow boil. Add clams and cover pot with a tight-fitting lid and steam over low heat just until clams open, about 5 to 10 minutes. Do not over cook, as clams will become tough and rubbery - discard any clams that do not open.

Use tongs or a slotted spoon to transfer the clams to large individual soup bowls with individual cups of melted butter.

Pour broth through a cheesecloth-lined strainer to remove any sand. The broth can either be used as a dunking liquid for the French bread or placed in mugs to drink.
Recipe Notes
* There are generally 12 to 15 clams per pound.  Serve approximately 1 to 2 pounds of steamer clams per person.  Also called cherrystone, littlenecks in the New England states) and steamer clams (in the Pacific Northwest).  If the shells of the live clams are open, tap on shell.  If it does not close, throw away the clam.
** Use only unsalted butter for this recipe - otherwise your clams will be too salty!
*** The rule is that a "little saffron" will go a long way.  When determining how much saffron to use in cooking, remember that the saffron flavor will be stronger the second day.  In general, just use a pinch in soups and stews that serve 4 to 6 people.
Comments and Reviews