Baby Button Cookies are a delicious and addition to your Christmas cookie baking.  Easy to make and so good!
Baby Button Cookies are a delicious cornstarch cookie recipe is by Lisa Ritter of the Big Sugar Bakeshop in Studio City, CA.  Lisa says, "We love to offer them in small, ribbon-tied gift packages for favors at bridal and baby showers.  Because of their relatively low sugar content, people who do not normally love sweets are delighted with these."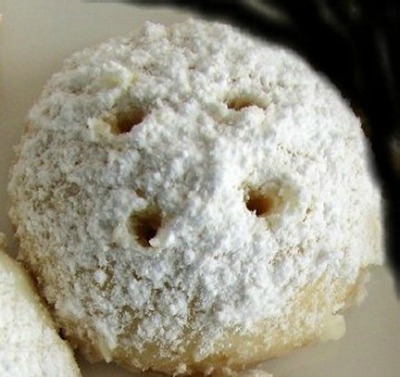 Baby Button Cookie Recipe:
Keyword:
Baby Button Cookie Recipe
Ingredients
1

cup (2 sticks)

unsalted butter,

room temperature or softened

1 1/2

cups

powdered sugar

(confectioners' sugar), divided

1/2

cup

cornstarch

1/2

teaspoon

pure vanilla extract

1 1/2

cups all-purpose

flour
Instructions
Preheat oven to 350 degrees F. Line a large baking sheet with parchment paper.

In a food processor, pulse the butter with 1/2 cup of the powdered sugar until combined. Add the cornstarch, vanilla extract, and flour; process until a soft dough forms. Transfer the dough to a work surface and divide into 4 equal pieces.

On a lightly-floured work surface, roll each piece of dough into a 12-inch long rope. Cut each rope into 12 pieces and roll each piece of dough into a small ball. Transfer the balls to the prepared baking sheet. NOTE: These cookies do not spread very much.

Bake the cookies on the center rack of the oven for approximately 22 minutes or until the bottoms are golden, but the tops are still pale. Remove from oven.

While cookies are baking, place the remaining 1 cup sifted powdered sugar in a shallow dish.

While still warm, roll cookies in powdered sugar. Add 12 warm cookies to the bowl at a time and toss to coat.

While the cookies are still warm, poke 4 shallow holes into each cookie with a toothpick or skewer to make a buttonhole pattern. Let the cookies cool completely before serving or storing.

When cookies have cooled, roll them again in the confectioners sugar to give them a nice even coating of sugar. The cookies can be stored in an airtight container for up to 1 week.
More Delicious Cornstarch Cookies:
Biscoitos de Maizena Cookies
These cookies are a favorite in Brazil.  They are named "Maizena" because that is the brand name of their cornstarch.  Delicious anytime of the year.
High Tea Lemon Cookies
This is an old-fashion recipe that is very rich and delicious.  Be prepared though, all your friends will want this recipe after they taste these delicious cookies.
Lemon Melt Away Cookies
As the title says, "These cookies literally melt in your mouth!"  These cookies have a shortbread-like texture and taste wonderful!
Peppermint Melt Away Cookies
These cookies will also melt in your mouth!  This version makes a beautiful Christmas cookie and will definitely make your cookie platter look very festive!
Source: The recipe appeared in the March 2008 issue of Food & Wine magazine.
Comments and Reviews