Biscoitos De Maizena – These delicious cornstarch cookies are a favorite in Brazil.  They are named "Maizena" because that is the brand name of the favorite cornstarch used in Brazil.  Because of this, the cornstarch company was probably the creator of the cookies.  As you can see, Biscoitos De Maizena are made with cornstarch and no flour.  Delicious anytime of the year, but also great for a Gluten-Free Diet.  They are very light and they just melt in your mouth.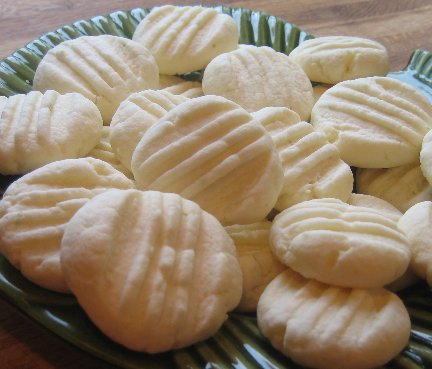 More favorite Cookie Recipes and Secrets To Making Perfect Cookies.  Also learn How To Have A Successful Holiday Cookie Exchange or Cookie Swap.
Please check out my Afternoon Tea Menu (with recipes) which includes these delicious cookies.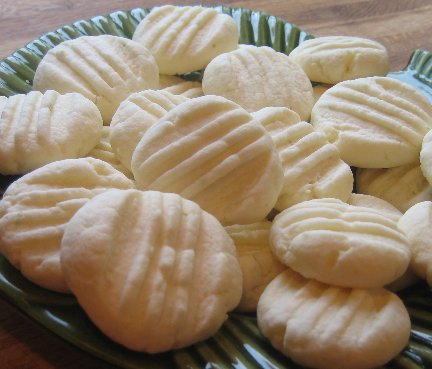 Biscoitos De Maizena - Cornstarch Cookie Recipe:
Keyword:
Biscoitos De Maizena Recipe, Cornstarch Cookie Recipe
Instructions
Preheat oven to 375 degrees F. Either line a large baking sheet with parchment paper, silpad, or lightly butter.

Using your mixer on low speed, combine cornstarch, sugar, egg, vanilla extract, and butter until well combined. Let the dough sit approximately 10 to 15 minutes before rolling into balls.

Roll the dough into 1-inch balls in the palm of your hand and place onto the prepared cookie sheet. Use the tines of a fork to make grooves on top of the cookies and to flatten them slightly.

You can also place the dough in a cookie press. Pack the dough into a cookie press fitted with desired template (disks can include wreath shapes, stars, crescents, etc). Begin cranking and twisting (if you use an automatic cookie press follow manufacturer's instructions) the cookie dough through cookie press, forming desired shapes, onto chilled ungreased cookie sheets about 1-inch apart.

Bake the cookies on the center rack of the oven for approximately 7 to 10 minutes depending on the size of your cookies. Remove from oven.

The cookies are very fragile when hot. Let them cool slightly before removing form the cookie sheet.
More Delicious Cornstarch Cookies:
Baby Button Cookies
Because of the relatively low sugar content, people who do not normally love sweets are delighted with these.
High Tea Lemon Cookies
This is an old-fashion recipe that is very rich and delicious.  If you love lemon, you'll absolutely love these cookies.
Lemon Melt Away Cookies
As the title says, "These cookies literally melt in your mouth!"  These cookies have a shortbread-like texture and taste wonderful!
Peppermint Melt Away Cookies
These cookies literally melt in your mouth!"  This version makes a beautiful Christmas cookie and will definitely make your cookie platter look very festive!
Comments and Reviews