These Chocolate Crinkle cookies are wonderful cookies – a chocolate lover's delight!   And I definitely love chocolate!
This delicious and popular Chocolate Crinkle cookies are know by several names, such as Kringle Cookies, Aggie Cookies, and Crinkle or Kringle Cookies. Their thickness allows them to be crispy on the outside but perfectly soft in the center. These cookies are a popular holiday staple for many families, but they can also be a hit all year round. Take them to any gathering and they will be the first to disappear off the table!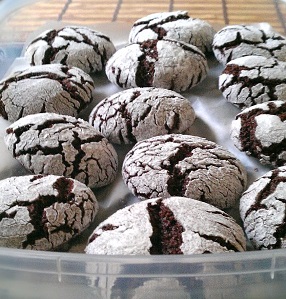 More favorite Cookie Recipes and Secrets To Making Perfect Cookies. Also learn How To Have A Successful Holiday Cookie Exchange or Cookie Swap.
Chocolate Crinkle Cookies Recipe:
Keyword:
Chocolate Crinkle Cookies Recipe
Servings
:
2
1/2 dozen cookies
Instructions
In a large, heavy saucepan over low heat, melt butter and chocolate. Melt chocolate, stirring occasionally, until smooth; remove from heat. Learn different techniques for How To Melt Chocolate.

Stir sugar into warm chocolate mixture. Stir in eggs, one at a time, beating well after each addition. Sift in flour, baking powder, and salt; stir until smooth. Stir in walnuts.

Cover and refrigerate, preferably for 1 1/2 hours; dough may be refrigerated longer or overnight, if you wish. This will be a soft dough and must be refrigerated. It may be left in saucepan or transferred to a bowl.

Freezing Dough: This dough freezes well. Make into the balls and freeze on a cookie sheet (before rolling in powdered sugar) and then store in Ziploc freezer bags. When ready to bake, remove as many balls as you need from the freezer and let thaw for 30 minutes; then roll in powdered sugar and bake.

Preheat oven to 300 degrees F.

Adjust two racks to divide oven into thirds. Line cookie sheets with parchment paper or use the Silicone Baking Mats (like photo on the right) to prevent the cookies from sticking.

In a small bowl, place powdered sugar.  Sugar palms of your hands with some of the powdered sugar.  Roll dough into 1 1/2-inch balls.  Roll balls around in powdered sugar and place 2-inches apart onto prepared cookie sheets.

Bake 20 to 22 minutes or until tops of cookies are barely semi-firm to touch. DO NOT OVER BAKE - these should be slightly soft in the centers. (If you bake only one sheets at a time, bake high in oven.) Reverse position of sheets top to bottom and front to back once during baking to ensure even baking. Remove from oven and cool on wire cooling racks.


Storing: The cookies will keep in an airtight container for up to three days or in the freezer for up to two months. Sprinkle with fresh confectioners' sugar after thawing.

Yields 2 1/2 dozen cookies.
Recipe Notes
*  For an extra rich chocolate cookie, substitute 65% to 70% dark chocolate for the unsweetened chocolate.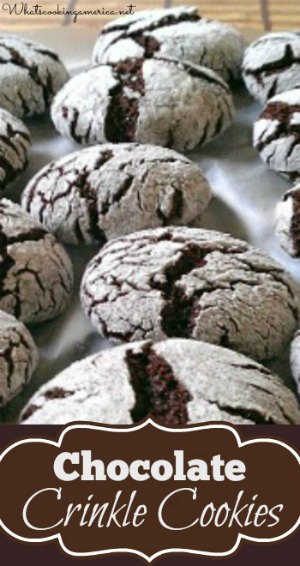 Source: Recipe was adapted from 1963 Betty Crocker Cookbook.  Photo shared by Veronica Smith.
More Delicious Chocolate Cookies:
Chocolate Espresso Cookies
Chocoholics Beware! I like to call these cookies Chocolate Bombs, as the chocolate, espresso, and cayenne powder seem to explode in your mouth with flavor.
Chocolate Sundae Cookies
These cookies remind me of the chocolate pinwheel cookies.  I believe this cookie recipe is an older Pillsbury Cook-Off recipe winner.
Chocolate Truffle Bars
As you peruse this recipe, this thought may occur: "Oh my!  This must be terribly rich and full of calories."  Well, you're exactly right – but indulge yourself anyway with one of these divine bars.
Korova Cookies (Sables Korova)
This is a simple butter cookie turned into something magical. It's that unexpected hint of salt and how it combines with the chocolate that makes for an explosive burst of flavor.
Comments and Reviews