Holiday Cookie Exchange or Cookie Swap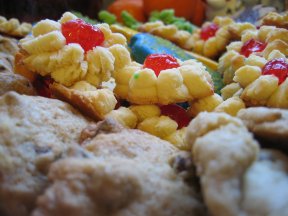 Linda's Favorite Christmas Cookie Recipes
Any and all of these cookies would be great for a cookie exchange.
Secrets To Making Perfect Cookies – How To Bake Cookies
Everything you ever wanted to know about cookies (such as history, types of cookies, how to mail, etc.)
The holiday cookie exchange or cookie swap tradition has been around for many years.  The Christmas holiday season is a favorite time to have these parties.  These parties are a lot of fun, and as a bonus you'll have lots of different cookies on hand for the holidays.  Just think – bake one batch of your favorite cookie and you will go home with many different kinds.  Invite your friends, family, neighbors, church members, or community group.
Decide how many guests you want to invite to the cookie exchange.  Lots of people will ensure your guests have a variety of cookies to choose from, but too many people means too much baking.  Ideally, you should plan the cookie swap for 10 to 12 people.
During the holidays, it is wise to pick a non-weekend day or evening for your party, so it won't interfere with family weekends or office parties.  Send the invitations out a month before the party.  Everyone's calendar fills up fast in December!
Confirm how many of your invited guests will be able to attend.  Let everyone (each guest) know how many cookies they need to make.  Each guest will need to bring one (1) dozen cookies to share and sample at the cookie exchange party and another one (1) dozen cookies for each person (guest) attending.  

For example, if eight (8) people will be attending, each person will need to bring 9 dozen cookies from the same recipe.
Avoid duplication of cookies by asking guests to RSVP and tell you about the cookies they will bring.  Make sure each guest brings copies of their recipe to pass around.  Since many people have food allergies, it is important they know the ingredients in the cookies at your party.  And if there are family stories and especially ethnic traditions for a cookie, ask the guest to write that information on the recipe.
Remind guests to bring a large container to take their cookie assortment home.  Have extra containers and packing materials like foil, plastic wrap, and tape on hand for guests who may forget.
Cookies to be exchanged should be wrapped well.  They should be placed either on plastic plates with plastic wrap or in disposable containers that are airtight.
During the cookie exchange, serve warm beverages such as coffee, hot chocolate, hot apple cider, or herbal tea.  

Don't forget to eat and sample all the delicious cookies!
Comments and Reviews