Best Gingersnap Cookies ever!  My family loves gingersnaps.  Gingersnaps cookies have been popular with children for generations.  Unfortunately, this generation of children have seldom tasted true gingersnap cookies.  This excellent melt-in-your mouth gingersnap cookie recipe makes cookies just like grandma used to make – cookies that really snap!  These are an old-fashion gingersnap cookie recipe that is made with molasses, butter or margarine, brown sugar, and spices.  Enjoy some "snap" with these old-fashioned cookies!
Also check out Peggy Weaver's Gingerbread Cookies and how to make your own Cookie Cutters.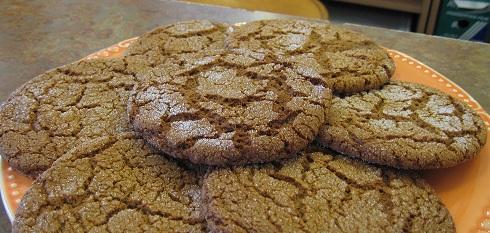 More favorite Cookie Recipes and Secrets To Making Perfect Cookies.  Also learn How To Have A Successful Holiday Cookie Exchange or Cookie Swap.
Best Gingersnap Cookies Recipe:
Keyword:
Best Gingersnap Cookies Recipe
Servings
:
3
dozen cookies
Ingredients
3/4

cup

unsalted butter

or vegetable shortening, room temperature

1

cup (firmly-packed)

brown sugar

1

egg

1/4

cup

molasses

(regular or un-sulphured)*

2 1/4

cups

flour

(all-purpose)

2

teaspoons

baking soda

1

teaspoon

cinnamon,

ground**

1

teaspoon

ginger,

ground**

1/2

teaspoon

cloves,

ground**

1/4

teaspoon

salt
Sugar

(granulated) for rolling cookies in
Instructions
In a large bowl, cream together the butter, brown sugar, egg, and molasses until light and fluffy. Add flour, baking soda, cinnamon, ginger, cloves, and salt; stir or beat until well blended. Cover the dough and refrigerate at least 1 hour or overnight.

Preheat oven to 375 degrees F.

Note: Make sure your oven is fully heated before baking the cookies. They need to get hit with the full force of the heat to start the cookies baking on the outside. As the inside cooks and rises it should force the cracks in the cookie as they expand. If your oven is not getting hot enough, you may need to increase the temperature by 5 to 10 degrees for the next batch.

Lightly grease or spray with non-stick cooking spray your cookie sheets.

Place some granulated sugar in a bowl large enough to roll the cookie dough balls.

Using your hands, shape dough into 1-inch balls. Then roll the balls of dough into the granulated sugar, coating them thoroughly.

Place balls, 3 inches apart, onto prepared cookie sheets.

Bake 10 to 12 minutes or until light brown (cookies will puff slightly and then collapse slightly, and tops will be covered with little cracks). Remove from oven and cool on wire racks.
Recipe Notes
* Lightly grease or spray (non-stick cooking spray) your measuring cup before adding the molasses.  This prevents the molasses from sticking to the cup.
** Check your ground spices (cinnamon, ginger, and cloves) to determine if they are still fresh, as stale spices will make your gingersnaps flat tasting.
More Delicious Ginger Cookies:
Chewy Ginger Cookies – Ginger cookies have been popular with children for generations.  Add these chewy ginger cookies to your holiday cookie plate.
Molasses Crinkles – This recipe originally came from an older 1950's Betty Crocker Cookbook that I received for a wedding gift.
Moravian Ginger Cookies – This paper-thin ginger cookies are absolutely fantastic!  Moravian ginger cookies are cut into shapes and baked.  These cookies are considered a signature cookie of the town of Winston-Salem, NC.
Comments and Reviews