Italian Pignoli Amaretti Cookies or Pine Nut Cookies are one of my favorite cookies.  In Italy these cookies are known as Pignoli (pine nut) cookies and originate from Sicily and are found all over Southern Italy.
These cookies are a staple in most Italian bakeries.  They are an Italian version of a macaroon cookie.  Italian Pignoli Amaretti Cookies are gluten-free, toasty on the outside and creamy inside.  You can use the pine nuts raw, or try toasting them for another variation.  When you toast the pine nuts it adds an extra crunch and enhances the flavor of the nuts.  Try making these cookies for your next holiday party, or just to have on hand when you need a little treat.  They will make you feel like you are sipping an espresso in an Italian cafe when eating them.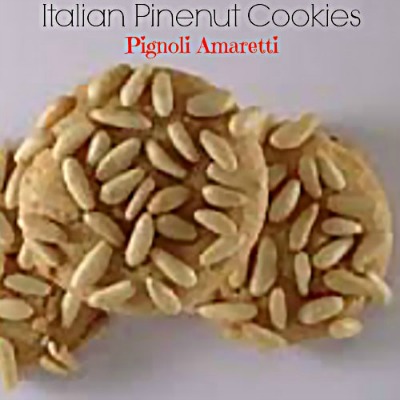 Italian Pignoli Amaretti Cookie Recipe - Pine Nut Cookies:
Keyword:
Italian Pignoli Amaretti Cookie Recipe, Pine Nut Cookies Recipe
Ingredients
2

(8-ounce) cans

almond paste

(not marzipan), coarsely crumbled*

1 1/2

cups

powdered sugar

(confectioners' sugar)

1/2

teaspoon

salt

2

large

egg

whites

2

tablespoons

mild honey

1

cup (4 1/2 ounces) raw

pine nuts**
Instructions
Preheat oven to 350 degrees F. Either line cookie sheets with parchment paper or a Silpat (no-stick silicone baking mat).

In a food processor, pulse almond paste until broken up into small bits, then add powdered sugar and salt; continue to pulse until finely ground, about 1 minute. Add egg whites and honey; process until well combined.

At this point, the dough can be wrapped in plastic wrap and refrigerated up to 1 day or baked immediately.

NOTE: Have a bowl of water near to dip your fingers in before rolling each cookie. As this dough is very sticky, the water will keep the dough from sticking to your fingers.

Using a rounded teaspoon for each cookie, roll the dough into 1-inch balls. Place cookies about 2 inches apart on prepared cooking sheets. Using your fingers, slightly flatten each cookie and press some pine nuts into each cookie to cover.

Bake cookies in upper and lower thirds of oven, switching position of sheets halfway through baking, approximately 12 to 15 minutes until lightly golden brown and soft and springy. Do not overcook these cookies, as the pine nuts will become bitter if you do.

Remove from oven and allow cookies to cool a few minutes on the baking pans, then transfer to a wire rack to cool completely.

The cookies can by prepared up to 3 weeks ahead and stored in an airtight container at room temperature.

Makes approximately 3 1/2 dozen cookies.
Recipe Notes
* It is important to use canned almond paste only (the type sold in tubes is too crumbly and will not give the cookies the right consistency).  Almond paste is a combination of equal parts ground blanched almonds and sugar, mixed with glucose, corn syrup or egg whites that is cooked together to form a stiff paste.  It has a pliable yet grainy texture with a sweet almond flavor.  Any unused portions of almost paste can be wrapped in plastic and refrigerated or frozen.  Almond paste keeps well when refrigerated.  When it hardens, heat it slowly to soften the consistency.
** Pine Nuts (or pion, pinyon, pignolia) are the edible seeds of the pine trees.  They are small elongated ivory-colored seeds from pine cones, measuring about 1/2 inch long.  World-wide, about 20 species of pine produce seeds large enough to be worth harvesting; in other pines the seeds are also edible, but are too small to be of value as a human food.  Photo from Pine Nuts U.S.
Comments and Reviews