Joe Froggers Cookie is a over-sized molasses spice cookie that dates back to Colonial times.  Approximately 200 years ago, to the Black Joe's Tavern in Marblehead, MA, a seaside town about 25 miles north of Boston.  The Joe Froggers cookie that people make now are probably a little different than the original recipe.  For one thing, in the 1700s they were the size of salad plates or lily pads – about 6 inches in diameter, and were made for sailors to take on ships and thus lasted a long time.
Named for Revolutionary War patriot and freed slave, Joseph Brown, these large cookies were said to be the size of the frogs in "Black Joe's" Pond.  Marblehead's early fishermen used to take the cookies with them on long voyages to the Grand Banks as a standard part of the ship's provisions.  The ingredients of rum and seawater acted as preservatives.
They are now a cherished Marblehead tradition with "original recipes" circulating rapidly for historic authentication by native Marbleheaders.  The cookies were first made in the 1800's by Lucretia Brown, Joseph's wife.  While today the cookies are mostly round, in the beginning they were described as "lily pad" shaped.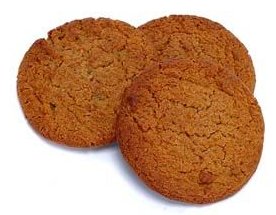 More favorite Cookie Recipes and Secrets To Making Perfect Cookies.  Also learn How To Have A Successful Holiday Cookie Exchange or Cookie Swap.
Joe Frogger Cookies Recipe:
Keyword:
Joe Frogger Cookies Recipe
Ingredients
1/3

cup

dark rum

(such as Myers's brand)

1

tablespoon

water

1 1/2

teaspoons

salt

3

cups all-purpose

flour

3/4

teaspoon

ginger,

ground

1/2

teaspoon

allspice,

ground

1/4

teaspoon

nutmeg,

ground

1/8

teaspoon

cloves,

ground

1

cup dark

molasses

1

teaspoon

baking soda

1/2

cup

unsalted butter,

softened but still cool

1

cup granulated

sugar
Instructions
In a small bowl, stir together the rum, water and salt until the salt dissolves. In a medium bowl, whisk together the flour, ginger, allspice, nutmeg, and cloves. In a large measuring cup, stir together the molasses and baking soda (the mixture will begin to bubble), and let sit approximately 15 minutes until doubled in volume.

With an electric mixer on medium-high speed, beat together the butter and sugar approximately 2 minutes until fluffy. Reduce the speed to medium-low and gradually beat in the rum mixture. Add the flour mixture and the molasses mixture, alternately in two batches; scraping the sides of the bowl as needed. Cover the bowl with plastic wrap and refrigerate until stiff, at least 8 hours or up to 3 days.

Preheat oven to 375 degrees F. Adjust two oven racks to the upper-middle and lower-middle positions. Line two baking sheets with parchment paper.

Working with half of the cookie dough, which will be soft) at at time on a heavily floured work surface, roll out the dough to 1/4-inch thick. Cut out the cookies with a 3- to 3 1/2-inch cookie cutter or the rim of a drinking glass. Space the cut out cookies 1 1/2-inch apart on the prepared baking sheets (only 6 cookies per baking sheet as they will spread).

Bake approximately 6 to 7 minutes, switching and rotating the baking sheets halfway through baking, or until the cookies are set and just beginning to crack. Remove from the oven and let the cookies cool on the baking sheets for 10 minutes, then transfer to a wire rack to cool completely.

Repeat with the remaining dough using a fresh or cooled baking sheet.

Refrigerated dough stays fresh about a week, frozen dough three months.

The cookies can be stored in an airtight container for up to 1 week.
Sources:
This recipe is from the cookbook called America's Best Lost Recipes by the editors of Cook's Country magazine.
History of Joe Frogger Cookies from the Marblehead Magazine website:
Comments and Reviews