Maple Oatmeal Cookies have a wonderful crisp crunch and spicy flavor.  I adapted the original recipe and added more flour.  The original recipe called for less which made a crispy crunch cookie. I prefer a bit more of a cakey cookie.   Both versions make a great breakfast cookie.  The crisp version goes good crumbled in your yogurt.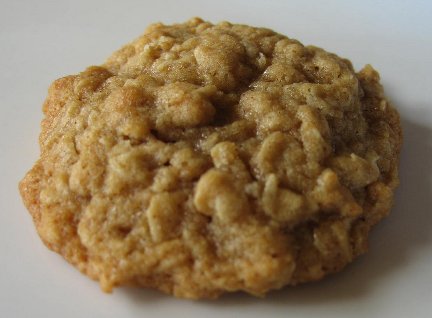 More favorite Cookie Recipes and Secrets To Making Perfect Cookies.  Also learn How To Have A Successful Holiday Cookie Exchange or Cookie Swap.
Maple Oatmeal Cookie Recipe:
Keyword:
Maple Oatmeal Cookie Recipe
Instructions
Preheat oven to 350 degrees F. Grease two 9x13-inch baking sheets.

In a large bowl, beat together butter, maple syrup, sugar, eggs, and vanilla extract until light and fluffy. Stir in rolled oats. NOTE: If you are adding nuts, raisins, or chips, add them now.

In another bowl, stir together flour, baking soda, and salt. Add flour mixture to butter mixture and mix well.

Drop by rounded teaspoonfuls about 2 inches apart onto prepared baking sheets and bake for approximately 12 to 15 minutesor until light brown and bottoms are golden. Remove from oven and cool on wire racks.

Variation: Add 1/2 cup chopped nuts, raisins, or chocolate chips.
Source: I adapted these delicious Maple Oatmeal Cookies from the book, Sweet Maple, Life – lore & recipes from the sugarbush, by James M. Lawrence and Rux Martin.  Recipe by Sharon LaPorte of Vermont. The original recipe didn't have enough flour and oatmeal.
Additional Oatmeal Cookies You Might Like:
Oatmeal Cookies
What could be easier and simpler than an old-fashioned oatmeal cookie?   Easy-to-make and always delicious!  I like adding raisins to this simple version, but you can add nuts and/or chocolate chips if desired.
Cowboy Cookies
My daughter, Brenda Weller, says this are the best Cowboy Cookies ever.  Once you make them, I know that you will agree with her.
Dunking Platter Cookies
This cookies are also known as Cowboy Cookies.
Soft and Chewy Harvest Cookie
Delicious and healthy cookies with the use of squash and oat meal.
Mountain Bar Cookies
These cookies are a very chewy and delicious no-bake cookies – just mix and eat!  When my daughter was young, this was her favorite cookie to make.
Comments and Reviews