Molasses Crinkle cookies are the molasses version of the famous and very popular Chocolate Crinkles (Kringles).
I love the flavor of ginger and molasses blended in this rich chewy cookie.  I especially delighted when I have a large glass of cold milk to swirl the Molasses Crinkle Cookies in before taking a bite.  They are an easy-to-make cookie that you can enjoy anytime.  Put them on your baking list to try for the holiday season.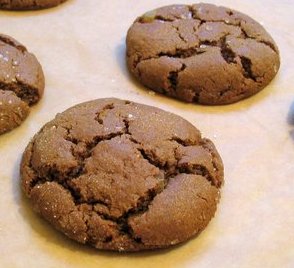 More favorite Cookie Recipes and Secrets To Making Perfect Cookies.  Also learn How To Have A Successful Holiday Cookie Exchange or Cookie Swap.
Molasses Crinkle Cookies Recipe:
Keyword:
Molasses Crinkle Cookies Recipe
Instructions
In a large bowl, mix together the soft shortening, brown sugar, egg, molasses.

In a separate bowl, sift together the flour, baking soda, salt, cinnamon, cloves, and ginger. Gradually stir in with the shortening mixture. Cover and refrigerate dough at least 1 hour.

Preheat oven to 375 degrees F. Lightly grease cookie sheets.

Shape dough by rounded teaspoonfuls into balls. Dip tops in granulated sugar. Place balls, sugared side up, about 3 inches apart on prepared cookies sheet.

Bake just until set, approximately 10 to 12 minutes. Remove from oven and immediately remove from cookie sheet.
Source:  This recipe originally came from an older Betty Crocker Cookbook that I received for a wedding gift.
More Delicious Ginger Cookies:
Gingerbread Cookies
How about making these traditional Christmas gingerbread cookies?
Chewy Ginger Cookies
Ginger cookies have been popular with children for generations.  Add these chewy ginger cookies to your holiday cookie plate.
Gingersnap Cookies
Gingersnaps have been popular with children for generations, and today's children have seldom tasted true gingersnap cookies.  This excellent recipe makes cookies that really snap.
Moravian Ginger Cookies
This paper-thin ginger cookies are absolutely fantastic! Moravian ginger cookies are cut into shapes and baked.  These cookies are considered a signature cookie of the town of Winston-Salem, NC.
Comments and Reviews