Popcorn balls are great anytime, but they are especially fun to enjoy at Halloween or Christmas time.
When I was a young girl (many years ago), my family would gather in the kitchen to make this old-time recipe of my Mom's.  We would make these wonderful popcorn balls for Halloween every year to give out to the neighborhood kids.  When I became a Mother, I continued this tradition with my children and their friends.  It was a fun every year preparing for popcorn ball day.
Time was spent popping the popcorn into large brown paper grocery bags.  The kids enjoyed it when I would pour the soft crack into the popcorn and slowly stir it in until it had cooled off enough for the children to dig their hands into.  We would form the popcorn into sticky balls and wrap them in wax paper to give out as treats.  Now we just enjoy them at home with the family, as homemade treats are not a good idea to give out for trick or treat.
Learn about the history and legends of Popcorn.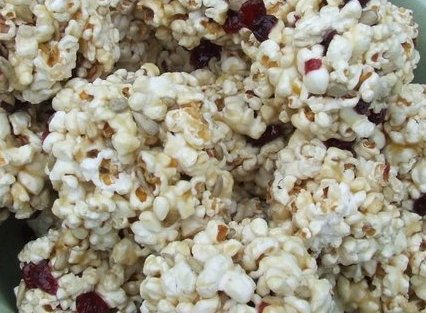 Popcorn Balls Recipe:
Keyword:
Popcorn Balls Recipe
Instructions
Popcorn can be air popped to reduce fat or cooked in oil (your choice). Cooking in oil will actually help the caramel corn separate easier to reduce clumping.

Place popped corn in a large bowl or pan (make sure you remove ALL the uncooked popcorn kernels).

In a saucepan over medium heat, add sugar, corn syrup, water, butter, and salt.  Cook until reaches a temperature of 270 degrees F. on your Cooking Thermometer.  If you do not have a cooking thermometer, drop a small amount of sugar syrup into very cold water - it will solidify but will separate into hard brittle threads when done.  Remove from heat and add vanilla extract, stirring only enough to combine.  If you choose to use some food dye or tint, add it now.

Pour hot syrup over popcorn a little at a time, stirring constantly with a wooden spoon, until all popcorn is coated. Use a non-stick cooking spray on the spoon to help prevent the corn from sticking to the spoon. Let popcorn cool slightly, until you can handle it easily (if you let the popcorn cool just a minute or two they will also into balls better).

Using well buttered hands and working quickly, shape about 1 cup popcorn into a ball (by squeezing between both hands). Place popcorn ball onto waxed paper to let cool. Repeat with remaining popcorn. NOTE: Mixture will be hot so be careful!

Let popcorn balls cool completely. Wrap each individual ball in plastic wrap.

Store at room temperature.
Recipe Notes
* Remember to remove any un-popped popcorn kernels.
** Add any color you desire and as much as you like.  If you are using liquid coloring, it takes a bit more to make a bright color.  Paste coloring is more concentrated.

I get many readers asking what cooking/meat thermometer that I prefer and use in my cooking and baking. I, personally, use the Thermapen Thermometer. Originally designed for professional use, the Super-Fast Thermapen Thermometer is used by chefs all over the world.  I only endorse a few products, on my web site, that I like and use regularly.
You can learn more or buy yours at: Super-Fast Thermapen Thermometer.
Sponsored Content
Comments and Reviews