Russian Tea Cake Cookies are a favorite holiday cookie
These buttery cookies are a melt in your mouth treat.  When you bite down into the cookie, you get a powdered sugar mustache and the delicious old-world flavor of nuts.  These are a super rich, buttery, and crumbly cookie.  Russian Tea Cake Cookies always seem to be a favorite of men and also a favorite Christmas Cookie.  I know your family will love these as much as mine does.
They are known by many different names around the world, such as Mexican Wedding Cakes, Russian Tea Cakes, Swedish Tea Cakes, Italian Butter Nut, Southern Pecan Butterball, Snowdrop, Viennese Sugar Ball, Sand Tarts, and Snowballs.  Regardless of what they are called, they always contain finely chopped nuts and are twice rolled in powdered sugar.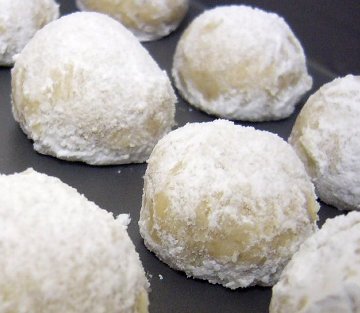 More favorite Cookie Recipes and Secrets To Making Perfect Cookies.   Also learn How To Have A Successful Holiday Cookie Exchange or Cookie Swap.
Russian Tea Cakes Recipe:
Keyword:
Russian Tea Cakes Recipe, Russian Teacake Cookies Recipe
Ingredients
1

cup

butter,

room temperature

1/2

cup

powdered sugar

(confectioners' sugar), sifted

2

teaspoons

pure vanilla extract

2 1/4

cups

flour

(all-purpose)

1/4

teaspoon

salt

3/4

cup

nuts

of your choice, toasted and finely-chopped**

Powdered sugar

(confectioners' sugar)
Instructions
In a large bowl of your electric mixer, cream butter, powdered sugar, and vanilla extract until light and fluffy.

Sift in flour and salt; stir until well mixed. Mix in nuts. Cover bowl with plastic wrap and refrigerate 1 hour or overnight.

Preheat oven to 400 degrees F.

Roll dough into 1-inch balls. Tip: A small ice cream scoop is ideal for making uniform-sized cookies.

Place dough balls onto ungreased cookie sheets with about 1-inch of space between them. Bake 10 to 12 minutes or until set but not brown. Remove from oven and cool slightly on wire cooling racks.

While cookies are baking, place the powdered sugar in a shallow dish. While still warm, roll cookies in powdered sugar until completely coated. When cookies have cooled, roll them again in the confectioners sugar to give them a nice even coating of sugar. The first rolling allows the sugar to melt into the cookies - the second rolling gives the finished snowy-white topping.

Store in an airtight container.

Variation: Substitute 1 cup miniature semisweet chocolate chips for the nuts.
Recipe Notes
* To ensure recipe success, do not use self-rising flour.
** How to toast nuts - Spread nuts in a single layer on a baking pan (one with walls is best) for toasting in the oven. Cook at 400 degrees F for 7 to 10 minutes or until the nuts start to turn golden. Shake the pan halfway through toasting.
Source:  This recipe is originally from a 1950's Betty Crocker Cookbook.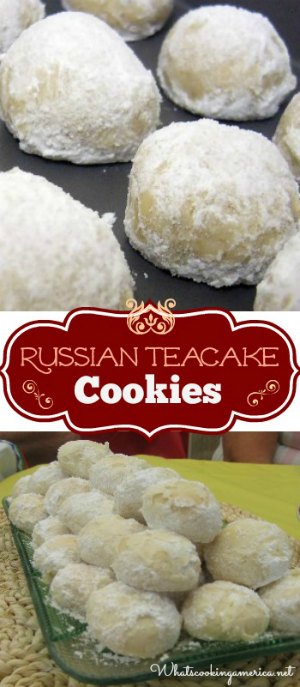 Additional Family Favorite Christmas Cookies:
Honey Butterball Cookies
These holiday Honey Butterball cookies look similar to Mexican Wedding Cakes, Swedish Tea Cakes, Russian Tea Cakes, etc., but they are a softer cookie.
High Tea Lemon Cookies
This is an old-fashion recipe that is very rich and delicious.  Be prepared though, all your friends will want this recipe after they taste these delicious cookies.
Peppermint Snowballs
This is a great-tasting holiday cookie and these cookies are very pretty on your holiday cookie plate.
Oreo Truffle Balls
This candy/cookie is so easy to make and so good!  This no-bake Oreo Truffle Balls makes a great Christmas candy as everyone seems to love them! Everyone who tries them has loved them and wants the recipe.
Pistachio and Cherry Mexican Wedding Cookies
A wonderful and delicious version of the Mexican Wedding Cookies.
Comments and Reviews