Springerle Cookies have been and still are traditional Christmas cookies in Bavaria and Austria for centuries that date back to at least the 1600s.  Springerle are white, anise-flavored cookies, made from a simple egg-flour-sugar dough.  Usually rectangular or circular in shape, they have a picture or design stamped on the top.  The images are imprinted with specially carved Springerle Rolling Pins or flat molds (Springerle presses or boards).  After the cookies are baked, the designs are sometimes enhanced with edible food colors, tempera, or acrylic paints if the cookies are to be used as decorations.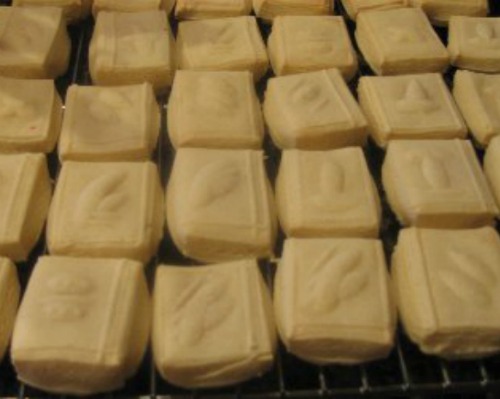 The name Springerle (SPRING-uhr-lee) comes from an old German dialect and means "little knight" or "jumping horse."  Historians trace these cookies back to the Julfest, a midwinter celebration of pagan Germanic tribes.  Julfest ceremonies included the sacrificing of animals to the gods, in hope that such offerings would bring a mild winter and an early spring.  Poor people who could not afford to kill any of their animals gave token sacrifices in the form of animal-shaped breads and cookies.  Vestiges of these pagan practices survive in the baking of shaped-and-stamped German Christmas cookies such as Lebkuchen, Spekulatius, Frankfurter Brenten, and Springerle.  Scenes from the Bible were some of the earliest images portrayed on the springerle molds. and were used to educate those who couldn't read or write.  Eventually, other scenes were carved and the cookies soon reflected images of holidays, events, and scenes from every day life.
The cookies were also used to celebrate births, weddings, and used as betrothal tokens.  Exchanging springerle cookies during the holidays was a common practice very much like we exchange cards today.
This is a family recipe for Springerle Cookies that was shared with me by Ann Pratt of Aloha, Oregon.  Ann says that this is the Schachner family recipe.
Springerle Cookies Recipe:
Keyword:
Springerle Cookies Recipe
Ingredients
4

large

eggs

2

cups granulated

sugar

1 1/2

tablespoons

butter,

room temperature

1

teaspoons

baking powder

1/2

teaspoon

anise oil

or 1 teaspoon anise extract

4

cups all-purpose

flour,

sifted
Instructions
Line cookie sheets with parchment paper or use the Silicone Baking Mats to prevent the cookies from sticking. Avoid insulated cookie sheets as they will cause the Springerle cookies to brown during baking.

In a large mixing bowl, beat eggs on high speed of your electric mixer until light and fluffy. Add sugar, butter, and baking powder; beat at high speed for 15 minutes, scraping sides of bowl occasionally. Beat in anise oil or extract. Gradually beat in flour until well mixed.

Lightly flour your springerle rolling pin (see photo below); set aside.

On a lightly floured board, knead the dough a few time (the dough will be sticky at first, so knead in just enough flour to make it manageable). You want the dough just firm enough not to stick in the mold. On large molds or very intricate molds, also lighty dust them with flour. Use your pastry brush to get the excess flour from the details in the mold. This helps get a clearer image.

Using a standard Rolling Pin, roll into a rectangle about 1/2-inch thick (be carful not to roll the dough too thin).


Using your floured Springerle Rolling Pin, roll slowly and firmly over the previously rolled dough to make a clear design.

Using a sharp knife, cut cookies apart and trim off outside edges. Place cookies on your prepared cookie sheets.

Roll out scraps of dough and repeat. NOTE: Be sure to flour the rolling pin and board before each pressing. This will insure the dough will not stick.

Place cookies on your prepared cookie sheets. Let cookies stand, uncovered, at least 12 hours to dry. Sometimes they may need to dry as long as 36 hours before baking. NOTE: Drying preserves the image during baking.

Preheat oven to 350 degrees F. Place oven rack in middle of oven.

Bake one (1) baking sheet at a time only. Bake approximately 10 minutes until slightly golden on bottoms, but white on top. NOTE: Be observant while baking your Springerie. If they puff up too much, gently push the bubble down. Rotate the pan front to back top to bottom once while baking.

Remove from oven and transfer cookies to wire cooling rack to cool (let cookies stand overnight to completely dry before storing). The longer Springerle sit the harder they become. Right out of the oven they are crunchy on the outside but soft and tender on the inside.

Storage: Keep cookies in a tight container for 2 or 3 weeks before using to achieve the best flavor.

Comments and Reviews