Spritzgeback Cookies – Swedish Butter Cookies – Pressed Butter Cookies
Spritz Cookies are crisp, fragile, and buttery tasting. What Christmas holiday cookie plate would be complete without these classic Spritz Cookies? My mother made these every Christmas season since I was little, and I make them now. Spritz cookies are a Christmas tradition in my family.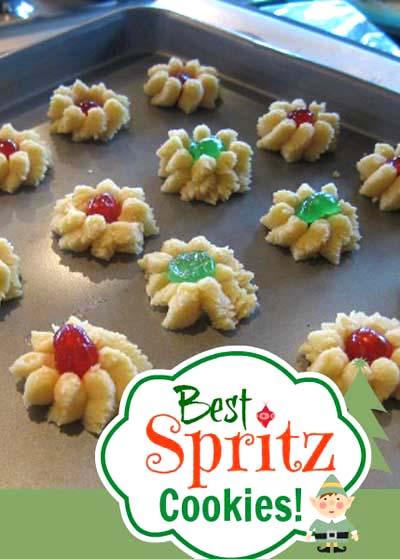 Spritz cookies are traditional Christmas cookies in Scandinavian countries. They are simple butter cookies, shaped by putting the dough through a cookie press. The name comes from the German word spritzen, meaning "to squirt" because the soft dough is squirted or pushed through a cookie press to make fancy designs. A Norwegian tradition is to make them in shapes of S's and O's. Children love to help make and decorate these cookies.
More favorite Cookie Recipes and Secrets To Making Perfect Cookies. Also learn How To Have A Successful Holiday Cookie Exchange or Cookie Swap.
Best Spritz Cookie Recipe:
Keyword:
Best Spritz Cookie Recipe
Instructions
Spritz Cookie Instructions:
Preheat oven to 400 degrees F.

Refrigerate UNGREASED cookie sheets until ready to use. NOTE: Pressing the dough out onto cool, ungreased baking sheets makes it possible for each application to stick on contact. You will need to clean off the cookie sheets between batches.

In a large bowl, mix butter, sugar, egg yolks and flavoring with your electric mixer or mix by hand.

Gradually add flour to mixture, mixing well after each addition.

The secret lies in the dough, which should be neither too soft nor too firm. It it is too soft, the cookies will have no definition, and if the dough is to firm, the cookies will bake too dry. To test the dough's consistency before baking a batch, press a small amount of dough through the cookie press cylinder.

If the dough is too soft so that it doesn't go through cleanly, chill the dough for about 15 minutes.

If the cookie dough is dry, your spritz will fail. To avoid dry cookie dough, be sure to measure your butter exactly and blend your ingredients together by hand rather than in a mixer. Dry cookie dough won't flow through the cookie press and if you do happen to get some shapes onto the cookie sheet, dry cookie dough bakes into dry and crumbly cookies. Remember, don't over-mix, over-handle, or over-bake. If the dough is too dry, use 1 or 2 teaspo ons of whole milk and mix it into the dough with your hands.

If dough becomes too soft during use, refrigerate dough about 5 minutes or until firm enough to hold its shape (the dough will crumble if it is too cold, and it won't stick to the cookie sheet).

How to Use an Old Fashioned Cookie Press – These cookie press tips will help you make beautiful spritz cookies.

Pack the dough into a Cookie Press fitted with desired template/disks of your choice (disks can include wreath shapes, stars, crescents, etc).

Begin cranking and twisting (if you use an automatic cookie press follow manufacturer's instructions) the cookie dough through cookie press, forming desired shapes, onto chilled ungreased cookie sheets about 1-inch apart.  If you press your spritz cookies the old fashioned way with a crank or twist press, the secret is all in the wrist.  Turn the crank or the twist with the right hand, and then just before you are done, counter twist with the left hand and press gently down, then pull up and off the dough.

Hold the press upright in relation to the cookie sheet with the "legs" resting flat, and force out the dough until it appears at the edge of the mold, then lift the press away.  Keep your cookies about 1-inch apart on the cookie sheet.

Sprinkle with colored sugar or add a maraschino cherry half before baking, if desired.

NOTE: I never get a perfect cookie the first, second or the 5th time out of the press.  It takes patience and practice, and then the dough reaches the right temperature and the perfect spritz cookie eases out onto the sheet.

Don't Have A Cookie Press: If you're not using a cookie press, simply drop the dough by the teaspoonful onto the ungreased baking sheets.  Top with coarse sparkling sugar or colored sugar, if desired.

Photos of different types of cookie presses  Cookie disk's choices  Pressing the dough through the cookie press

Remember – use cold and ungreased cookie sheets when baking Spritz cookies.  The second batch of cookies on a cookie sheet may have trouble sticking if the cookie sheet is still warm.  I usually use more than one cookie sheet when making spritz cookies.  If you need to use the same cookie sheet and it is still warm, use some cool water to wipe it down and then dry it with a towel.  This also removes any grease from the previously baked cookies that may inhibit sticking.

Bake 10 to 12 minutes in your preheated oven, rotating baking sheet halfway through baking time, or until light brown.

Remove from oven and cool on baking sheet until just warm, approximately 10 to 15 minutes.

Using a thin, wide metal spatula, transfer cookies to wire cooling racks, and cool to room temperature.
Recipe Notes
* You must use butter in this recipe. The secret of a great spritz cookie is a dough that is fat enough to press or pipe, yet sturdy enough to hold it shape in the oven. It must be butter.
*** If desired, you can also color the dough with food coloring.
Nutrition Facts
Best Spritz Cookie Recipe:
Amount Per Serving (1 g)
Calories 45
Calories from Fat 27
% Daily Value*
Fat 3g5%
* Percent Daily Values are based on a 2000 calorie diet.
Storage:
When cookies are completely cool, store airtight at room temperature for up to several days. Freeze for longer storage in airtight bags. These cookies will pick up moisture from the air (on a damp day it takes only six hours to turn crisp cookies into soft cookies).
Unbaked dough can be refrigerated in an airtight container for up to 4 days. To use, let the dough stand at room temperature until softened, about 45 minutes.
Shape Suggestions:
1. Use the flower or star-shaped disc and top each with a maraschino cherry half before baking.
2. Add a few drops of green food coloring to the dough and use the tree-shaped disc, then top tree-shaped cookies with tiny colored candy sprinkles before baking.
Almond Spritz – Replace the vanilla extract with pure almond extract.
Butterscotch or Caramel Spritz – Substitute brown sugar for white (only change).
Chocolate Spritz – Add 2 ounces melted unsweetened chocolate to sugar mixture. Be sure the chocolate is cool before adding to mixture. Another chocolate variation is to substitute 1/4 cup unsweetened cocoa powder for 1/4 cup of the flour and add along with the sugar to the beaten butter in the mixing bowl.
Coffee Spritz – Add 1 tbsp instant coffee and 1/4 cup pecans with the sugar.
Lemon Spritz – Replace the vanilla extract with 1 tablespoon lemon juice and 1 teaspoon lemon zest (rind).
Mint Kisses – Add 1/4 teaspoon peppermint extract. Immediately after removing cookies from oven place a chocolate candy kiss on each cookie.
Orange Spritz – Add 1 tablespoon grated orange zest with dry ingredients.
Orange Pecan Spritz – Add 2 tablespoons orange peel and 1/2 cup pecans when you add the flour.
Peanut Butter Spritz – Reduce butter to 2/3 cup. Add 1/2 cup peanut butter.
Peppermint Spritz – Substitute 1/4 to 1/2 teaspoon peppermint extract for the vanilla extract.
Create a marble effect – Fill the press tube with a portion of regular spritz dough along one length of the press cylinder, and a portion of Chocolate spritz dough along the remaining length of the cylinder. Press out dough through a decorative disc onto baking sheets for an interesting marble design.
Icings for Cookies (optional):
Rum icing
1 cup powdered (confectioners') sugar
1/4 cup butter, softened
2 tablespoons water
1/4 teaspoon rum extract
In a small bowl stir together powdered sugar, butter, water, and rum extract until smooth. Drizzle or spread with a knife over warm cookies.
Vanilla Glaze
1 cup powdered (confectioners') sugar
2 tablespoons milk
1/2 teaspoon pure vanilla extract
In a small bowl, stir together powdered sugar, milk, and vanilla extract until smooth.
Additional Family Favorite Christmas Cookies:
Merry Christmas Cookies
Christmas would hardly seem like Christmas without fancifully shaped and decorated cookies. Decorated cookies are thought to have originated in pre-Christian times as offerings to various gods. You and your children will love these cookies. The honey in this recipe makes these cookies melt in your mouth.
Russian Teacakes or Mexican Wedding Cakes
This favorite holiday cookie is known by many different names around the world, such as Mexican Wedding Cakes, Russian Teacakes, Swedish Tea Cakes, Italian Butter Nut, Southern Pecan Butterball, Snowdrop, Viennese Sugar Ball, Sand Tarts, and Snowballs.
Bon Bon Cookies
Some people will call these candy – but candy or cookie they are a wonderful! These cookies have always been a holiday favorite of mine.
German Lebkuchen Squares
A wonderful German Christmas tradition that is consumed and enjoyed around the world. It is thought that the Lebkuchen was probably the first cookie traditionally associated with Christmas and oldest form of cookie known to humankind.
Nanaimo Bar – Original Nanaimo Bar Recipe
There have been many versions of Nanaimo Bars made over the years, but the Original Nanaimo Bar recipe still stands as a favorite. These bars are very rich!
Comments and Reviews