Chocolate Panna Cotta with Port Cherries Recipe dessert is so fantastic!  These softly set and creamy Italian puddings are so silky-smooth they slip down beautifully at the end of a meal.
Panna Cotta literally translates as "cooked cream" in Italian.  Set with gelatin instead of egg yolks, panna cottas are lighter than most puddings. This dessert is also perfect for dinner parties because they can be made a day or two in advance and kept refrigerated until ready to be served.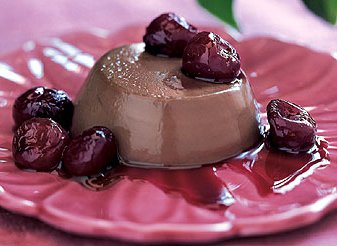 Chocolate Panna Cotta with Port-Balsamic Cherries Recipe:
Keyword:
Chocolate Panna Cotta with Port Cherries Recipe
Instructions
Chocolate Panna Cotta Instructions:
Brush six (6) 3/4-cup glass custard cups with oil.

In a medium-size bowl, add milk; sprinkle the gelatin over the milk, and let stand until gelatin is softened, about 5 minutes.

In a large saucepan, combine heavy cream and sugar. Bring cream just to a simmer (do not let it boil), whisking occasionally until sugar has completely dissolved; remove from heat. Add chocolate and whisk until thoroughly melted. Add the softened gelatin mixture and whisk to completely dissolve the gelatin. Add vanilla extract.

Working in two batches, transfer mixture to blender and use only three on/off turns to just fully blend mixture (do not over mix). Divide mixture among custard cups. Cover and chill 24 hours. Can be made two days ahead. Keep chilled.

Prepare Port-Balsamic Cherries. Refrigerate until ready to serve.

To unmold the chilled Panna Cottas and serve, carefully dip bottom of each ramekin in a baking pan of hot water briefly, approximately 1 1/2 minutes. Run a thin knife around edge of each ramekin to loosen it from the inside of the bowl. Wipe the outside of the mold dry and place on individual chilled serving plate (topside down). Invert the custard onto the plate and carefully lift off ramekin (shake gently to release).

Spoon prepared Port-Balsamic Cherries sauce over each Panna Cotta and serve.
Port-Balsamic Cherries Instructions:
If cherries are frozen, let thaw before using.

In a large heavy skillet over high heat, stir together cherries, port wine, sugar, and balsamic vinegar until sugar dissolves. Bring just to a boil; reduce heat to medium and simmer until cherries are soft and wooden spoon leaves a path in the sauce when drawn across bottom of skillet, approximately 15 minutes.

Remove from and heat and let cool to room temperature. Refrigerate for at least 3 hours or overnight.

Can be made 2 days ahead. Cover and refrigerate.
Recipe Notes
* It is always best to measure the the amount of gelatin needed as the envelopes of gelatin can vary.
** Half & half, buttermilk, whole milk, and/or sour cream may be substituted for part of the cream.
Source:  I slightly adapted this panna cotta recipe from the Bon Appetit Magazine, August 2004.  Photo by Pornchai Mittongtare.
Comments and Reviews