Baked Alaska with Mocha Sauce is so easy to make that your guests will think you spent a lot of time preparing it for them.  This dessert is a simple, make ahead, and delicious dessert that will definitely impress everyone you serve it to.  A sophisticated way to serve ice cream and cake.
Baked Alaska is also known as omelette á la norvégienne, Norwegian omelette, omelette surprise, omelette norvegienne, and glace au four.  Baked Alaska is ice cream encased in some sort of hot casing (pastry crust or meringue).  Early versions of this dessert consisted of ice cream encased in a piping hot pastry crust.  The later version consisting of ice cream on sponge cake covered with meringue and browned quickly in a hot oven.  A true Baked Alaska starts with the meringue.  A meringue is a "patisserie" made from egg whites and sugar.  Patisserie is the French word for various preparations made of pastry and generally baked in the oven.
The creation of Baked Alaska is claimed as being created by many people, and popularized by many others.  Learn about the history of Baked Alaska.
More great Ice Cream, Sorbet, Granita, and Gelato Recipes.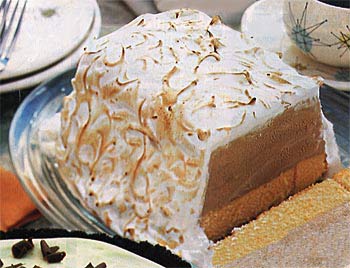 Baked Alaska with Mocha Sauce Recipe:
Keyword:
Baked Alaska with Mocha Sauce Recipe
Ingredients
Chocolate Sauce:
1 1/2

cups

strong coffee,

freshly brewed

10

ounces

semisweet chocolate,

chopped

2

tablespoons

coffee liqueur
Instructions
Baked Alaska with Mocha Sauce Instructions:
Line 9- x 5- x 2 1/2-inch metal loaf pan with plastic wrap, leaving overhang. Spoon softened ice cream into prepared pan, spreading evenly and smoothing top.

Cut frozen pound cake horizontally in half. Arrange 1 cake piece, cut side down, atop ice cream and against 1 corner of pan. Cut remaining cake piece into strips and arrange in pan to cover ice cream completely. Cover with overhanging plastic and freeze until firm (at least 4 hours).

Uncover cake. Invert onto metal or ovenproof platter. Freeze while preparing meringue.

Beat egg whites in large bowl until foamy. Add cream of tartar and beat until soft peaks form. Beat in coffee liqueur. Gradually add sugar, beating until stiff glossy peaks form. Spread meringue over cake, covering cake completely sealing meringue to platter. Freeze overnight.

When ready to bake, position rack in center of oven. Preheat to 500 degrees F.

Bake Baked Alaska until meringue is lightly browned and just set, approximately 3 minutes. Cut baked Alaska into slices and arrange on plates. Spoon warm Chocolate Sauce around dessert and serve.
Chocolate Sauce Instructions:
In a heavy samll saucepan, combine brewed coffee and chopped chocolate. Stir over medium-low heat until chocolate is meltd and mixture is smooth. Increase heat to medium and let mixture simmer until sauce thickens, approximately 2 minutes. Remove from heat and let cool slightly. Stir in coffee liqueur. Cover sauce and refrigerate until ready to serve. Note: Can be prepared 3 days ahead of time. Reheat before serving.
Sources:  Recipe and photo from Bon Appetit Magazine, September 1999.
Comments and Reviews