Coffee Jelly gives you the punch of a cup of coffee in a delicious dessert –  Surprise your guests with this delicious dessert.
This interesting and great tasting gelatin dessert is a cool shimmering cup of coffee that you can eat with a spoon that is refreshing and cold and makes a great summer sweet.   All you need is freshly brewed coffee, gelatin, water, cream, and sugar.  You can also try replacing the gelatin with agar agar.   It is a popular dessert in Japan and the Philippines where it is usually cut into cubes for serving.  If you are looking for a light and unusual dessert after Japanese dinner, this is it.
Once coffee jelly was very common in British and American cookbooks.  Now days it is most common in Japan, where it can be found in most restaurants and convenience stores.  Coffee Jelly is a popular jelly dessert in Japan.  It is a mix of an gelatin with sweetened coffee, and was developed in the Taishō period (1912–1926).  It is often cut into cubes and served in a variety of dessert dishes and beverages.
I found this Coffee Jelly recipe in an older 1968 Gourmet Magazine.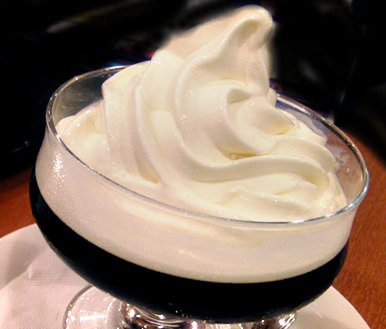 Coffee Jelly Recipe:
Keyword:
Coffee Jelly Recipe
Ingredients
5

teaspoons ( 1 tablespoon plus 2 teaspoons)

gelatin,

unflavored*

1/2

cup

coffee liqueur

3

cups strong

coffee

or espresso, prepared and hot

3/4

cup granulated

sugar

Pinch of

salt
Whipped cream,

sweetened
Instructions
In a large bowl, sprinkle the gelatin over the coffee liqueur; let stand until the gelatin is softened, about 5 minutes. Once the gelatin is softened, add hot coffee, sugar, and salt; stir the mixture until the gelatin is completely dissolved and the mixture is clear.

Pour the coffee liquid into either eight (8) individual jello molds, custard cups, dessert glasses, or coffee cups.

Refrigerate until the jellies are firm

When ready to serve, remove from refrigerator. If poured into jello molds, unmold before serving. Add some sweetened whipped cream to the top of each jelly and serve.
Recipe Notes
* It is always best to measure the the amount of gelatin needed as the envelopes of gelatin can vary.
Comments and Reviews