Homemade Peppermint Ice Cream is in a world of its own!  The addition of crushed peppermint candies impart a refreshing taste to this ice cream.  When you make your own homemade ice cream, you combine fresh rich ingredients with the flavorings and add-ins of your choice, for a delectable experience.  If you own an electric or hand operated ice cream freezer, making your own ice cream can be fun and easy.
This very easy-to-make Homemade Peppermint Ice Cream recipe was shared with me by Molly Garland of Hillsboro, Oregon.  Every 4th of July, Molly makes this wonderful and tasty ice cream for all her family and friends to share.  It is so easy-to-make and so good!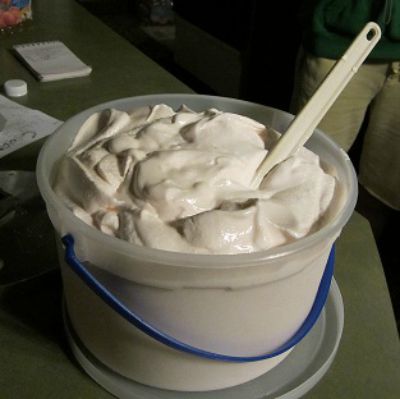 More delicious Ice Cream Recipes and my daughter's absolutely fantastic Italian Pistachio Gelato.
Homemade Peppermint Ice Cream Recipe:
Keyword:
Homemade Peppermint Ice Cream Recipe
Ingredients
4

eggs

2

cups granulated

sugar

5 1/2

cups

half & half cream

2

cups

heavy cream

or whipping cream

1

tablespoon

peppermint extract

Hard

peppermint candy

or peppermint candy canes (as much as you like), crushed

Ice,

crushed
Instructions
In a large bowl, blend together the eggs and sugar; beat until sugar is dissolved. Add the half and half cream, whipping cream, and peppermint extract; blend together all the ingredients.

The ice cream is now ready for the freezing process. Transfer the mixture into your ice cream maker and freeze according to the manufacturer's instructions. Either churn your ice cream by hand or by motor.

The Science of Making Homemade Ice Cream:

Using salt and ice - The freezing procedure has a two-fold purpose, the removal of heat from the mix and the incorporation of air into the mix. Heat is removed by conduction through the metal to the salt-water brine surrounding the freezing can. To help the ice cream mixture to freeze, the container holding the mixture is surrounded ice and rock salt. If you use too much salt, the mixture will freeze too quickly and will not be smooth. If you use too little salt, the ice cream might not even freeze. Unless your ice cream recipe says otherwise, use 1/2 cup rock salt to 4 cups crushed ice.

Place the container with the ice cream ingredients into the ice cream maker.

Packing in the crushed ice and rock salt.

We are now making homemade ice cream!

Churning - Good ice cream is determined not only by the taste but also the texture. The continuous churning with the ice cream freezer is important because it adds air into the mixture. this makes the ice cream smooth and increases its final volume.

Once you start the churning process, do not stop! If you stop for a long break, large ice crystals would form in the coldest part of the mixture. This would produce a grainy texture in parts of the ice cream and the center may not even freeze. The continuous churning also distributes the flavorings and brings the un-frozen portions of the mixture to the surface. The ice cream mixture usually takes between 20 to 30 minutes to freeze and the freezing container is then placed into a freezer to allow the ice cream to harden.

While the ice cream maker is processing your ice cream, crush the peppermint candy.

Crushing Peppermint Candy - To easily crush peppermint candy, place unwrapped candy in a heavy-duty resealable plastic bag, squeeze out the air, and seal.

On a sturdy countertop or cutting board, pound the bag of candy with a rolling pin, heavy skillet, mallet, or small hammer until coarsely crushed. Or, process in food processor using on/off pulsing action. Set the crushed peppermint candy aside until ready to use.

When the ice cream is done, remove the inner paddle from the ice cream maker, scrapping off any ice cream back into the container. Stir in the crushed peppermint candy at this time.

Either serve and enjoy or transfer to freezer containers and freeze until firmer. NOTE: Freshly made ice cream will be soft. To freeze, put in an airtight plastic container and place in the freezer for at least an hour, preferably several hours or overnight.

Makes approximately 1 gallon of ice cream.

Storing Homemade Ice Cream: Homemade ice cream does not store as well as store-bought ice cream. For best results, transfer leftover homemade ice cream into a plastic airtight container. Store in the freezer for no more than one week. If the texture of the stored ice cream is grainy, let the ice cream soften, then beat it before serving to smooth the texture.

Recipe Notes

* Rock salt – large crystal salt with a gray color, due to minerals not removed from normal table salt.  This form of salt is available in most grocery stores, and also through hardware stores.
If you don't have an ice cream maker, you can buy some nice counter-top size ice cream makers from Amazon – affiliate link.

Comments and Reviews