Pumpkin Chiffon Pie will be a big hit at your Thanksgiving dinner.  The chiffon filling is very smooth and silk like with a great flavor.  People who are not a big fan of the traditional pumpkin pie, will definitely like this version.
History:  Chiffon pies were popular under the name of Sissy Pies in the early 1900s. They were also called Fairy Tarts or Fluff, Sponge, or Souffle Pies and were based on variously flavored puddings, lightened with beaten egg whites that were then baked in a pastry crust.
1943 – In Fannie Merritt Farmer's The Boston Cooking-School Cook Book, there is a recipe for Lemon Chiffon Pie, Coffee Chiffon Pie, Eggnog Chiffon Pie, Pumpkin Chiffon Pie, and Strawberry Chiffon Pie.  Gelatin was used in all her pie recipes.
Learn more about the History of Pumpkin Pie.  Also check out more great Pie Recipes.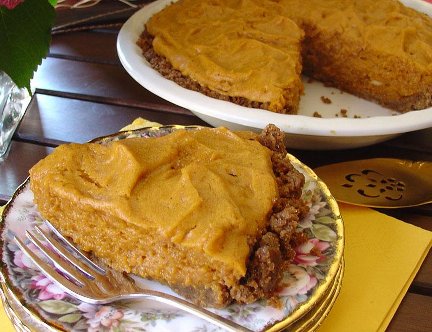 Please check out What's Cooking America's Thanksgiving Turkey Dinner Menu which includes this easy-to-make and very delicious Chiffon Pumpkin Pie.
Thanksgiving Pumpkin Chiffon Pie Recipe:
Keyword:
Gingersnap Cookie Crust Recipe, Thanksgiving Pumpkin Chiffon Pie Recipe
Ingredients
Pumpkin Chiffon Pie:
Gingersnap Cookie Crust

or Graham Cracker Pie Crust

3

large

eggs,

separated

3/4

firmly-packed cup light

brown sugar

1

(15-ounce) can solid-packed

pumpkin

1/2

cup

milk*

1

teaspoon

cinnamon,

ground

1/2

teaspoon

nutmeg,

ground

1/2

teaspoon

salt

2 1/2

teaspoons

gelatin,

unflavored**

1/4

cup

cold water

1/4

cup granulated

sugar
Whipped cream,

sweetened (optional)
Gingersnap Cookie Crust:
1 1/2

cups (about 40 cookies)

gingersnap cookie crumbs,

finely ground

1/4

cup granulated

sugar

1/3

cup

unsalted butter,

melted and cooled
Instructions
Pumpkin Chiffon Pie Instructions:
Preheat oven to 350 degrees F. Position baking rack in the center of your oven. Prepare pie pastry of your choice.

In top of a double boiler, combine egg yolks, brown sugar, pumpkin, milk, cinnamon, nutmeg, and salt; whisk to thoroughly blended. Place the pan over the boiling water. NOTE: The bottom of the pan should not touch the boiling water below. Cook, approximately 15 to 20 minutes, stirring frequently until thick (like a pudding). Remove from heat.

In a small bowl, combine unflavored gelatin and cold water, stirring until gelatin is completely dissolved. Learn how to use Gelatin in your cooking and also the history of Gelatin, Gelatine, and JELL-O.

Add gelatin mixture to the hot pumpkin mixture, stirring to combine. Cover bowl with wax paper to prevent mixture from forming a "skin." Let cool to room temperature, and then place in the refrigerator until partially set, approximately 1 to 1 1/2 hours.

In a large bowl, beat the egg whites until soft peaks form. Gradually add the granulated sugar and beat until stiff peaks form. Using a spatula, gently fold the beaten egg whites into the partially set pumpkin mixture. Do not over mix; retain some streaks in the mixture.

Gently pour the pumpkin mixture into the pie crust of your choice. Cover and refrigerate at least 2 hours or until filling is set.

This pie may be prepared up to 2 days in advance. Store in the refrigerator until ready to serve.

Serve with sweetened whipped cream.
Gingersnap Cookie Crust Instructions:
In a food processor, grind gingersnap cookies and sugar until fine, but still crumbly; add butter, blending until combined well.

Press gingersnap mixture onto the bottom and up the sides of a 9-inch glass pie plate.

Bake crust for approximately 15 minutes or until crisp and golden around the edges. Remove from oven and let cool on a wire cooling rack before filling.
Recipe Notes
* If desired, substituted some of the milk with either whisky, brandy, or rum (your choice).
** It is always best to measure the the amount of gelatin needed as the envelopes of gelatin can vary.
Source:  This photo was shared with me by my sister, Carol Arroyo, and her wonderful website called The Baking Pan.
---
You might also like:
Pumpkin Pie (Thanksgiving Pumpkin Pie)
How about making this very easy and traditional pumpkin pie for your Thanksgiving dinner?  This recipe comes from the 1960's Betty Crocker cookbook.  I learned to cook from this cookbook.
Pumpkin Empanadas
Pumpkin pie may not be on the menu for a traditional Mexican-style meal, but pumpkin empanadas most definitely are, at least on the ones I have known.  Pumpkin empanadas are made both on Thanksgiving and Christmas.
Pumpkin Cheesecake
Never again make a pumpkin pie for the holiday.  This cheesecake is absolutely wonderful.  Let your family be the judge!  I usually make this cheesecake ahead of time and freeze it. See How To Freeze Cheesecake.
Spiced Pumpkin Mousse Trifle
Wouldn't this be an excellent dessert for your Thanksgiving Dinner?  Especially since it can be made ahead of time.  If you don't have a true trifle bowl, use any straight-sided round glass bowl (the layers look beautiful from the sides of a glass bowl.
Comments and Reviews