Louisiana Cuisine with Wine
"Wine makes daily living easier, less hurried, with fewer tensions and more tolerance."
– by Benjamin Franklin
Chef John Folse is revered as one of the great American chefs from Louisiana.  His eight cookbooks, particularly the monumental Encyclopedia of Cajun and Creole Cuisine, spread the gospel of indigenous Louisiana cooking to the world.  The PBS mainstay, "A Taste of Louisiana," is Folse's masterfully produced international television series.  The Chef John Folse Culinary Institute at Nicholls State University is dedicated to the preservation of Louisiana's rich culinary heritage.
Folse introduced Louisiana's cuisine to Japan, Beijing, Hong Kong, and Paris.  In 1988, Folse opened "Lafitte's Landing East" in Moscow during the Presidential Summit between Ronald Reagan and Mikhail Gorbachev.  Folse was the first non-Italian chef to create the Vatican State Dinner in Rome, followed by his promotional restaurants in London, Bogota, Taipei, and Seoul earning a proclamation as "Louisiana's Culinary Ambassador to the World" from his beloved state.  A past chairman of the Distinguished Restaurants of North America, Folse recently served as the American Judge for the Bocuse d'Or World Cuisine Contest in Lyon, France.
I asked Folse, a man who knows wine as well as he knows how to cook, about the importance of wine in the dining experience.  "Wine," he responded, "has graced the table since the beginning of recorded time.  Wine not only enhances the flavor of food when properly paired, it helps to create a social and welcoming atmosphere among diners.  Whether sipped as a pre-dinner beverage or a sweet finish served with dessert, wine is an extremely important element to the meal."
Chef Folse has myriad original recipes in his outstanding new book, Hooks, Lies & Alibis, (Chef John Folse & Company Publishing, 2010), and I thought it might be fun to take some recipes and do some wine pairing.  Wines from Louisiana?  Folse reminded me that Louisiana was producing award-winning wines before Prohibition, a natural consequence of the state's fondness for alcoholic beverages.  After all, the cocktail was invented and named by Antoine Peychaud, a French Quarter pharmacist.
John Seago owns Ponchartrain Vineyards and produces a white Blanc Du Bois and a red, Norton/Cynthiana, both from American grapes. Pairing them I thought, with Folse's recipes had to be fun. The Blanc Du Bois has some taste kinship to the white wines of Alsace and no finer recipe than the iconic Trout en Papillote, a New Orleans classic dish featured in Folse's book takes the flavors of the trout's natural juices and magically blends everything with butter and spices, all baked in parchment.  The Blanc Du Bois (Seago produces a bottle called Le Trolley) or a bottle of Alsatian dry Riesling or Pinot Gris will pair beautifully with this dish, offering just enough acidity and fruit balance to make this an elevated dining experience.
Southern fried catfish and hushpuppies, a culinary heritage recipe found in Folse's book, is a border crossing dish found taking various forms from Key West to Louisville that is found as far west as Austin, Texas.   A dry Australian Riesling like Wakefield Promised Land 2008 or an Alsatian Gewztraminer for me was a great fit.
Travels often lead to restaurant variations of another spectacular dishs, shrimp and grits.  Once a pioneer staple, it's now omnipresent. Folse's original recipe, Catfish and Shrimp over Grits, becomes a production that takes to good red wine a little better than most light white wines . I paired this outstanding recipe with Ponchartrain's Norton/Cynthiana, a red that is quite dry, and the flavors married beautifully.  Substitute dry Chianti, a Rioja Crianza or a Pinot Noir from Oregon and you have the makings of another lasting memory.
Ever the ambassador of American food, Folse referred me to a dish from his friend, Chef Tory McPhail of Commander's Palace in New Orleans.  McPhail, who is from a small town in Washington State near the Canadian border, devised an award winning dish, Creole Seafood Mixed Grill. It is in Folse's new cookbook.  From the first rich spoonful of complex flavors, the wine light bulb flashed.  Wine choices should never be vexing, so I went directly to my fail-safe that works with everything: Champagne.  Don't hesitate to substitute a high quality American sparkling wine.  The good producers are easy to find.
Chef Folse is an observer of food evolution, believing that over the next 20 years we will see a huge growth in cuisines reflecting our South American neighbors.  "From Mexico to Chile, Argentina and beyond," he said, " a tremendous array of exciting herbs, spices and raw materials never seen here before will be brought to North American kitchens.  Indian and Middle Eastern cuisines will gain a rapid foothold in our restaurant and food culture.
Exciting new food means more wine adventures and that's good news if we follow the Boy Scout motto:  Be Prepared.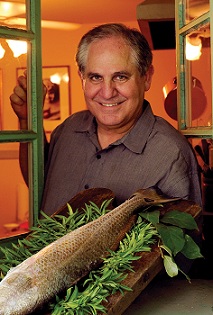 Trout En Papillote Recipe:
Keyword:
Trout En Papillote Recipe
Ingredients
6

(6-ounce) fresh

trout filets

1/2

cup

butter,

softened and divided

1/4

cup

lemon juice,

freshly squeezed

1

teaspoon

lemon pepper

1

teaspoon

thyme

leaves

Salt

and freshly ground black pepper, to taste

Granulated

garlic,

to taste

12

pearl onions,

peeled

6

cloves

garlic

1

cup

carrots,

thinly sliced
Instructions
Preheat oven to 375 degrees F.

Cut six (6) pieces (8" x 10") parchment paper. Lay parchment paper pieces on a flat, clean surface and brush with softened butter.

Place one (1) trout filet on each piece of parchment paper and brush each trout filet with softened butter. Drizzle with lemon juice and then season with lemon pepper, thyme, salt, pepper, and granulated garlic, to taste. Top with onions, garlic cloves, and carrots.

Enclose each prepared trout filet in the parchment paper by folding sides over the top of each trout fillet and vegetables.

Set papillotes on a baking pan with 1-inch lip, seam side down, and bake approximately 20 minutes or until fish is cooked through and vegetables are tender.

Perfectly cooked fish is nearly opaque, should be very moist, and will flake easily with a fork. Fish that looks slightly dry is overcooked. Undercooked fish will look translucent and raw. If you have a digital cooking thermometer, the internal temperature in the center of the fillet should reach 145 degrees F.

To serve, transfer papillotes to 6 serving plates and cut open with a sharp knife, and serve immediately.

I get many readers asking what cooking/meat thermometer that I prefer and use in my cooking and baking. I, personally, use the Thermapen Thermometer. Originally designed for professional use, the Super-Fast Thermapen Thermometer is used by chefs all over the world.  I only endorse a few products, on my web site, that I like and use regularly.
You can learn more or buy yours at: Super-Fast Thermapen Thermometer.
Sponsored Content
---
Doc Lawrence is a veteran food and wine journalist based in Atlanta and Fort Lauderdale.  Doc Lawrence writes and lectures regularly about subjects in which he is a recognized and acknowledged expert – wine and food, theater, travel and cultural tourism, visual art and music.  His works have earned praise from many editors and publishers.  Check out all of Doc's Sips Across America articles.
Comments and Reviews