Tailgating – An All-American Tradition:
Tailgating is part of our cultural landscape, an open-air culinary ritual inexorably bound to sports and anchored to stadium parking lots and racetrack infields coast to coast.  The almost omnipresent outdoor feast and has taken on some sophistication in recent years.  Where beer once dominated, wine is making inroads, not so surprising when the best known tailgaters include celebrity chefs and wine enthusiasts are joined by some NASCAR legends.  Tailgating spawns originality, has no geographical boundaries and attracts many high profile personalities who have the star power to influence food and beverage preferences.
From Sonoma's Infineon Raceway to Daytona Beach, Florida, NASCAR fans know how to tailgate.  On a race weekend, you can walk for miles admiring a sea of active grills.  And wine has come of age.  None other than champion driver Jeff Gordon is in the wine business.  Sonoma-based Ravenswood sponsors a racing team and holds tastings at NASCAR events.  Bennett Lane Winery owner Randy Lynch says "I want to turn beer guzzlers into wine drinkers—one race at a time."  Lynch owns a NASCAR West racing team emblazoned with the Bennett Lane logo that competes in the NASCAR West regional series.  Lynch regularly hosts a parking lot tailgate feast for NASCAR fans where his award-winning wines flow served with gourmet food often prepared by wife Lisa.
Mario Batali, one of televisions highest profile celebrity chefs rightly claims the unofficial crown as America's tailgating king, the one chef and restaurateur who can connect with 75 million American NASCAR fans through cookbooks like Mario Tailgates NASCAR Style: The Essential Cookbook for NASCAR Fans, a runaway bestseller.  I interviewed the esteemed chef recently, asking how he came to tailgating and NASCAR.
"I noticed that people were cooking some elaborate dishes like crab cakes and wonderful stews," he said, "and drinking not only beer but wine."  Batali attended more NASCAR races and observed even more adventurous tailgating, finding the experiences inspiring:  "They were showcasing their communities.  The NASCAR tailgaters are everywhere in America, and are serious about what they eat and drink and reminded me of what I used to see outside a Led Zeppelin concert.  Before long, I was cooking for NASCAR drivers on the infield at racetracks in Bristol and Talladega, and they began to come and eat at my restaurants in New York.  We became friends."
Richard Childress, former driver and current owner of one of the top NASCAR racing teams, makes heralded wines at his Childress Vineyards in Lexington, North Carolina.  His Victory Cuv Champagne sparkling wine, a Chardonnay-based Blanc de Blancs Brut, is made in the traditional French Mhode Champenoise.  The back label features a toast from Richard "to all your winning moments in life." And you've probably guessed that one of the big fans of Childress wines is Chef Mario Batali.  "I've been to Richard's great winery," Batali told me,  "and walked with fans among his vines.  We have fun over food, drinks and racing.  They respond to friendliness, wonderful food and more and more of them are getting pretty sophisticated about wines."
Holly's Stadium Parking Lot Party:
Holly Clegg is a noted cookbook author and veteran television gourmet chef.
Louisiana is arguably the epicenter of tailgating.  Football, food, and wine combine to build excitement on game weekends.  Based in Baton Rouge, chef Holly Clegg, a veteran television hostess and cookbook author advances good food she calls Trim and Terrific, football favorites that proclaim it's time to cook and party.  Ms. Clegg concentrates on "figure-friendly" cuisine, but not at the expense of taste and elegance.  "My tailgate menu is simple and delicious.  Sandwiches like my mini muffalettas score high as a popular football party staple at any pre-game tailgating. You want a sandwich to hold you through the game, keeping you cheering on to victory."
For the uninitiated, a Muffuletta is an Italian-sub-style sandwich with provolone cheese, ham and salami and the key ingredient, marinated olive salad.  Muffalettas are easy to make with purchased rolls, olive salad, lean ham and cheese.
Tailgate food should be easy to serve to insure you are in your seat before the ball is in the air.  No tailgating menu, according to Holly, is complete without salsa and chips: "My super salsa recipe has only four ingredients.  Open a few jars of the freshly made salsa in the refrigerator section of the supermarket and mix in an avocado.  Sneak in your favorite veggies to taste.  Decorate the spread with an easy no fuss centerpiece like a basket holding a pot of flowers, a football and team pom poms to jazz up your table."
Somewhere in America on most weekends, while the racing cars are revving and just a few hours before kickoff, there's a party going on.  Get out of the kitchen and join the outdoor fun like Mario and Holly.
Photos are courtesy of Holly Clegg.
Holly Clegg's Mini Muffalettas: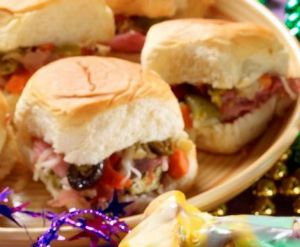 All it takes is four (4) easy ingredients and 15 minutes to create my popular version of this Louisiana favorite Italian-style sandwich.  Make them ahead of time and refrigerate or freeze until ready to bake.
Mini Muffuletta Recipe:
Keyword:
Holly Clegg's Mini Muffaletta Recipe, Mini Muffuletta Recipe
Servings
:
32
to 40 Mini Muffuletta Sandwiches
Ingredients
2

(12-ounce) packages

party-size rolls

(16 to 20 rolls to a package)

1/2

pound lean

ham,

thinly sliced

1 1/2

cups

Italian five-cheese blend,

shredded

1

(16-ounce) jar

Italian olive salad,

chopped and drained
Instructions
Split rolls in half, lay on baking sheet. Divide ham, cheese, and olive salad onto each roll. Replace bread tops.

Bake approximately 10 to 15 minutes or until cheese is melted.
Doc Lawrence is a veteran food and wine journalist based in Atlanta and Fort Lauderdale.  Doc Lawrence writes and lectures regularly about subjects in which he is a recognized and acknowledged expert – wine and food, theater, travel and cultural tourism, visual art and music.  His works have earned praise from many editors and publishers.  Check out all of Doc Lawrence's
Sips Across America articles.
Comments and Reviews