What is a Muffuletta Sandwich?
Muffuletta; muffaletta; mufeletta  (moof-fuh-LEHT-tuh or moo-foo-LE-ta) – It's nickname is simply muff.
Muffuletta Sandwiches can be found all over New Orleans from delis to pool halls and also at the corner grocery stores.  It is an Sicilian sandwich that consists of a round loaf of bread (about 10 inches across) filled with Italian salami, olive salad, cheese, Italian ham, and freshly minced garlic.  The key ingredient is the olive salad which gives the sandwich its special flavor and makes it appealing to the eye.
A true Muffuletta Sandwich must always be served at room temperature, never toasted as it is considered blasphemy to heat the sandwich.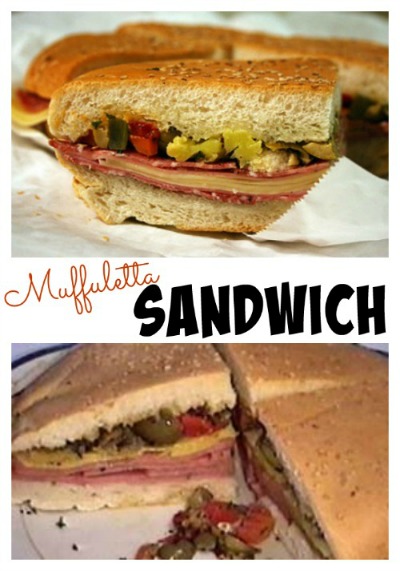 History of Muffuletta Sandwich:
The Italian Market, the Central Grocery on Decatur Street, claims to have invented this sandwich in 1906.  Italian immigrant, Signor Lupo Salvatore, owner of the Central Grocery, started making the sandwiches for the men who worked the nearby wharves and produce stalls of the French Market.  The sign over the covered sidewalk proudly proclaims, home of The Original Muffuletta.
Marie Lupo Tusa, daughter of the The Central Grocery's founder, tells the story of the sandwich's origin in her 1980 cookbook, Marie's Melting Pot:
One of the most interesting aspects of my father's grocery is his unique creation, the muffuletta sandwich.  The mufuletta was created in the early 1900's when the Farmers' Market was in the same area as the grocery.  Most of the farmers who sold their produce there were Sicilian.  Everyday they used to come of my father's grocery for lunch.
They would order some salami, some ham, a piece of cheese, a little olive salad, and either long braided Italian bread or round muffuletta bread.  In typical Sicilian fashion they ate everything separately.  The farmers used to sit on crates or barrels and try to eat while precariously balancing their small trays covered with food on their knees.  My father suggested that it would be easier for the farmers if he cut the bread and put everything on it like a sandwich; even if it was not typical Sicilian fashion.  He experimented and found that the ticker, braided Italian bread was too hard to bite but the softer round muffuletta was ideal for his sandwich.  In very little time, the farmers came to merely ask for a "muffuletta" for their lunch.
To this day, tourists and locals line up at both stores out into the street, waiting for their sandwiches.  Muffulettas are more than just sandwiches, they're a tourist attraction, especially during Mardi Gras.
Muffuletta Sandwich Real N'awlins Version Recipe:
Keyword:
Muffuletta Sandwich Real N'awlins Version Recipe, Olive Salad Recipe
Servings
:
1
to 4 servings
Ingredients
Muffuletta Sandwich:
1

round load

Muffuletta Bread

 or Italian-style bread, 10-inch in diameter*

Olive oil,

extra-virgin, or juice from Olive Salad

2

ounces

salami,

thinly sliced

2

ounces

Italian ham,

thinly sliced

2

ounces

Provolone cheese,

thinly sliced

2

ounces

Mortadella,

(4–6 slices) 
Olive Salad:
2/3

cup

green olives,

pitted and coarsely-chopped

2/3

cup

Kalamata olives,

pitted and coarsely-chopped

1/2

cup

pimento,

chopped**

3

cloves

garlic,

minced

1

anchovy

fillet, mashed

1

tablespoon

capers,

drained and rinsed

1/2

cup

parsley

leaves, finely-chopped

1

teaspoon

pepper,

freshly-ground

1/2

cup

olive oil,

extra-virgin
Instructions
Muffuletta Sandwich Instructions:
Either make or purchase your Muffuletta Bread.

Prepare the Olive Salad (see recipe below).

Cut bread in half crosswise (lengthwise) and scoop out about half of the soft dough from top and bottom pieces (this is to provide more room for the sandwich ingredients). Brush the inside bottom of loaf with olive oil or juice from the Olive Salad marinade.

Layer salami, Italian ham, Mortadella and Provolone cheese on the bottom piece.

Top with as much Olive Salad as will fit without spilling out. Add top of loaf and press down slightly.

Slice in quarters and serve. Always serve the prepared Muffuletta Sandwich at room temperature, never toasted.

Makes 1 to 4 servings (depending your the appetite).
Olive Salad Instructions:
In a medium-size bowl, combine all the ingredients and then allow the flavors to mingle for at least 1 hour prior to serving.

Store, covered, in the refrigerator until ready to use.
Recipe Notes
* Italian bread may be substituted. Check out my Muffuletta Bread recipe.
** Pimiento are small sweet red peppers, similar to, but more flavorful than, a bell pepper.  You will find small jars of pimiento in your grocery store.
Comments and Reviews