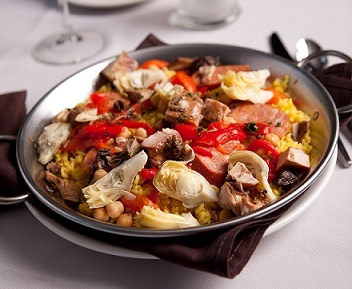 Recipe by Chef Brandon Frohne, an award winning 4th generation Chef and Winery Chef at the acclaimed Chateau an Winery and Resort in Braselton, Ga.
Chef Brandon Frohne's Paella Recipe:
Keyword:
Chef Brandon Frohne's Paella Recipe
Servings
:
4
to 6 servings
Ingredients
2

tablespoons

olive oil

4

ounces

chicken breast,

boneless, large dice

1/4

cup

white onion,

diced

2

tablespoons

garlic,

minced

1/4

cup

red bell pepper,

diced

1/4

cup

celery,

diced

1/4

cup baby

heirloom tomatoes

1

tablespoon

thyme,

fresh

1

cup

Chardonnay wine

1

cup

rice

(Valencia, Arboriio, or Spanish rice)

1 1/2

cups

chicken stock

1 1/2

cups

lobster stock

1/2

tablespoons

saffron

threads

4

 Lobster Tails,

meat removed and large dice

1/2

pound

Tiger Prawns,

peeled and deveined

6

Little Neck

Clams

6

Prince Edward Island

Mussels

1/2

pound

chorizo

sausage, julienned

1/2

teaspoon

salt

1/2

teaspoon

black pepper

1

tablespoon

lemon basil,

chiffonade

2

tablespoons

parsely,

freshly chopped

2

tablespoons

unsalted butter
Instructions
In a large Paella Pan or heavy cast-iron skillet over medium heat, heat the olive oil. Note: You will need a somewhat deep cooking dish, large cast-iron skillet, or the traditional Paella Pan (a round flat pan with two handles).

Season the diced chicken breast with a pinch of salt and pepper and sautto a golden brown for approximately 4 to 5 minutes. Leave the chicken in the pan and add the onions, garlic, bell peppers, celery, tomatoes, and fresh thyme. Saute mixture for an additional 2 minutes.

Deglaze the pan with the chardonnay wine, scraping up all brown bits on the bottom of the pan.

Increase the heat to medium-high heat. Add the rice, chicken stock, lobster stock, and saffron threads to the mixture and bring to a boil. Reduce mixture by 1/2, stirring occasionally, approximately 15 to 20 minutes.

Add the lobster, prawns, clams, mussels, sausage, salt, and pepper to the mixture. Turn heat down to medium and let simmer for 5 to 7 minutes until seafood is gently poached. Toss in fresh the parsley and lemon basil.

Finish by folding in the butter at the end to produce a rich creamy flavor.
Wines from La Mancha:
A quick quiz:  What is the largest wine producing region on the planet?  Which wines available on today's American retail wine shelves represent arguably the best value in price and quality?  More than likely few would have guessed the wonderful wines from the La Mancha region of Spain as the answer to both.  These gems are gradually getting more domestic marketplace exposure and while wines from afar can be a little confusing,  La Mancha makes it easy – if it is a D. O. classified releas e- by adding a graphic of Don Quixote mounted on his horse somewhere on the label.
The Ritz-Carlton Atlanta faces fabled Peachtree Street where the world premiere of Gone With The Wind took place in 1939. ust a few blocks away is the white marble tomb of Dr. Martin Luther King, Jr. and the nearby Jimmy Carter Presidential Center.  The regal Ritz-Carlton is widely viewed as occupying the pinnacle of luxury in this region and is the centerpiece of Atlanta's global reputation for Southern hospitality.  It is no surprise that the hotel and it's gourmet restaurant enjoys an unmatched reputation for fine dining and great wines and continues to be a top choice for visiting celebrities and heads of state.
Esteemed wine professional Brian White serves as the landmark hotel's sommelier and we sat down recently to discuss the wines of La Mancha "I think that La Mancha is a region whose time has come," Mr. White said.  "Not to overstate the obvious, but why wouldn't the world's largest wine region produce some gems?   La Mancha is a workhorse region producing wines from a multicolored rainbow of grape varieties.  The single varietal and blended wines coming out of this region are great for a dinner party, backyard barbeques, and easy sipping."
The conversation confirmed that variety, affordability and utility are attractive advantages these wines offer.
We discussed some of his favorites from La Mancha.  "The rosa, or rosado, wines are particularly intriguing," he said, "because they are fresh, vibrant, and a great value at ten dollars or less retail.  These wines are made from Garnacha, Censibel, Tempranillo, and many other grape varieties, and they range in color from light pink and salmon to almost a violet or lavender hue."  White advised wine shoppers to "look for sparkling wines from La Mancha in the category."
Brian White selected two wines as examples of La Mancha quality:
Gotas de Plata, Brut Rosado – This is a delicious late summer sparkler with dense and fragrant strawberry aromas and flavors.
Comino Los Robles Rosado (not sparkling) – Here's one that is organic and vegan friendly and this rosado is made from 100% Tempranillo.
The interesting thing about rosa wines", continued White, particularly the ones he selected from La Mancha, is that "they have been overlooked by Americans for decades.  My pairing experience with each of the Rosado wines selected by Brian White, confirmed food-friendliness, making my Jambalaya, many say a first cousin of Paella, even more delightful. I for one am very happy to see things turning around for this forgotten warm weather wine," White added.  We both agreed that terrific ros like these from La Mancha deserve a place on the wine menu of a heralded restaurant.  "These are just some of my picks to look for from this often overlooked region."
Summer is drawing to a close and all the glory of the new season is welcome.  New seasons suggest new wine adventures.  While the wines from La Mancha are just beginning their American introduction, but are out there if you shop.  What fun it is to enjoy a bottle now at a giveaway price knowing that with popularity sure to come, these bargains won't last long.
---
Doc Lawrence is a veteran food and wine journalist based in Atlanta and Fort Lauderdale.  Doc Lawrence writes and lectures regularly about subjects in which he is a recognized and acknowledge.  By Doc Lawrence –  Check out all of Doc's Sips Across America columns.
Comments and Reviews