Baked Eggs in Ham Crisps is a great brunch and even a breakfast dish for dinner.   My family also loves to have breakfast for dinner and this is the perfect egg dish to serve them.  Your family, and even your relatives, will love this delightful egg dish that is the answer for a quick breakfast that also looks elegant.   In France, this basic methods of baked eggs is called oeufs en cocotte which means "eggs in ramekins."
Read Linda's article on Baked (Shirred) Eggs.  Learn all about Eggs and how to cook them,  For more great brunch ideas, check out my Brunch Recipes.
This delicious recipe is adapted from the January 2002 issue of Gourmet Magazine.  Photo also from Gourmet Magazine.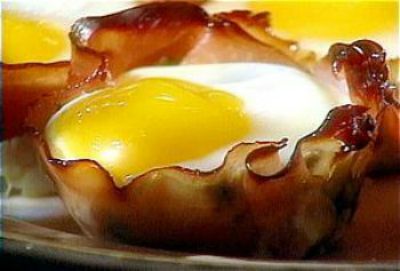 Baked Eggs and Mushrooms in Ham Crisps Recipe:
Keyword:
Baked Eggs and Mushrooms in Ham Crisps Recipe
Ingredients
3/4

pound

mushrooms,

finely chopped

1/4

cup

onion

or shallot, finely chopped

2

tablespoons

butter,

unsalted

1/2

teaspoon

Lawrey's seasoned salt

or salt

1/4

teaspoon

black pepper

3

tablespoons

creme fraiche

or sour cream

1

tablespoon

tarragon

leaves, fresh and finely chopped

12

thin slices

Virginia ham

or honey ham

12

medium

eggs

Whole

tarragon

leaves, fresh (for garnish)

Triangles of

toast,

buttered
Instructions
Preheat oven to 350 F. Lightly oil a 12-cup muffin pan.

In a large heavy frying pan over medium-high heat, saute mushrooms and shallot in butter with salt and pepper, stirring, approximately 10 minutes or until mushrooms are tender and liquid they give off is evaporated. Remove from heat and stir in cre fraiche or sour cream and tarragon.

To Assemble, fit one (1) slice of ham into each prepared muffin cups (ends will stick up and hang over edges of cups). Divide mushrooms among the cups and crack one (1) egg into each.

Bake in middle of oven approximately 12 to 14 minutes, depending on number of servings being baked. Check the eggs after about 10 minutes baking time. When done, the whites should be completely set and the yolks beginning to thicken but not hard. Remove from oven.

Season eggs with additional salt and pepper. Remove eggs (with ham) from muffin cups carefully, using 2 spoons or small spatulas, and place on individual serving plates. Garnish with tarragon leaves and triangles of buttered toast leaned on the cups to dip in the yolk as desired.

Serve two eggs per person.
Comments and Reviews