Breakfast tacos or burritos are available at many restaurants across Texas and the Southwest.  The breakfast taco is a fried tortilla that is rolled and stuffed with a mixture of seasoned meat, eggs, or cheese, and other ingredients such as onions and salsa.  Much like sandwiches, these tacos can be as simple or complex as imagination allows.  They are served for breakfast, lunch, or dinner, and they have gone mainstream to meet demands.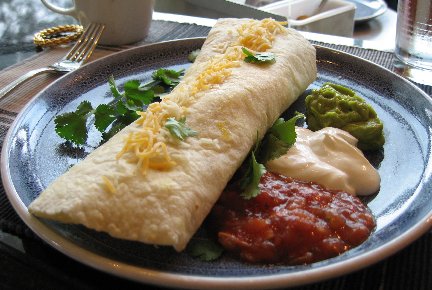 The tortilla, a thin, round bread made of corn or wheat flour, is the basis of many southwestern dishes.  It is the plate and spoon at Mexican-American meals, used to layer and wrap other ingredients or to scoop up food.  Taqueria or taco trucks are found throughout the West and southwest.  There are two kinds of taco trucks: traveling trucks that cruise around neighborhoods and business areas, and non-cruising trucks parked permanently in lots.
Corn tortillas were made long before European settlers introduced wheat flour to the New World.  They were a traditional food among southwestern Indian tribes, created as a way to preserve their harvested corn kernels from one season to the next.  According to a Mayan legend, a peasant of ancient times invented tortillas for his hungry king.  Flour tortillas are the foundation of Mexican border cooking and a relatively recent import.  Their popularity was driven by the low cost of inferior grades of flour provided to border markets and by their ability to keep and ship well.  Read about the History of Tortillas and Tacos.
Learn all about Eggs and how to cook them, and for more great brunch ideas, check out my Brunch and Breakfast Recipes.
Breakfast Tacos and Burritos Recipe:
Keyword:
Breakfast Tacos and Burrito Recipe
Instructions
Preheat oven to 350 degrees F.

Wrap stacked flour or corn tortillas in aluminum foil and heat in oven 15 minutes or until hot. To microwave, wrap a stack of tortillas lightly in paper towels and warm on high for 6 or 7 seconds per tortilla.

In a large frying pan over medium heat, melt butter. Add onion, garlic, and cumin; sautuntil onion is soft. Pour in beaten eggs and 1/4 cup salsa; scramble egg mixture until eggs are thickened and no visible liquid remains; remove from heat.

Remove tortillas from oven. Using tortillas, one at a time (keep tortillas covered as you work with them), spoon scrambled egg mixture into center of each tortilla; sprinkle with approximately 3 tablespoons of cheddar cheese.

Fold tortillas and serve with remaining salsa and Cheddar cheese.
Source:  Photo from Kraft Foods
Additional Favorite Southwest Breakfast Dishes:
Comments and Reviews