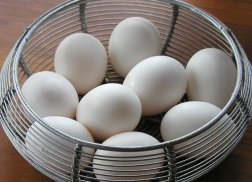 Poached Eggs and Tomato on Potato Pancakes recipe is basically a meatless version of Eggs Benedict using potato pancakes instead of English muffins.  This is an easy-to-make breakfast that is very delicious.  Your family and friends will love this breakfast dish.  Bake the potatoes ahead of time for an easy "put together breakfast."
Poached Eggs are the perfect breakfast.  They fill you up and also providers the protein needed for your body.  Poached Eggs are a simple and easy-to-make dish that is excellent for breakfast, a snack, or even dinner.  Plus a great low calorie way to prepare eggs.  The best eggs for poaching are the freshest eggs you can find.  If eggs are more than a week old, the whites thin out.  Whites of fresh eggs will gather compactly around the yolk, making a rounder, neater shape.
Learn all about Eggs and how to cook them, and for more great brunch ideas, check out my Brunch Recipes.
Poached Eggs and Tomato on Potato Pancakes Recipe:
Keyword:
Poached Eggs and Tomato on Potato Pancakes Recipe
Ingredients
Poached Eggs and Tomato on Potato Pancakes:
Basil Hollandaise Sauce:
1/2

cup

butter,

unsalted

2

large

egg yolks

4

teaspoons

lemon juice,

fresh squeezed

2

teaspoons

Dijon-style mustard

1

(packed) cup

basil

leaves

Salt

and freshly-ground pepper to taste
Instructions
Poached Eggs and Tomato on Potato Pancakes Instructions:
Prepare Basil Hollandaise Sauce (see below); set aside until ready to serve.

In a large bowl, combine the onion, grated potatoes, salt, pepper, and bacon.

For each pancake, spread 1/2 cup of the potato mixture on a hot oiled grill or skillet, keeping pancakes two inches apart. Cook over low heat, undisturbed, for 20 minutes. Increase heat to medium and cook the pancakes for an additional 5 to 10 minutes or until the undersides are browned. Turn the pancakes and cook them another 10 minutes. NOTE: The pancakes may be kept warm in a preheated 250 degree F. oven for up to 30 minutes while you poach the eggs.

Use a pan that is at least 3 inches deep so there is enough water to cover the eggs and they do not stick to the bottom of the pan. To prevent sticking, grease the pan with a little oil before filling with water. Bring the poaching liquid to a boil and then reduce to a simmer before adding the eggs (bubbles should not break the surface).

Break each egg onto a saucer or into small cups or bowls. Slip eggs carefully into simmering water by lowering the lip of each egg-cup 1/2-inch below the surface of the water. Let the eggs flow out. Immediately cover with a lid and turn off the heat.

Set a timer for exactly three minutes for medium-firm yolks. Adjust the time up or down for runnier or firmer yolks. Cook 3 to 5 minutes, depending on firmness desired.

Remove from water with slotted spoon. Lift each perfectly poached egg from the water with a slotted spoon, but hold it over the skillet briefly to let any water clinging to the egg drain off. Drain well before serving.

To serve, arrange the potato pancakes on heated serving plates, top each one with a tomato slice, and then top each tomato with a hot poached egg. Spoon some of the Basil Hollandaise over the eggs. Garnish with the basil sprigs and serve.
Basil Hollandaise Sauce Instructions:
In a small saucepan over medium heat, melt the butter and keep it warm.

In a blender or food processor blend the egg yolks, lemon juice, mustard, and basil leaves for 5 seconds. With the motor running add the melted butter in a stream and season with salt and pepper.

Makes approximately 1 cup.
Comments and Reviews