Nuvolone Egg (Cloud Souffle) egg dish will really impress your family and guests as it tastes as good as it looks!  Isn't it gorgeous?
You will be surprised at how easy it is to whip up this delicious Nuvolone Eggs dish.  The following recipe serves one, so multiply the recipe by as many people as you are serving.
This very unusual Nuvolone Egg souffle dish is from the cookbook called Winter In The Alps by Manuella Darling-Gansser which I found on the Almost Bourdain web site.  In the book, it says:  "It could only happen is Switzerland.  This is similar to a traditional souffle, but the eggs remain separated.  It is the simplest dish to make and looks very impressive.  I've called it Nuvolone, which literally translates as 'big cloud' because when it comes out of the oven it looks like a big cumulus cloud in a sunset."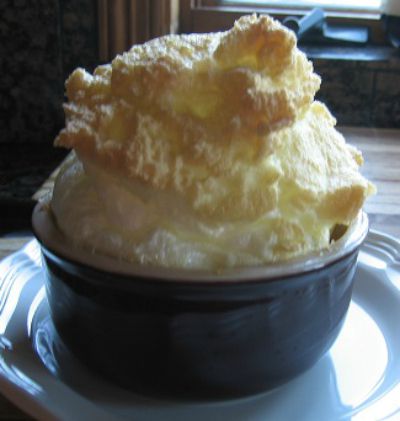 Learn all about Eggs and how to cook them. For more great brunch ideas, check out my Brunch Recipes.
Nuvolone Eggs Recipe - Cloud Souffle:
Keyword:
Cloud Souffle Recipe, Nuvolone Eggs Recipe
Instructions
Preheat oven to 400 degrees F. Lightly butter a 6-inch oven-proof ramekin or bowl.

Using your electric mixer, beat the egg whites until they just start to become stiff. Add salt and continue beating the egg whites until they form stiff peaks (like a meringue).

Spoon the egg whites into the ramekin (reserving some for the tops). With the back of a soup spoon, make a well in the middle of the egg whites, pushing the egg whites up the sides of the ramekin. Carefully drop the two (2) egg yolks into the hole.

Carefully pour the cream on top of the egg yolks. Sprinkle the grated Grueyer cheese over the top and then some black pepper. Add the butter pieces.

Smooth the egg whites back over the hole, adding some of the reserved egg whites.


Bake approximately 5 minutes. The top should be lightly golden, and when you break the crust, the yolks and cream should be soft and hot.

Serve with some crusty bread to dip into the yolks and cream.
Recipe Notes
* You could substitute parmesan cheese.
Nutrition Facts
Nuvolone Eggs Recipe - Cloud Souffle:
Amount Per Serving
Calories 228.5
Calories from Fat 177
% Daily Value*
Fat 19.7g30%
Carbohydrates 2.7g1%
* Percent Daily Values are based on a 2000 calorie diet.
Comments and Reviews