Afternoon Tea at the Milestone Hotel in London
By What's Cooking America and Ellen Easton ©2019 – All Rights Reserved
During our trip to London last summer, my sister, Nancy, and I, along with our families were fortunate enough to experience the English tradition of Afternoon Tea at the Milestone Hotel.
During the planning stages of our trip, I consulted with our afternoon tea expert, Ellen Easton, for recommendations on the best afternoon tea experience in London. Ellen highly recommended the Milestone Hotel and was gracious enough to make the arrangements for this wonderful English tradition. With the agenda now set, my family was looking forward to afternoon tea at the Milestone Hotel! The historic Milestone Hotel in London is located on Kensington Road, making it an ideal location to start with afternoon tea then enjoy a leisurely walk of the Kensington Palace Gardens next to Hyde Park and the Royal Albert Hall. The luxury Milestone Hotel holds a stately old world, Victorian elegance with molded ceilings and beautiful dark woods throughout.
My husband, two sons and myself arrived in London mid-morning after a long ten-hour transatlantic flight. We had a full day ahead of us to take in the sights of London before we needed to leave for Portsmouth to catch an overnight ferry to Normandy, France. We rendezvous with my sister, Nancy, and her husband, who had traveled ahead of us to enjoy a few days in London on their own.
Upon our arrival at the Milestone Hotel, we received a friendly and proper greeting by a formerly attired doorman with a top hat. We were escorted to the book-lined, dark wood-shelved conservatory parlor. The room's decor are in hues of dusty rose and soft beige with an open fireplace. The cozy couches and chairs intimately surrounded each table setting welcoming tea enthusiasts and made one instantly feel at ease.
Having arrived from our long flight, we were definitely feeling peckish and ready for some nourishment to revive us. Once seated, we eagerly perused the Afternoon Tea menu. The adults opted for the Royal Afternoon Tea. A fun discovery to learn: it has become fashionable to start teatime off with a glass of champagne as it complements a cup of tea and accompaniments perfectly! The Royal Afternoon tea selection was a three course offering served on a three tier stand, which included a pot of tea served with enhancers of milk and lemon, a full selection of savory finger sandwiches, French pastries, fresh fruit and freshly baked scones. In addition to the traditional tea accompaniments, we also received a bowl of fresh strawberries with cream and a half bottle of champagne. We ordered the Little Prince's Tea for our two younger sons, which was a smaller sized selection of finger sandwiches, scones, pastries and a pot of hot chocolate. The boys also had an extra surprise in store for them later in the tea service.
Milestone Hotel's Afternoon Tea Menu
---
The Royal Afternoon Tea menu served in three courses:
We began with a wonderful bubbly glass of chilled champagne poured by the staff for each of the adults to imbibe and enjoy.
A pot of a hot tea of choice served with enhancers of milk and lemon accompanied a three-tiered tray of both savory and sweets. The finger sandwiches ranged from Smoked Scottish salmon with cream cheese, egg salad with watercress, roasted ham with mustard, cheddar with tomato, cucumber with Greek yogurt, and chicken salad with chopped almonds. The top two tiers were filled with a delightful assortment of French cream puffs, mini eclairs, cakes and macaron cookies.
A bowl of fresh seasonal strawberries was accompanied by a small pitcher of sweet pouring cream.
The freshly-baked scones were served warm with Devonshire clotted cream and homemade strawberry preserves.
The Little Prince's Tea menu was served in two courses:
The first course was a pot of hot chocolate and a two tiered tray of finger sandwiches, with a freshly baked warm scone and strawberry preserves. The top tier was a smaller assortment of French pastries, which included a strawberry tart, little donut holes and cookies.
The second course was presented as a surprise. The boys were escorted to another room; donning chef coats and were presented with a table of cupcakes, frosting and colorful sweet toppings with instructions to decorate their own cupcakes. This was a real highlight for the boys!
The Milestone Hotel's TEA OFFERINGS:
"The Planters' Range" included the following choices built around the day of a Tea Planter:
"Tea Planters wake early and start their day with a strong cup of Breakfast tea before doing their rounds of the plantation. After breakfast it's back to the field for another round of the fields or to the factory. A planter will then arrive back at his bungalow for lunch and enjoy a Green tea just to settle the stomach and help digest his meal. When returning to his bungalow in the evening, he might want an aromatic pick-me-up like Earl Grey before sitting down for an evening drink at the Planters Club."
Planters' Breakfast – Before English breakfast had its name, the early tea planters enjoyed this tea's rich, full bodied flavours of Ceylon.

Planters' De Caf – Same great taste as the Breakfast tea – minus the caffeine.
Planter's Earl Grey – The most aristocratic of teas. A bold tea infused the with the unmistakable aroma of bergamot.
Planters' Green Tea – Grown on high peaks and hand-plucked to fully satisfy the green tea connoisseur, this is a large leaf tea curled and pan -heated to produce a light, mellow brew with a delicate flavor and aroma.
Planters' Mistress – A scandalous take on a much-cherished aristocratic classic. A light, golden tea scented with bergamot, orange and lemon peel.
Unusual & Exciting Teas:
Silver Tips – A rare distinctive white tea, the Silver Tips are hand-picked before sunrise on the Brunswick Estate, Maskeliya. There is a subtlety woven with the intricacies of this tea which contains an aromatic scent and a matchless taste that varies with each brew.
Souchang Serendipity – A tea which flourishes at sea level and is gently smoked over cinnamon wood, furnishing it with a fragrant smoked note. The finish in this cup is a whisper of spicy sweetness and splendour.
Jasmine Green – Gunpowder green tea is married with carefully selected jasmine flowers. The green tea absorbs the floral jasmine scents producing an orangey-gold liquid with a delicate taste and alluring fragrance.
Pink Tea – The rose of tea, a natural and unique tea that is grown 3,000 feet above sea level. The tea maker stops the oxidization process as it merges from green to black to create a light liquoring tea that tastes like a a well-made green tea but has a unique pink hue.
Chocolate Heaven – A taste of chocolate biscuits with high grown Orange Pekoe tea. Best served with milk and as an accompaniment to sweet foods.
Rooibos – Unique to the Western Cape of South Africa, this is a bright orange non-caffeinated infusion that is rich in Vitamin C, iron and magnesium.
Peppermint Leaves – A cherished herbal tea that has been used for centuries to aid digestion that leaves a fresh minty tang in the mouth.
Yellow Flower Burst Flowering Tea – A light and fragrant green tea wrapped around a bulb of marigold in the base of an arch of pure jasmine blossoms and an amaranth flower which slowly blooms when infused.
Milk Oolong – Cultivated in the misty hills of Taiwan, this tea is hand-crafted and produced in harmony with nature. The tea is light with a cream, milky sweet aroma.
Seasonally picked Single Estate Teas:
Lovers Leap Tea Estate- Nuwareliya – The origins of this tea lie in the legendary tragedy that befell two lovers who leapt to their death amid the backdrop of an exquisite waterfall. Cultivated in the "Champagne" district at 6,000 feet above sea level, this is a wispy tea which boasts an inimitable mentholated essence and aromas. It is best drunk plain without milk for an immeasurable taste.
St Andrews Estate-Hatton, Dimbula – Founded by Scottish settlers and names after their hometown, this magnificent tea garden is located 4,500 feet above sea level. The tea is light and produced a bright, golden cup with a slightly malty note making it an ideal afternoon drink.
Halmari Estate-Assam, India – Found in the land of the rare one-horned rhino north of the Bramaputura River, Halmari Estate is known by a select group of connoisseurs. The resident tea planter creates a single batch of tea from the rare P126A tea bush that produced a golden and tippy tea that gives a malty rich taste.
New Vithanakande Estate – Award-winning tea that is hand-plucked at an elevation of 2,000 feet above sea level. The plantation sits next to a virgin rain forest which heavily influences this tea and gives it a unique tastes. This is a glorious leafy tea that is littered with tips which come from the tender buds of the plant. When infused, it gives a complex caramel flavor with hints of forest fruits.
Namring Estate-Darjeelin, India – One of the oldest and largest gardens in the region. Manring is famous for producing the qualify Darjeeling teas with their distinctive muscatel grape flavor.
---
We spent a wonderful afternoon socializing in the cozy conservatory and indulging in the tradition of English afternoon tea. We also caught our travel weary sons snoozing on the comfortable couches towards the end of the tea service. We were more than satisfied with all the food offerings, refreshing tea and champagne. After our service time had ended, we decided a walk was in order and headed out across the street to take in the world famous Hyde Park. The weather was perfectly pleasant as we strolled down the pathway and made our way to the Kensington Palace grounds and enjoyed the beautiful perennial flowers beds of early summertime. The entire day was a perfect first impression to behold London and the royal landmarks. We highly recommend travelers to London, add an afternoon tea at the Milestone Hotel to their vacation agenda. You get a true sense of English tradition and culture. The Uber driving service available London makes it easy to arrange for transportation to even make a quick stop at Buckingham Palace.
The Milestone Hotel, 1 Kensington Court, London, W8 5DL
Reservations +44 (0) 20 7917 1000
Reserve a table online
Website www.milestonehotel.com
Afternoon tea available in three sittings: 1:00PM, 3:00PM and 5:00PM daily
Check out more of Ellen Easton's Tea Travels™ articles and recipes.
Learn about the History of English High Tea and more delicious Afternoon Tea and High Tea Recipes.
---
TEA TRAVELS™ – Wishing You Happy TEA TRAVELS!™ Tea is the luxury everyone can afford!™ and Good $ense for $uccess are the trademarked property of Ellen Easton/ RED WAGON PRESS
Ellen Easton, author of Afternoon Tea~Tips, Terms and Traditions (RED WAGON PRESS), a lifestyle and etiquette industry leader, keynote speaker and product spokesperson, is a hospitality, design, and retail consultant whose clients have included The Waldorf=Astoria, Plaza Hotels, and Bergdorf Goodman. Easton's family traces their tea roots to the early 1800s, when ancestors first introduced tea plants from India and China to the Colony of Ceylon, thus building one of the largest and best cultivated tea estates on the island.

Purchase Ellen Easton's Tea Books:
Each 5 x 7 book is $20 postpaid Continental USA only. Wholesale and fundraising accounts welcome. Include name, address, zip code, and phone number for shipping. All Sales Final. Check or MO order payable to: RED WAGON PRESS, 45 East 89th Street, STE. 20A, New York, NY 10128-1256. All inquires to teatravels@aol.com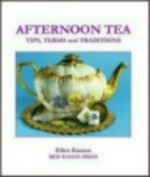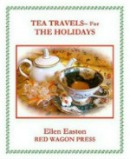 AFTERNOON TEA…TIPS, TERMS and TRADITIONS
72 pages of how to's, 27 photos, history, etiquette and FAQ about afternoon tea, serving styles and more.
TEA TRAVELS™ – FOR THE HOLIDAYS
64 pages, 21 color photos. A complete holiday menu includes 25 easy to prepare recipes; theme teas, decorating & gift ideas; invitation template and secret sources.
Comments and Reviews