Bergdolf-Goodman's Pret-A-Portea – Afternoon Tea for the Fashionista
Article and Photos By Ellen Easton 2020 – All Rights Reserved
Check out more of Ellen Easton's Tea Travels™ articles and recipes.
Learn about the History of English High Tea and more delicious Afternoon Tea Recipes.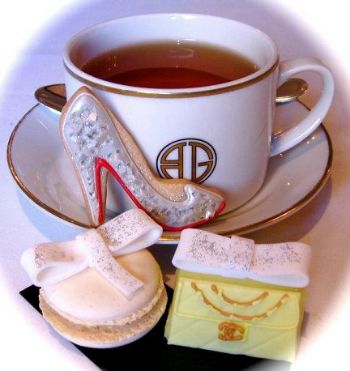 Cafe BG in Bergdorf-Goodman, New York City's epitome emporium of chic and The Berkeley of London have combined forces to present the ultimate three-course afternoon tea.  When the craftsmanship of couture meets the artistry of haute cuisine the results are fashion week fabulous.
The Berkeley's voguish Pret-A-Portea, while not a new concept, is regarded as one of the most imaginative and popular tea programs in London.  Based on the biannual fashion show collections, the menu is tailored to reflect the styles of each season.  One can hardly believe the delicate confections are to be consumed and not worn.
When everything old is new again, once again the English tradition of afternoon tea is updated to accommodate a new generation's desire to socialize in a relaxed manner.  This is the best of all world's – fashion, food, and fun.  What better way to shop for the latest trends than at tea time?  A new elan has begun at Bergdorf's, as this tea has pizzazz!
Cafe BG is a graceful and serene room, beautifully decorated in hues of blue-green with a modern French-Chinoiserie flair.  Overlooking Grand Army Plaza at Central Park, one could not have a prettier view of New York.
---
The Mariage Freres international offerings of ten teas and infusions included:
Casablanca – an unusual blend of green and black teas with an essence of mint and bergamot
Chandernagor – a spicy mixture of clove, cinnamon, cardamom with pepper nuances
Jasmine Mandarin – a China white tea with notes of floral and citrus
Marco Polo – with Tibetan fruits
Empereur Chen Nung – a China black tea with a smoky infusion, Ceylon- a flowery Orange pekoe
Darjeeling Himalaya – a lively, full – bodied black tea.  The Champagne of India, Fujiyama – a delicate Japanese green tea
Eros – an infusion with the essence of hibiscus and mauve flowers
Rouge Metis – the South African rooibos infusion called "red tea"
---
 

The order of the menu, to accommodate the whimsy of the sweets, is not presented in the traditional three tier formation, but all is forgiven once one begins to indulge: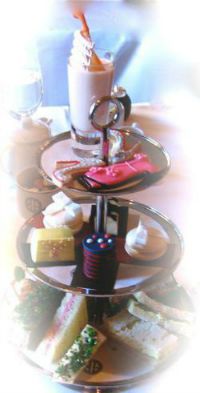 An assortment of five miniature savory sandwiches, with crust's off, are as appealing to the eye as they are to taste.
Each savory item served is made at the time of the order, thus keeping the tuna's puff pastry from becoming soggy, allowing for finishing touches and hand garnishes.
The sandwiches range from the classic smoked salmon and cream cheese with capers on rye bread, egg salad and watercress with chive on white bread, and sliced turkey on cranberry-nut bread, to the contemporary and delicious red beet and cheese spread on whole wheat bread and tuna puff pastry Napoleon.
A second course of warm scones with Devon cream and preserves followed.
The third course, as inspired by the Spring 2009 designer runway collections, Mourad Khiat, Head Pastry Chef and Eunmi Jung, Pastry Chef of The Berkeley have created a centerpiece of delectable sweets of miniature bespoke cookies and cakes.  The virtuosity of these talented chefs is to be commended.
Each edible sweet is a remarkable replication of the designer's wares, as evidence by the photo below.
Chanel – "Maxi Jumbo" quilted handbag banana Madeira cake petit four
Christian Louboutin – "Samira Strass" crystal pump vanilla cookie with signature red sole
Marchesa – Vanilla macaroon with white chocolate ganache, topped with a silver embroidered glittered bow
Michael Kors – Regatta striped Jaconde sponge cake filled with dark chocolate
Oscar de la Renta – White and  Black embroidered harlequin coconut bavaroise embraced with a chocolate belt
Thakoon – "Walking Rose" organza seamed chocolate cookie dress
3.1 Phillip Lim – Pink Silk organza peach mousse topped with French meringue and an orange heel tuile
---
For tea lovers of all ages, in addition to afternoon tea service, the 7th floor candy and tea boutiques are a do not miss.  When visiting New York City do make a date with Bergdorf's!
Wishing you Happy Tea Travels!™ Ellen Easton
Bergdorf-Goodman
754 Fifth Avenue
New York, NY
Reservations: 1-212-872-8977
website:  http://www.bergdorfgoodman.com

Cafe BG
Afternoon tea available daily 3:00 to 5:30 p.m. – call for pricing
Pret-A-Portea $45.00 per person or TEA FOR TWO $100 (including tax and gratuity) – special events
---
TEA TRAVELS™ – Wishing You Happy TEA TRAVELS!™  Tea is the luxury everyone can afford!™ and Good $ense for $uccess are the trademarked property of Ellen Easton/ RED WAGON PRESS
Ellen Easton, author of Afternoon Tea~Tips, Terms and Traditions (RED WAGON PRESS), a lifestyle and etiquette industry leader, keynote speaker and product spokesperson, is a hospitality, design, and retail consultant whose clients have included The Waldorf=Astoria, Plaza Hotels, and Bergdorf Goodman.  Easton's family traces their tea roots to the early 1800s, when ancestors first introduced tea plants from India and China to the Colony of Ceylon, thus building one of the largest and best cultivated tea estates on the island.

Purchase Ellen Easton's Tea Books:
Each 5 x 7 book is $20 postpaid Continental USA only.  Wholesale and fundraising accounts welcome.  Include name, address, zip code, and phone number for shipping.  All Sales Final. Check or MO order payable to:  RED WAGON PRESS, 45 East 89th Street, STE. 20A, New York, NY 10128-1256.  All inquires to teatravels@aol.com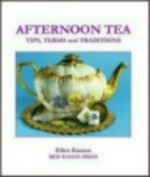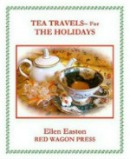 AFTERNOON TEA…TIPS, TERMS and TRADITIONS
72 pages of how to's, 27 photos, history, etiquette and FAQ about afternoon tea, serving styles and more.
TEA TRAVELS™ – FOR THE HOLIDAYS
64 pages, 21 color photos. A complete holiday menu includes 25 easy to prepare recipes; theme teas, decorating & gift ideas; invitation template and secret sources.
Comments and Reviews