Afternoon Children's Tea Party Menu
Excerpt from AFTERNOON TEA – TIPS, TERMS and TRADITIONS by Ellen Easton ©2006-2020 – All Rights Reserved
Children's Tea Themes Ideas:
When using imagination, an Afternoon Children's Tea is not limited to all girls.  A children's tea can be a teaching experience in a social setting.  Young boys and girls alike can learn the etiquette of table manners and conversation.  A theme tea can be the springboard to a history lesson or even encourage kindness and the responsibility of community volunteerism.  Including children in a holiday tea can bind the traditions from one generation to another.  The recipes may be enjoyed by the child in everyone.
Valentine's Day – Craft a card
Easter – Color eggs
Christmas – Write a letter to Santa; trim the tree
Nutcracker Suite – Learn about the ballet
Birthday Party Tea
Etiquette Tea – Learn table manners and conversation.
Teddy Bear and Doll Tea – Bring your favorite bear or doll to join you for tea and also bring a toy to donate to a charity.
Welcome Tea – Introduce a new schoolmate to others.
Sing-along Tea
Storybook Reading Tea – Bring your favorite book to tea.
Comic Book Character Tea
Dress Up Tea
Princess and Pirates Tea
Craft Projects:
ART – decorate a picture frame, notebook cover, and/or hat
Face painting

FOOD – Sandwich, Cookie, and Cupcake Decorating
Centerpieces
Tea Pots – Hats – Story Books – Dolls – Small Toys – Flowers in Teacups – Balloons
---
Children's Afternoon Tea Party Menu

Plan your menu keeping in mind that children can be finicky eaters and others may have food allergies.
The usual custom is to either serve three or four selections for both the sandwich and sweet courses.  Do balance the menu to include different flavors and textures. Caffeinated tea for children is not recommended. However, there are many other beverage alternatives that may be substituted and served in a teacup. Cookies cutters will come in handy to create various shapes for sandwiches and sweets.
Decorative garnishes: colored sprinkles, sanding sugar, toasted nuts, shredded coconut flakes, food coloring, raisins, and assorted candies.
Sandwiches and Savory Selections:
Do not duplicate breads.  Place your fillings on white, rye, whole wheat, croissants, mini sliders, raisin bread, pita, or any other bread of your choice. Unless you are serving a large selection, try not to serve two cheese spreads on the same menu.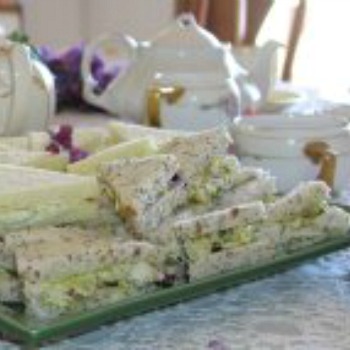 Turkey
Nutella Spread and Banana
Peanut Butter and Jelly
Cinnamon Cream Cheese
American Cheese and; Ham
Cinnamon Toast
Scones:

Devonshire Cream or Whipped Cream
 
Cakes:

Mini Chocolate Tea Brownie Bites
Cookies:
Sugar Cookies – Comic Tea Sweets and Teacup Cookies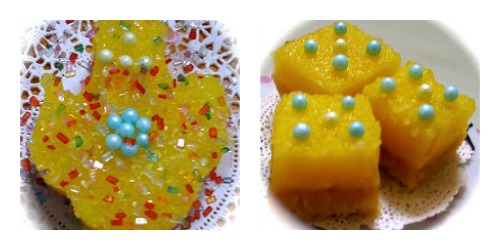 Lemon Bars or Lemon Bar Teapot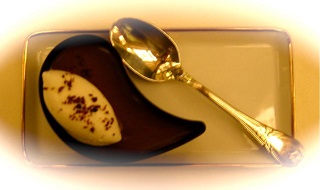 Pots de Creme
Cream Puffs with Orange Cream
Parfait – Creme Brulee, sherbet or Ice Cream
CUP CAKES:

Classic Carrot Cake with Cream Cheese Icing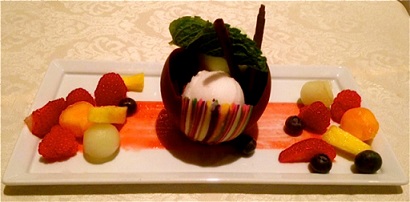 Sorbet Balls in Chocolate Bowls with Mini Fruit Bites and Strawberry Sauce
Fruit and Melon Ball Kabobs with Mini Marshmallows
Apple in Caramel Sauce or Mini Caramel Lady Apple
Beverage Selections:
Rooibos Tea
Fruit Juice
Fruit Shake
Chocolate Milk
---
Check out more of Ellen Easton's Tea Travels™ articles and recipes.  Learn about the History of English High Tea and more delicious Afternoon Tea Recipes.
TEA TRAVELS™ – Wishing You Happy TEA TRAVELS!™  Tea is the luxury everyone can afford!™ and Good $ense for $uccess are the trademarked property of Ellen Easton/ RED WAGON PRESS
Ellen Easton, author of Afternoon Tea~Tips, Terms and Traditions (RED WAGON PRESS), a lifestyle and etiquette industry leader, keynote speaker and product spokesperson, is a hospitality, design, and retail consultant whose clients have included The Waldorf=Astoria, Plaza Hotels and Bergdorf Goodman.  Easton's family traces their tea roots to the early 1800s, when ancestors first introduced tea plants from India and China to the Colony of Ceylon, thus building one of the largest and best cultivated tea estates on the island.

Purchase Ellen Easton's Tea Books:
Each 5 x 7 book is $20 postpaid Continental USA only.  Wholesale and fundraising accounts welcome.  Include name, address, zip code, and phone number for shipping.  All Sales Final. Check or MO order payable to:  RED WAGON PRESS, 45 East 89th Street, STE. 20A, New York, NY 10128-1256.  All inquires to teatravels@aol.com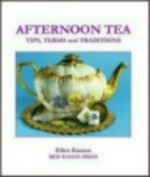 AFTERNOON TEA…TIPS, TERMS and TRADITIONS
72 pages of how to's, 27 photos, history, etiquette and FAQ about afternoon tea, serving styles and more.
Comments and Reviews