Enjoy this blended corn chowder recipe seasoned with fresh herbs and simmered on the stovetop.  A comforting bowl to enjoy during the winter months or even late summer when fresh corn is ready to harvest.  We are featuring this lovely soup recipe as part of Ellen Easton's March tea time menu.  Ladle a serving of corn chowder into your best bowl and garnish with more fresh herbs and homemade rosemary croutons.  Your guest will appreciate the cooking efforts and enjoy the beautiful presentation!
Check out more of Ellen Easton's Tea Travels™ articles and recipes.
Learn about the History of English High Tea and more delicious Afternoon Tea Recipes.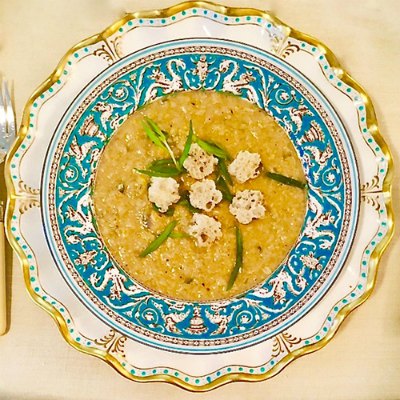 Recipe and Photos By Ellen Easton © 2020- All Rights Reserved
Corn Chowder with Rosemary Croutons Recipe:
Keyword:
Corn Chowder with Rosemary Croutons Recipe
Ingredients
Corn Chowder:
2

tablespoons if

olive oil

1

sweet

onion,

chopped

1

medium

shallot,

chopped

3

garlic

cloves, chopped

1

teaspoon

Reva Paul's seasoning mix*

1

small (8.5-ounce) can yellow

corn,

liquid drained**

1

small (8.5-ounce) can white

corn,

liquid drained**

8

ounces

vegetable stock***

1/2

teaspoon ground

nutmeg

1

cup nonfat

Lactaid Milk****

1/4

cup

Sherry

(optional)

A few

sprigs each of

tarragon,

thyme, sage, and rosemary (or 1/2 teaspoon of dry ground of each)
Instructions
Corn Chowder Instructions:
In a 6 quart Dutch oven over medium-high heat, add olive oil and let warm up for a couple minutes. Add onions, shallots, garlic and seasoning mix. Saute for 2-3 minutes or until onions appear translucent and softened.

Next, add corn, vegetable stock, fresh herbs and nutmeg. Bring to a boil, then turn the heat down to medium-low and let simmer for 10 minutes.

Stir in milk and sherry cooking wine. Turn the heat up to medium and let the soup come to a boil. Then remove the Dutch oven from the heat.

Add small batches of the soup mixture to a blender (no more than 1/2 full) Blend the soup mixture together while still leaving some texture (small chunks) to the broth. Add the blended soup back to the Dutch oven and place back over the heated burner. Bring the soup back to a boil, then turn down heat to medium-low. Cover the Dutch oven with a lid and simmer for 20 minutes. Remove from heat and salt and pepper to taste.

Serve in bowls or refrigerate and reheat to serve the next day.

Cooked crabmeat, lobster or scallops may also be added to the soup if desired when ready to serve.

Garnish bowls of soup with additional sprigs of fresh herbs and homemade Rosemary Croutons (see recipe below)
Rosemary Croutons Instructions:
Preheat oven to 350 degrees. Place cubed bread in a bowl and sprinkle with olive oil and lightly toss the bread to coat. Sprinkle ground rosemary and grated Parmesan cheese, and continue to toss the bread cubes to coat in the seasonings. Place seasoned bread cubes on a cookie sheet and toast for 10 minutes. Remove from oven and let cool.
Recipe Notes
* Recipe for Rev Paul's Seasoning mix: (Extra can be stored in airtight container or put in shaker near the stove to use for seasoning in cooking.)
2 1/2 tablespoons onion powder
2 1/2 tablespoons garlic powder 
1 teaspoon salt  
1/2 teaspoon black pepper
** Can replace total amount of canned corn with 4 ears of shucked fresh corn.
*** Can use chicken stock.
**** Do not use skim or low percent milk. Whole milk or cream is fine.
Check out more of Ellen Easton's Tea Travels™ articles and recipes.   Learn about the History of English High Tea and more delicious Afternoon Tea Recipes.
TEA TRAVELS™ – Wishing You Happy TEA TRAVELS!™  Tea is the luxury everyone can afford!™ and Good $ense for $uccess are the trademarked property of Ellen Easton/ RED WAGON PRESS
Ellen Easton, author of Afternoon Tea~Tips, Terms and Traditions (RED WAGON PRESS), a lifestyle and etiquette industry leader, keynote speaker and product spokesperson, is a hospitality, design, and retail consultant whose clients have included The Waldorf=Astoria, Plaza Hotels, and Bergdorf Goodman.  Easton's family traces their tea roots to the early 1800s, when ancestors first introduced tea plants from India and China to the Colony of Ceylon, thus building one of the largest and best cultivated tea estates on the island.

Purchase Ellen Easton's Tea Books:
Each 5 x 7 book is $20 postpaid Continental USA only.  Wholesale and fundraising accounts welcome.  Include name, address, zip code, and phone number for shipping.  All Sales Final. Check or MO order payable to:  RED WAGON PRESS, 45 East 89th Street, STE. 20A, New York, NY 10128-1256.  All inquires to teatravels@aol.com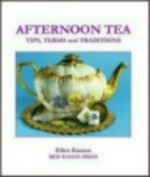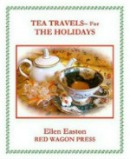 AFTERNOON TEA…TIPS, TERMS and TRADITIONS
72 pages of how to's, 27 photos, history, etiquette and FAQ about afternoon tea, serving styles and more.
TEA TRAVELS™ – FOR THE HOLIDAYS
64 pages, 21 color photos. A complete holiday menu includes 25 easy to prepare recipes; theme teas, decorating & gift ideas; invitation template and secret sources.
Comments and Reviews