Tea Travels!™… Iced Tea Punch
Recipe by Ellen Easton 2020- All Rights Reserved
Iced Tea Punch is great served for a summer tea party as it is a refreshing and hydrating crowd pleaser that is sure to delight your family and friends. The combination of orange and lemon juice is so delicious.  It is not too sweet – but just right!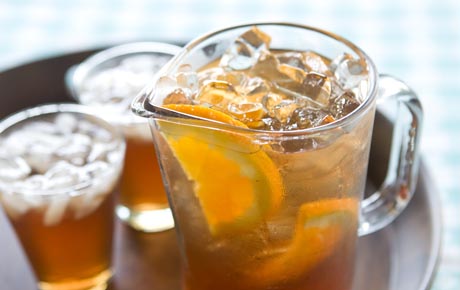 Iced Tea Punch Recipe:
Keyword:
Iced Tea Punch Recipe
Ingredients
Iced Tea Punch:
4

cups

water

8

teaspoons of

Earl Grey Tea

or Black Tea Blend of your choice

3/4

cup granulated

sugar

4

cups of

orange juice
Juice

of 2 lemons

4

cups

Ginger Ale

1

orange,

sliced

1

lemon,

sliced
Flavored Iced Tea Cubes:
Brewed

tea

of your choice

Zest

of 1 orange and 1 lemon
Instructions
Iced Tea Punch Instructions:
In a large pot, bring the water to a boil; remove from heat. Add the tea leaves and let steep approximately 5 minutes or until brewed to your liking. Remove tea bags and discard.

Stir in sugar until dissolved. Let cool and refrigerate until well chilled.

Just before serving, add orange juice, lemon juice, and Ginger Ale.

To serve, place orange and lemon slices on the side of each tea glass. Place prepared frozen Flavored Iced Tea Cubes into each glass before serving.
Flavored Iced Tea Cubes Instructions:
Zest the orange and the lemon. Place the zest in the bottom of an ice cube tray, pour brewed tea into the trays and freeze until firm.

Remove the ice cubes from the try when ready to served the Iced Tea Punch.

NOTE: You may also add edible flowers and herbs to the tea before freezing. Citrus juices of an orange, lime, lemon, and/or lemonade may also be frozen into the ice cubs to be served with the punch.

TEA TRAVELS™ – Wishing You Happy TEA TRAVELS!™  Tea is the luxury everyone can afford!™ and Good $ense for $uccess are the trademarked property of Ellen Easton/ RED WAGON PRESS
Ellen Easton, author of Afternoon Tea~Tips, Terms and Traditions (RED WAGON PRESS), a lifestyle and etiquette industry leader, keynote speaker and product spokesperson, is a hospitality, design, and retail consultant whose clients have included The Waldorf=Astoria and Plaza Hotels.  Easton's family traces their tea roots to the early 1800s, when ancestors first introduced tea plants from India and China to the Colony of Ceylon, thus building one of the largest and best cultivated teas estates on the island.

Purchase Ellen Easton's Tea Books:
Each 5 x 7 book is $20 postpaid Continental USA only.  Wholesale and fundraising accounts welcome.  Include name, address, zip code, and phone number for shipping.  Check or MO order payable to:  RED WAGON PRESS, 45 East 89th Street, STE. 20A, New York, NY 10128-1256.  All inquires to teatravels@aol.com
AFTERNOON TEA…TIPS,TERMS and TRADITIONS
72 pages of how to's, 27 photos, history, etiquette and FAQ about afternoon tea, serving styles and more. "Tea is the luxury everyone can afford!™"

TEA TRAVELS™ – FOR THE HOLIDAYS
64 pages, 21 color photos. A complete holiday menu includes 25 easy to prepare recipes; theme teas, decorating & gift ideas; invitation template and secret sources.
Source:  Photo courtesy of Whole Foods Market web site.
Comments and Reviews