Maple Shortbread Cookies have a delicious crunchy texture and a hint of maple.  They have a maple flavor icing that tops off this tasty cookie and sprinkled with brownulated sugar for a rich taste.  Shortbread has always been a favorite cookie of mine.  The taste of maple really adds a unique flavor.  Maple Shortbread Cookies are a great to make for your next tea party.  Find a maple leaf shaped cookie cutter and make these cookies for the holidays.
Tea Travels!™ – All Rights Reserved Recipe and photo By Ellen Easton 2020
Check out more of Ellen Easton's Tea Travels™ articles and recipes.  Learn about the History of English High Tea and more delicious Afternoon Tea Recipes.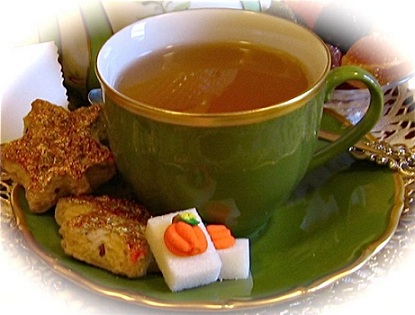 Maple Shortbread Cookies Recipe:
Keyword:
Maple Shortbread Cookies Recipe]
Ingredients
Maple Shortbread Cookies:
2

cups all-purpose

flour

1/4

teaspoon

salt

1

cup

unsalted butter,

room temperature

1/2

cup

powdered sugar

(confectioners' sugar)

1

tablespoon

maple sugar

or maple syrup

1

teaspoon

pure vanilla extract

Brown sugar

or Brownulated sugar (for dusting)*
Instructions
Maple Shortbread Cookies Instructions:
In a large bowl, combine flour and salt; set aside.

In the bowl of your electric mixer, beat the butter approximately 1 minute until smooth and creamy. Add the powdered sugar, maple sugar or maple syrup; beat approximately 2 minutes or until smooth. Beat in the vanilla extract. Gently add the flour mixture until just incorporated.

Using a rolling pin, flatten the dough into a round shape. Wrap the dough in plastic wrap and refrigerate for a minimum of 1 hour or until well chilled.

Preheat oven to 350 degrees F. Place the oven rack in the middle of the oven. Line two (2) cookie sheets with parchment paper.

On a lightly-floured surface, roll out the dough into a 1/4-inch thick circle. NOTE: To avoid sticking, dust your hands with flour. Using a lightly-floured cookie cutter, cut the dough into the shapes of your choice. Lightly dust the top of each cookie with brown sugar or Brownulated sugar.

To help the cookies maintain their shapes, place each cookie on the prepared baking sheets and place in the refrigerator for approximately 15 minutes. Remove from refrigerator and bake approximately 8 to 10 minutes or until the cookies are very lightly browned. Remove from oven and place on a wire cooling rack to cool.

When cool, you may add Maple Icing, if desired, to the top of each cookie or serve "as is.

Shortbread cookies may be be stored in an airtight container for one (1) week.
Maple Icing Instructions:
In a small saucepan, heat the cream and maple syrup until bubbling; remove from heat.  Add the powdered sugar and stir until smooth (do not allow the mixture to boil).

While still warm, pour or spoon over the top of each cookie.
Recipe Notes
* Brownulated sugar is similar to regular brown sugar but it's not packed and it's less moist, making it pourable.  Most recipes use brownulated sugar for sprinkling and not baking.
---
TEA TRAVELS™ – Wishing You Happy TEA TRAVELS!™  Tea is the luxury everyone can afford!™ and Good $ense for $uccess are the trademarked property of Ellen Easton/ RED WAGON PRESS
Ellen Easton, author of Afternoon Tea~Tips, Terms and Traditions (RED WAGON PRESS), a lifestyle and etiquette industry leader, keynote speaker and product spokesperson, is a hospitality, design, and retail consultant whose clients have included The Waldorf=Astoria and Plaza Hotels.  Easton's family traces their tea roots to the early 1800s, when ancestors first introduced tea plants from India and China to the Colony of Ceylon, thus building one of the largest and best cultivated teas estates on the island.

Purchase Ellen Easton's Tea Books:
Each 5 x 7 book is $20 postpaid Continental USA only.  Wholesale and fundraising accounts welcome.  Include name, address, zip code, and phone number for shipping.  Check or MO order payable to:  RED WAGON PRESS, 45 East 89th Street, STE. 20A, New York, NY 10128-1256.  All inquires to teatravels@aol.com
AFTERNOON TEA…TIPS,TERMS and TRADITIONS
72 pages of how to's, 27 photos, history, etiquette and FAQ about afternoon tea, serving styles and more. "Tea is the luxury everyone can afford!™"

TEA TRAVELS™ – FOR THE HOLIDAYS
64 pages, 21 color photos. A complete holiday menu includes 25 easy to prepare recipes; theme teas, decorating & gift ideas; invitation template and secret sources.
Comments and Reviews