Tea Travels™… A Rose Garden Tea with the Queen
Article and Photos By Ellen Easton and Reva Paul ©2020 – All Rights Reserved
Check out more of Ellen Easton's Tea Travels™ articles and recipes.
Learn about the History of English High Tea and more delicious Afternoon Tea Recipes.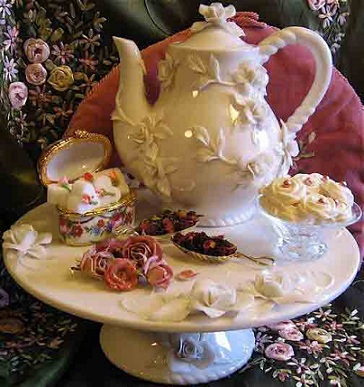 Maintaining a tradition that began in 1860 with Queen Victoria, every year Queen Elizabeth II opens the private gardens at Buckingham Palace to host three afternoon tea parties, each attended by 8,000 guests respectively.
The invitations are sent to people of all walks of life, either directly or on the recommendation of a Palace approved sponsor.  It is not possible for an individual to request an invitation as all names must be submitted by a pre-arranged quota list.
Customary attire for gentlemen is morning dress, suit, uniform, or National dress.  Ladies wear afternoon dress, usually with a hat and gloves or National dress.
The gates open at 3:00 p.m. so that the guests may enjoy a walk in the Royal Gardens, which are usually not open to the public.
The Queen and the Duke of Edinburgh, accompanied by members of the Royal Family, enter the garden at 4:00 p.m. as one of two bands plays the National Anthem.  Taking a different route, each Royal circulates amongst the guests.  High ranking, dignitaries, and special guests proceed to the Royal tent to join the Royal Family for afternoon tea.  The remaining guests are served tea from a 408-foot long buffet table.
At 6:00 p.m., the Queen and Royal Family depart for the Palace, where once again the National Anthem is played to indicate that the party has ended.
Your own garden party doesn't have to be as daunting as task as those for the Palace.  By planning in advance using the wonderful sources available, your party is guaranteed to be equally as impressive.

Buckingham Palace Garden Party Statistics
(based on attendance of 8,000 people – list courtesy of Buckingham Palace)
Food:
20,000 various tea sandwiches
5,000 bridge rolls
9,000 butter drop scones
9,000 fruit tartlets
3,000 butter cake fingers
8,000 slices of chocolate/lemon cake
4,500 slices of Dundee cake
4,500 slices of Majorca cake
3,500 slices of chocolate/jam Swiss roll
Beverages:
(weather dependent)
27,000 cups of Maison Lyons tea*
10,000 glasses of iced coffee
20,000 glasses of fruit squash
* Maison Lyons tea is a special blend produced exclusively by Twinnings for the Buckingham Palace Garden Parties.  It is a blend of Darjeeling and Assam leaves which gives the unique flavor of peaches or Muscat grapes.
Equipment:
12,000 tea cups and saucers
10,000 teaspoons
10,000 tea plates
6,000 glasses
408-foot buffet table
Staff and Management:
400 waiting staff and 30 management
---
TEA TRAVELS™ – Wishing You Happy TEA TRAVELS!™  Tea is the luxury everyone can afford!™ and Good $ense for $uccess are the trademarked property of Ellen Easton/ RED WAGON PRESS
Ellen Easton, author of Afternoon Tea~Tips, Terms and Traditions (RED WAGON PRESS), a lifestyle and etiquette industry leader, keynote speaker and product spokesperson, is a hospitality, design, and retail consultant whose clients have included The Waldorf=Astoria and Plaza Hotels.  Easton's family traces their tea roots to the early 1800s, when ancestors first introduced tea plants from India and China to the Colony of Ceylon, thus building one of the largest and best cultivated teas estates on the island.

Purchase Ellen Easton's Tea Books:
Each 5 x 7 book is $20 postpaid Continental USA only.  Wholesale and fundraising accounts welcome.  Include name, address, zip code, and phone number for shipping.  Check or MO order payable to:  RED WAGON PRESS, 45 East 89th Street, STE. 20A, New York, NY 10128-1256.  All inquires to teatravels@aol.com
AFTERNOON TEA…TIPS, TERMS and TRADITIONS
72 pages of how to's, 27 photos, history, etiquette and FAQ about afternoon tea, serving styles and more. "Tea is the luxury everyone can afford!™"

TEA TRAVELS™ – FOR THE HOLIDAYS
64 pages, 21 color photos. A complete holiday menu includes 25 easy to prepare recipes; theme teas, decorating & gift ideas; invitation template and secret sources.
Comments and Reviews