Tea Travels!™… Rose Petal Jam
Recipe Courtesy of the book A TEA PARTY PLANNER, by Ellen Easton – 2020 All Rights Reserved
Check out more of Ellen Easton's Tea Travels™ articles and recipes.

Learn about the History of English High Tea and more delicious Afternoon Tea and High Tea Recipes.
Rose Petal Jam Recipe:
Keyword:
Rose Petal Jam Recipe
Instructions
Clip and discard bitter white bases from the rose petals; rinse petals thoroughly and drain.

Place rose petals in a bowl and sprinkle enough sugar to coat each petal. Let set overnight.

In a saucepan over low heat, place remaining sugar, water, and lemon juice; stirring to dissolve sugar.  Stir in rose petals and let simmer 20 minutes.  Increase heat to medium-high and bring to a boil; continue boiling for approximately 5 minutes until mixture thickens and the temperature on a candy thermometer reaches 221 degrees F. or until a spoonful dropped onto a cold plate jells and holds its shape.  Remove from heat.

After boiling, transfer the jam into hot sterilized jars. Fill them to within 1/4-inch of the top. Wipe any spilled jam off the top, seat the lid, and tighten the ring around them. Cover, label, and store in a cool place.
Recipe Notes
* All roses that you intend to eat must be free of pesticides.  Do not eat flowers from florists, nurseries, or garden centers.  In many cases these flowers have been treated with pesticides not labeled for food crops.  The tastiest roses are usually the most fragrant roses.  Learn more about Edible Flowers.

I get many readers asking what cooking/meat thermometer that I prefer and use in my cooking and baking. I, personally, use the Thermapen Thermometer. Originally designed for professional use, the Super-Fast Thermapen Thermometer is used by chefs all over the world.  I only endorse a few products, on my web site, that I like and use regularly.
You can learn more or buy yours at: Super-Fast Thermapen Thermometer.
Sponsored Content
---
TEA TRAVELS™ – Wishing You Happy TEA TRAVELS!™  Tea is the luxury everyone can afford!™ and Good $ense for $uccess are the trademarked property of Ellen Easton/ RED WAGON PRESS
Ellen Easton, author of Afternoon Tea~Tips, Terms and Traditions (RED WAGON PRESS), a lifestyle and etiquette industry leader, keynote speaker and product spokesperson, is a hospitality, design, and retail consultant whose clients have included The Waldorf=Astoria, Plaza Hotels, and Bergdorf Goodman.  Easton's family traces their tea roots to the early 1800s, when ancestors first introduced tea plants from India and China to the Colony of Ceylon, thus building one of the largest and best cultivated tea estates on the island.

Purchase Ellen Easton's Tea Books:
Each 5 x 7 book is $20 postpaid Continental USA only.  Wholesale and fundraising accounts welcome.  Include name, address, zip code, and phone number for shipping.  All Sales Final. Check or MO order payable to:  RED WAGON PRESS, 45 East 89th Street, STE. 20A, New York, NY 10128-1256.  All inquires to teatravels@aol.com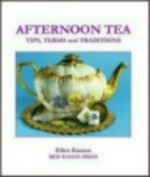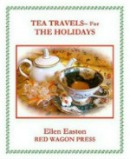 AFTERNOON TEA…TIPS, TERMS and TRADITIONS
72 pages of how to's, 27 photos, history, etiquette and FAQ about afternoon tea, serving styles and more.
TEA TRAVELS™ – FOR THE HOLIDAYS
64 pages, 21 color photos. A complete holiday menu includes 25 easy to prepare recipes; theme teas, decorating & gift ideas; invitation template and secret sources.
Comments and Reviews