Amanda Darrach Filippone, a professionally trained chef, generously shared her outstanding Fresh Figs with Fleur De Sel recipe:
"Although Spanish and Portuguese missionaries brought figs to the New World in the 15th and 16th centuries, the fruit was not really grown in Northeastern U.S. until the 1800s when Mediterranean families moving to the States nursed cuttings all the way across the Atlantic to plant in their new gardens. These days locally grown fruit is available for a small window each year, though it is still rare to see figs at a farmer's market. The harvest tends to come a little later than in the northern Mediterranean – it usually starts towards the end of August or in early September.
I like my fresh figs with as little done to them as possible. In fact, I far prefer them raw to cooked. Though I'm often tempted to try new fig recipes, I have yet to be convinced that there is any way to improve on the light sweetness of a perfectly ripe fruit – perhaps slightly split by its own fecundity and often weeping a little honeyed nectar from its blossom end. Ferociously pink and very nearly liquid within, and with a floral fragrance reminiscent of both blossoms and earth, tree-ripened figs are something I dream of all year. And I can't see why I'd want to mask their perfection with cooking.
Of course, when celebrating such a short and longed-for harvest, it's only human nature to feel an urge to adorn. So I have come up with a number of preparations that make a platter of fresh figs seem more of an event – why is this country more comfortable with serving a bowl of perfectly ripe seasonal fruit at the end of a meal? Why does it seem like enough to most of us?
I am not sure, but this is my compromise. The syrupy twang of good aged balsamic vinegar and the gently floral flavor of fleur de sel meld with the juicy interior of the opened figs. And the toasted hazelnuts layer a faint autumnal smokiness over the whole thing. It's one of my favorite late-summer/early-autumn desserts and a lovely way to end a meal."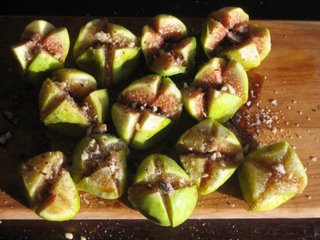 Fresh Figs with Fleur De Sel Recipe:
Keyword:
Fresh Figs with Fleur De Sel Recipe, Fresh Figs with Fleur De Sel, Aged Balsamic, and Hazelnuts Recipe
Instructions
Preheat the oven to 300 degrees F.

Spread the hazelnuts in a small baking tray or dish and roast for approximately 15 to 20 minutes until lightly browned and fragrant (be very careful not to burn them). Remove from oven. Once slightly cooled, chop the hazelnuts or pulse them a few times in the food processor.

Trim any stems from the figs. With a sharp knife, gently score an "X" on the top of each fig, being careful not to cut more than 3/4 of the way down the fruit. Press your fingers into the base of the fruit until the 4 "petals" you have created open to expose the pink center.

Arrange the figs on a platter. Drizzle with a little aged balsamic, sprinkle with a little fleur de sel salt, and finish by showering with some of the toasted hazelnuts (you may not need to use all the nuts). Serve immediately.
Recipe Notes
* This is a great recipe to use Fleur de sel.
Source:  This wonderful fig recipe and photo are courtesy of Amanda Darrach Filippone and her website Figs, Bay & Wine: Diary of a Mediterranean Kitchen in New York.
Comments and Reviews