Grilled pineapple – it is so simple yet so delicious that it is mind blowing! Most fruits are just too fragile for grilling. Pineapple is an exception and makes for quite a treat. This very simple and elegant dessert is light and refreshing.
Grilling does wonderful things to fruit as it caramelizes the sugars creating a golden brown color and intensity of flavor. The fruit is sweet to start with and the glaze caramelizes and makes it taste like an exotic finish to any outdoor dinner. The pepper brings out the "grilled" flavor and adds some spiciness. Consider serving delicious grilled pineapple at your next summer barbecue.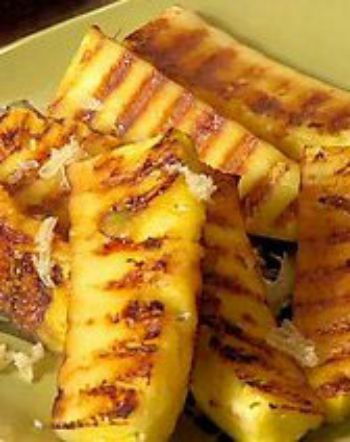 For more great Low Fat Recipes, Low Calorie Recipes, Low Carbohydrate recipes, and Diabetic Recipes, check out my Diet Recipe Index. Also check out my Nutritional Chart for fat grams, fiber grams, and calories for all your favorite foods.
Check out Linda's Buying Tips For Fruits.
Grilled Pineapple Recipe:
Keyword:
Grilled Pineapple Recipe
Ingredients
1

whole fresh

pineapple*

3

tablespoons

honey

1

tablespoon

lemon juice

lime juice or orange juice (your choice), freshly squeezed

1/2

teaspoon

black pepper,

freshly ground
Instructions
Trim, core, and peel pineapple. Cut the leaves off the top of the pineapple, then peel it with a serrated knife. Remove any eyes with a paring knife. Cut into quarters from top to bottom. Slice out the core from each quarter. Cut each quarter slice into four pieces (two pieces lengthwise and two crosswise). You should now have 16 wedges of pineapple (about 3-inch by 1-inch each).




In a small bowl, combine honey, lemon, lime, or orange juice, and black pepper. Brush the glaze onto each slice of pineapple, coating completely.


Preheat Barbecue grill. Either oil or spray the grill rack with non-stick cooking spray. Place pineapple wedges on the grill and cook approximately 4 minutes on each side (turning so that grill marks are on all sides) until the pineapple becomes fragrant and starts to dry out on the surface. NOTE: Do not overcook the pineapple spear or they will turn mushy, as the natural sugars in fresh pineapple caramelizes quickly as it is is grilled. Watch carefully or they will burn.

Remove from the grill and brush with any additional glaze one more time. Serve and enjoy!

The grilled pineapple can be kept at room temperature for up to 8 hours. Re-warm before serving.

Each Serving Totals - .1 Fat Grams, 18.6 Carb Grams, 68.5 calories

Ideas for using grilled pineapple:

Served as a dessert, alone or with a scoop of ice cream

Use it in making Pineapple Salsa
Recipe Notes
* Smell the pineapple when purchasing.  You should pick up a sweet flavor.  The stronger the smell, the riper the fruit.  Turn the pineapple upside down in an empty container for a few hours before you grill it to distribute the sugar throughout the fruit.
Comments and Reviews