This Zabaglione (zah-bahl-YOH-nay) with Fresh Berries recipe is a famous Italian custard dessert that is usually served with sliced fresh fruit or berries – it is so beautiful and refreshing!
The French refer to this as Sabayon and it is used as a dessert or a sauce.  It is light and refreshing and perfect as a warm weather dessert.  It has been said that the mixture was originally served as a tonic stirred into morning coffee (how true this is – I do not know).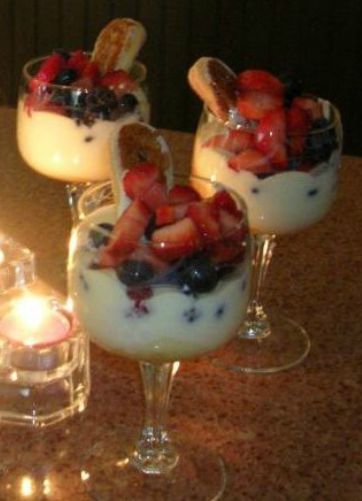 Zabaglione with Fresh Berries Recipe:
Keyword:
Zabaglione with Fresh Berries Recipe
Servings
:
6
to 8 servings
Ingredients
5

egg

yolks

1/3

cup granulated

sugar

1/3

cup

Marsala wine

(dry or sweet)*

1

cup

heavy cream

(whipping cream), whipped until stiff

5 1/4

cups fresh

berries 

(blackberries, blueberries, quartered strawberries, and/or raspberries)
Instructions
Set up a double boiler or a medium-size stainless-steel bowl over a pot of simmering water. Check to make sure the bottom of the bowl is not touching the water, or the eggs may scramble.

With a hand held electric mixer or thin wire whip, beat the egg yolks and sugar together approximately 3 minutes or until pale yellow. Slowly whisk in the Marsala wine and set the bowl over the barely simmering water(Reminder - water should not touch bottom of bowl).

Continue to beat constantly, approximately 10 to 15 minutes, until the eggs triple in volume, thicken, and reach a temperature of 140 degrees F, as registered on an instant thermometer. The eggs will first become frothy, then as they cook, they will slightly stiffen but still hold the air. If you stop whipping or the water boils you might scramble the eggs. Be sure to move the beater or whip around the bowl so the eggs cook evenly. NOTE: If the eggs begin to curdle pull the insert away from the water for a few seconds to cool it (keep whisking constantly).

Remove from heat and cool the mixture completely in the refrigerator. When the mixture is cool, gently fold in prepared whipped cream using a rubber spatula.

NOTE: Zabaglione can be made ahead and stored, covered, in the refrigerator for several days. Bring the sauce to room temperature before serving with your favorite berries.

In a serving dish (a large martini or wine glass makes a nice presentation), dollop some of the zabaglione. Add fresh berries. Finish by adding another good-side dollop of zabaglione and top with mint sprig and a few more berries.
Recipe Notes
* Marsala wine is traditionally used, but you can also substitute sherry, Madeira, Grand Marnier, sparkling or dessert wine.  Can also combine wine with a spirit such as bourbon, rum, or Calvados, or other brandy, or add a favorite liqueur such as praline or Frangelico.  Citrus juice and zest, vanilla, or ground ginger or other spices may be added along with the wine.
Comments and Reviews