Is Boston Cream Pie really a cake and not a pie!? 
Two layers of sponge cake are filled with thick vanilla custard and topped with a chocolate glaze or a sprinkling of confectioners' sugar.  It is cut in wedges like a pie.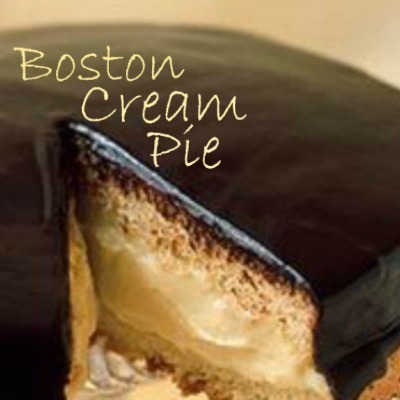 Boston Cream Pie History:
Cooks in New England and Pennsylvania Dutch regions were known for their cakes and pies and the dividing line between them was very thin.  This cake was probably called a pie because in the mid-nineteenth century, pie tins were more common than cake pans.  The first versions might have been baked in pie tins. Boston Cream Pie is a remake of the early American"Pudding-cake pie."
1856 – The Parker House Hotel (now the Omni Parker House Hotel), claims to have served Boston cream pies since their opening in 1856.  French chef Sanzian, who was hired for the opening of the hotel, is credited with creating Boston cream pie.  This cake was originally served at the hotel with the names Chocolate Cream Pie or Parker House Chocolate Cream Pie.  This was the first hotel in Boston to have hot-and-cold running water, and the first to have an elevator.
1879 – In the cookbook, Housekeeping in Old Virginia, by Marion Cabell Tyree, has the following recipe for Boston Cream Cakes:

Boston Cream Cakes:
2 cups of flour
1 1/2 cups of water
1 cup butter
5 eggs
Boil the butter and water together, stir in the flour while boiling; after it is cool, add the eggs, well beaten.  Put a large spoonful in muffin rings, and bake twenty minutes in a hot oven.
The cream for them is made as follows:  Put over the fire one cup of milk and not quite a cup of sugar, one egg, mixed with three teaspoonfuls of corn starch and one tablespoonful of butter.  Boil a few moments only.  When cool, add vanilla to the taste.
Open the cakes and fill them with this cream.
1996 – The Boston Cream Pie was proclaimed the official Massachusetts State Dessert on December 12, 1996. A civics class from Norton High School sponsored the bill.The pie beat out other candidates, including the toll house cookie and Indian pudding.
Boston Cream Pie Recipe:
This recipe requires some advance planning, as the cake has to cool completely before it is filled and frosted.
Keyword:
Boston Cream Pie Recipe, Chocolate Ganache Recipe, Yellow Cake Recipe
Servings
:
10
to 12 servings
Ingredients
Yellow Cake:
2

cups cake

flour,

sifted*

2

teaspoons

baking powder

1/4

teaspoon

salt

1/2

cup

butter,

softened

1

cup

sugar

(granulated)

1

teaspoon

pure vanilla extract

3

large

eggs

3/4

cup

milk
Custard Filling:
1 1/2

cups

whole milk

1

vanilla bean,

split lengthwise

1/2

cup

sugar

(granulated)

1/4

cup

flour

(all-purpose)

3

large

egg yolks,

beaten
Chocolate Ganache (Icing):
Instructions
Boston Cream Pie Instructions:
Top the bottom half of the cake with the custard, spreading the custard to the edge.

Carefully place the remaining cake half, cut side down, on top of the custard; gently pressing down.

If you think it is necessary, refrigerate for 1 hour to help keep the cake together.

Spread the Chocolate Ganache on top of the the cake, spreading the Ganache to the edge and down the side of the cake. Some people like to let the Chocolate Ganache drip down the sides of the cake (your choice).

Refrigerate the finished Boston Cream Pie approximately 1 to 2 hours before cutting and serving.

The Boston cream pie may be made 1 day in advance and kept covered loosely and chilled.

To cut the cake, wet a sharp knife in hot water, and shake off any excess water before making each cut. Let the cut portions stand at room temperature for approximately 10 to 15 minutes before serving.

The finished Boston Cream Pie may be made 1 day in advance, covered loosely, and refrigerated.
Yellow Cake Instructions:
Preheat oven to 375 degrees F. Butter and flour a 9-inch round springform pan. NOTE: You may use 2 (8-inch cake pans instead, but it is a lot easier to use a springform pan. Adjust oven rack to the center position of your oven.

In a medium-size bowl, sift cake flour again with baking powder and salt; set aside.

In a bowl of your electric mixer, cream together the butter, sugar, and vanilla extract until the mixture is light and fluffy. Beat in the eggs, one at a time, beating well after each addition. Add the sifted flour mixture to the butter mixture in three (3) batches alternately with the milk, beginning and ending with the flour mixture.

Pour the batter into the prepared springform pan and bake for approximately 25 to 30 minutes or until a wooden pick inserted in center comes out clean and the top springs back when lightly touched; remove from oven. NOTE: It will take less time if using 2 cake pans. Let the cake cool in the springform pan on a wire rack for 10 minute. After 10 minutes, remove sides of springform pan and let cake cool completely.

When cake is completely cool, carefully remove cake from springform bottom. If your cake is slightly domed, level it with a long-bladed serrated knife. Using a serrated knife, cut the cake in half horizontally, and arrange the bottom half, cut side up, on a plate.
Custard Filling Instructions:
In a large saucepan over medium heat, add the milk and split vanilla bean; heat to just below boiling and then remove immediately remove from heat and set aside to infuse for 10 to 15 minutes. After the infusing time, remove the vanilla bean and, using a sharp knife, scrape the seeds from the vanilla bean, reserving the pod for another use.

In the top of a double boiler over simmering water, place sugar, flour, and egg yolks; stir until mixture is smooth. Add warm milk and scrapings from inside of vanilla bean. Continue cooking, stirring constantly, until mixture begins to thicken. Remove from heat and stir. Let mixture cool completely.
Chocolate Ganache (Icing) Instructions:
In a small, heavy saucepan, add the cream and bring just to a boil; immediately remove from the heat. Add the chopped chocolate, stirring with a whisk until the chocolate is melted and the mixture is completely smooth.

Use the Chocolate Ganache while still warm. If your Chocolate Ganache has cooled, gently re-warm before using.
Recipe Notes
* It is important that you sift the cake flour before measuring as the weight will change.  The weight after sifting will be approximately 7 ounces for the sifted two (2) cups.
Comments and Reviews