Devil's Food Cake is also know as Red Velvet Cake, Red Devils Cake, Waldorf Astoria Cake, and $100 Dollar Cake.  A beautiful mild chocolate flavor cake that is startlingly red.  The cake is traditionally complemented with a thick white frosting with different regions of the country using different types of frosting.  The cake gets this bright red color from the large amount of red food dye used in the preparation.  A light-textured chocolate layer-type cake with a deep reddish brown color.  Devils food cake is usually thought of in terms of dark chocolate, but originally it was red.  Today cooks, using modern processed cocoa, sometimes add a touch of red food coloring to bring back the authentic color.  This cake is particularly popular in New Orleans.
Definition of deviled – A term describing food that is dark, rich, chocolate, spicily piquant or stimulating it is "deviled."  The term "deviled" for spicy foods dates back to the 18th century.  Deviled dishes were popular throughout the 19th and into the 20th centuries, especially for seafood dishes.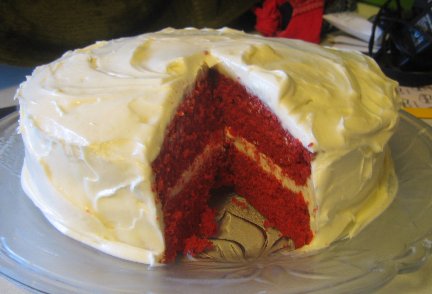 History:
This cake probably goes back in history and existed in the southern states where the cake was originally made from beets and cocoa.
1902 – Devil's food cake was the favorite dessert of the early 1900s.  In 1902, the recipe first appeared  in an American cookbook called Mrs. Rorer's New Cook Book by Sarah Tyson Rorer.  By 1913, recipes began appearing in cookbooks across America.
1950s – Some people think that this cake originated in the 1950s at the Waldorf Astoria Hotel.  The restaurant archives cant produce any evidence or records of this, but because this version is so popular, the restaurant likes to take credit for it.
1940s – In the 1940s, a rumor was spread that a customer asked for a copy of the recipe and was given a bill in the amount of $100.  According to the rumor, the angry customer, apparently with revenge in mind, then began circulating the recipe along with her story.  As with most urban legends, they seem to have a life of their own, creeping through a society one person at a time.
1970s – In the 1970s, the cakes popularity faded when red dye was linked to cancer.
Red Velvet Cake (Devil's Food Cake) Recipe:
This recipe was shared with me by my daughter, Brenda Weller. The original recipe was from the Cakeman Raven of Cakeman Raven Confectionery, NYC.
Keyword:
Devils Food Cake History and Recipe, Red Velvet Cake Recipe
Servings
:
6
to 8 servings
Ingredients
Red Velvet Cake:
2 1/2

cups

flour

(all-purpose)

1 1/2

cups

sugar

(granulated)

1

teaspoon

baking soda

1

teaspoon

salt

(use regular salt, not coarse salt)

1

teaspoon

unsweetened cocoa

4

Large Eggs

1 1/2

cups

vegetable oil

1

cup

buttermilk,

room temperature

2

tablespoons (1 ounce)

red food coloring

(optional)*

1

teaspoon

white distilled vinegar

1

teaspoon

pure vanilla extract
Cream Cheese Frosting:
1

pound

cream cheese,

softened

4

cups

powdered sugar

(confectioner's sugar), sifted

1

cup

butter,

unsalted, softened

1

teaspoon

pur vanilla extract
Instructions
Red Velvet Cake Instructions:
Preheat the oven to 350 degrees F. Lightly oil and flour 3 (9- x 1 1/2-inch round) cake pans.

In a large bowl, sift together the flour, sugar, baking soda, salt, and cocoa powder; set aside.

In another large bowl, whisk together the vegetable oil, buttermilk, eggs, food coloring, vinegar, and vanilla extract.

Using a standing mixer, mix the dry ingredients into the wet ingredients until just combined and a smooth batter is formed. Divide the cake batter evenly among the prepared cake pans. Place the full cake pans in the oven, evenly spaced apart.

Bake approximately 30 minutes, rotating the pans halfway through the cooking, until the cake pulls away from the side of the pans, and a toothpick inserted in the center of the cakes comes out clean.  Cake is done when the internal temperature registers approximately 205 to 209 degrees F. on your cooking thermometer.

Remove the cakes from the oven and run a knife around the edges to loosen them from the sides of the pans. One at a time, invert each cake onto a plate and then re-invert them onto a cooling rack, rounded-sides up. Let cool completely before frosting.

Once cakes are cooled, frost the cake:

Place one (1) layer, rounded-side down, in the middle of a cake stand or platter:

Using a palette knife or spatula, spread some of the cream cheese frosting over the top of the cake (spread enough frosting to make a 1/4 to 1/2-inch layer or frosting).

Carefully set another layer on top, rounded-side down, and repeat.

Top with the remaining layer and cover the entire cake with the remaining frosting.

Sprinkle the top with the pecans.

Makes a cake large enough to serve 6 to 8 people (depending on the size of the slices).
Cream Cheese Frosting Instructions:
In a standing mixer fitted with the paddle attachment or with a hand-held electric mixer in a large bowl, mix the cream cheese, powdered sugar, and butter on low speed until incorporated. Increase the speed to high, and mix until light and fluffy, approximately 5 minutes. NOTE: Occasionally turn the mixer off, and scrape the down the sides of the bowl with a rubber spatula.

Reduce the speed of the mixer to low. Add the vanilla extract; raise the speed to high and mix briefly until fluffy (scrape down the bowl occasionally).

Store in the refrigerator until somewhat stiff, before using. NOTE: May be stored in the refrigerator for 3 days.

Makes enough to frost a 3 layer (9-inch) cake.
Comments from Readers:
I was recently going through some of my backlog of alerts, one of which has to do with Mrs. Rorer.  In it I came across the following startling statement:  "Devil's Food Cake is also know [sic] as Red Velvet Cake, Red Devil's Cake, Waldorf Astoria Cake, and $100 Dollar Cake.  A beautiful mild chocolate flavor cake that is startlingly red."
Devil's Food Cake is NOT the same as Red Velvet Cake.  See Rorer's recipe, which you mentioned.  While there is a Red Devil's Food Cake, it still is not the same as Red Velvet Cake.  For one thing, the former did not contain food coloring; the color was achieved through a chemical reaction.  Red Velvet Cake, on the other hand, contains a hefty amount of red food coloring and a paucity of cocoa.
Sorry to be a a bit strident, but my friend and I have a hatred for Red Velvet Cake, so this struck a bad note. – Jean B.
Comments and Reviews