This Gooey Butter Cake consists of a dry, flat base covered with a "goo" mixture.  It is sticky and chewy and very delicious.  This ultra-sweet treat is a St. Louis tradition and available in local bakeries all around the city of St. Louis.  The original cGooey Butter Cake was made with a yeast-raised sweet dough on the bottom, but now days most recipes use a cake on the bottom.  It is generally served as a type of coffee cake and not as a dessert cake.

Gooey Butter Cake History: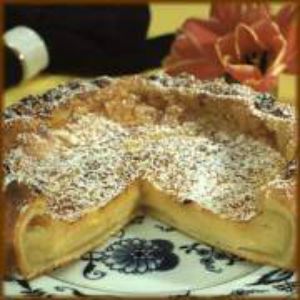 The Gooey Butter Cake originated in the 1930s.  According to legend, a German baker added the wrong proportions of ingredients in the coffee cake batter he was making.  It turned into a gooey, pudding-like filling.

Check our the following two different family stories on the creation of the Gooey Butter Cake:
(1)  Information from Richard Danzer (November 22, 2006) – Saw your web site and thought you may want the real story on gooey butter cake:
In late 1942 or early 1943, Johnny Hoffman of St. Louis Pastries Bakery was working on a Saturday and made what eventually turned out to be Gooey Butter Cake.  You're right, it was a mistake!  He subsequently called Herman Danzer, my dad, and told him he thought he may have something and asked to come to my dad's shop on Spring & Gravois to see if they could duplicate it.
They worked all Saturday, and through many trials and errors got it pretty good. The final batch they made, my dad suggested they add glycerin to get it really gooey.  It worked – whereupon my mom, Melba Danzer, came into the shop from the store to see what these two guys were doing. When she tried it she said "this sure is gooey"  subsequently, the name.
My mom is still alive and, although the Baker's Co-operative is now disbanded, most of the former members get together twice a year for a dinner.  I had the privilege of attending the last one while I was in town. The oldest active baker is, if I recall correctly, 96. Also, I believe the Master Retail Baker's Assn. has disbanded.
I trust this will help clarify the origin of Gooey Butter Cake.  The information above is the extent of what I have – having grown up in my fathers' (Danzer's Bakery) bakery – both on Spring & Gravois and later on Taft & Gravois across from the Granada Theatre.  Shortly after a near fatal illness in 1956/1957, my father went with PVO/Blanton rising to National Sales Manager and ultimately had as his customer base McDonalds, Burger King, Entenmens, etc.  He co-authored a recipe book utilized by Baker's across the nation.
The information I have is from my mother who worked with him all those years from 1939 to 1957.  My father, Herman Danzer, passed in 1997.  My mother, approaching 89, does not have his recipes nor would she have any way of proving the "Gooey Butter Cake" origin.  Until it's disbanding a few years ago, she remained a member of the Master Retail Baker's Association of Greater St. Louis as they were vested members and stock holders.
This is the best I can do for you, so, the true story will remain a matter of conjecture.
(2)  Information from Marilyn (Koppe) Galati, West Chester, OH (October 30, 2008) – My granddaughter sent me your website because she would like to learn more about her great grandfather's contribution to one of the best cakes ever.  Our following family history will add to the confusion of who invented or first made the Gooey Butter Cake:
My father, John Koppe, a St. Louis baker, also developed the Gooey Butter Cake in the early 1940s. My father was a Master Baker, and he owned and operated Koppe Bakery during World War II on California and Arsenal Streets in South St. Louis.  His shop was located on the corner of two major bus lines, so people who were transferring would often stop in while waiting for their bus. 
The Gooey Butter Cake was a smash hit with customers.  The lines of customers spilled out the door and around the block.  This cake was very gooey, rich, and exceptionally delicious!  I remember that the goody butter cake is best described as very "GOOEY."  You could eat it with a spoon!  The top was sprinkled with powdered sugar and the edge was slightly crispy to hold it together – almost like a pudding.  It was baked in a square shape and, of course, was light colored, like butter.
Following the end of the war, dad sold his business and went to work for the St. Louis Pastry shop on Meremac and Virginia streets for Marge Langer.  It was there that he gave them the recipe and it too, sold like hotcakes.  I also worked there as a clerk in the storefront.
As far as I know, my father "created" the gooey butter cake.  I was a child then and do not remember the year but it was well before 1950 (I know this for sure).  There is no proof that I know of about the creator of the recipe, but it could have been an accident.  My father was friends with a lot of the other Master Bakers in the city, so I imagine they shared recipes and tips.  They were all members of the same union.  Both of my parents are deceased and no records were kept.  It's all just childhood memories.  I was just a child then, but remember how the store would be packed with customers, and the popularity of the Gooey Butter Cake.  His recipe may have varied from the others in production.  The cakes produced today do not taste anything like dad's.
Gooey Butter Cake Recipe:
This recipe is from my cookbook, I'll Have What They're Having – Legendary Local Cuisine, by Linda Stradley.
Keyword:
Dessert, Gooey Butter Cake, Gooey Butter Cake History, Gooey Butter Cake Recipe
Ingredients
1

(18-ounce) package

yellow cake mix

1

large

egg

1/2

cup

butter,

melted

1

(8-ounce) package

cream cheese,

room temperature

2

eggs

1

teaspoon

pure vanilla extract

4

cups

powdered sugar

(confectioners')

Powdered sugar

(confectioners'), for dusting top
Instructions
Preheat oven to 350 degrees F. Lightly grease a 13- x 9-inch baking dish.

In a large mixing bowl, combine yellow cake mix, egg, and butter. Press mixture onto bottom of prepared baking dish; set aside.

In a medium bowl, beat cream cheese until creamy; add the 2 eggs and vanilla extract. Blend in powdered sugar until well mixed. Pour batter into the crust-lined baking pan.

Bake 30 to 40 minutes or until cake is nearly firm when you shake if (you want the center to be a little gooey, so do not over cook the cake). Remove from oven and let cake cool in the cake pan on a wire rack.

When cool, remove to a serving plate and sprinkle with powdered sugar.

If making ahead of time, refrigerate in an airtight container up to one day.
Source:  Photo from Diana Baker Woodall's website Diana's Desserts.
Comments and Reviews