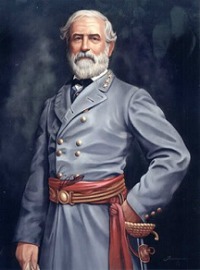 Also called General Robert E. Lee Cake.  One of the most famous Southern American cakes of all times.  Making this cake is definitely a labor of love because it is not simple to do.  There are many recipes and many versions in old southern cookbooks (this cake was extremely popular in the nineteenth century).  No two authorities seem to agree on the egg content of the cake (ranging from eight to ten eggs).  The icing also varies with each recipe.
The Robert E. Lee Cake was traditionally believed to be a favorite of the Civil War general who led the confederate troops in the Civil War, although this is difficult to confirm.  Most sources date the first written version of Robert E. Lee Cake to 1879, and General Lee died in 1870.  A reference in the book The Robert E. Lee Family Cooking and Housekeeping Book (1997) by Anne Carter Zimmer, suggests that a recipe for citrus layer cake was well-known in the Lee family but never written down.
This cake, an orange and lemon layer cake, was probably made to honor Robert E. Lee (1807-1870), commander-in-chief of the Virginia forces during the American Civil War.  For some southerners he is an almost god-like figure – for others, he is a paradox.
Following the war, Lee was almost tried as a traitor, but was only left with his civil rights suspended.
1879 – In the cookbook, Housekeeping In Old Virginia; Contributions from Two Hundred and fifty of Virginia's Noted Housewives,  Distinguished For Their Skill In The Culinary Art And Other Branches of Domestic Economy, Edited by Marion Cabell Tyree:
Robert E. Lee Cake
Twelve eggs, their full weight in sugar, a half-weight in flour.  Bake it in pans the thickness of jelly cakes.  Take two pounds of nice "A" sugar, squeeze into it the juice of five oranges and three lemons together with the pulp; stir it in the sugar until perfectly smooth; then spread it on the cakes, as you would do jelly, putting one above another till the whole of the sugar is used up.  Spread a layer of it on top and on sides.  –  Mrs. G.

Gen. Robert Lee Cake
10 eggs.
1 pound sugar.
1/2 pound flour.
Rind of 1 lemon, and juice of 1/2 lemon.
Make exactly like sponge cake, and bake in jelly-cake tins.  Then take the whites of two eggs beat to a froth, and add one pound sugar, the grated rind and juice of one orange, or juice of half a lemon.  Spread it on the cakes before they are perfectly cold, and place one layer on another.  This quantity makes two cakes.  – Mrs. I. H.
1890 – The General Assembly of Virginia passed a law to designate Robert E. Lee's birthday (January 19th) as a public holiday.
1904 – The legislature added the birthday of Stonewall Jackson to the holiday, and Lee-Jackson Day was born.
1984 – President Ronald Reagan declared the day in honor of Martin Luther King, Jr.  Virginia, who since 1978 had celebrated King's Birthday in conjunction with New Years Day, made the change and simply tacked him onto Lee-Jackson Day.  Thus Lee-Jackson-King Day was born.
2000 – Virginia Governor, Jim Gilmore, proposed splitting Lee-Jackson-King Day into two separate holidays, with Lee-Jackson Day to be celebrated the Friday before what would become Martin Luther King Day.  The measure was approved and the two holidays are now celebrated separately.  Virginians still observe Robert E. Lee Day by partying and making this famous cake.
Robert E. Lee Cake Recipe:
Keyword:
Lemon-Orange Frosting Recipe, Robert E. Lee Cake History and Recipe
Servings
:
8
to 10 servings
Instructions
Robert E. Lee Cake Instructions:
Preheat oven to 350 degrees F. Grease and flour two 9-inch cake pans.

In a medium bowl, sift together flour, cream of tartar, and baking powder; set aside.

In a large bowl, beat beat egg yolks until very thick and creamy. Gradually add sugar, a few tablespoons at a time, and continue beating until mixture is smooth and pale yellow. Stir in lemon zest and lemon juice; gently fold in the flour mixture until well incorporated.

In a large bowl of your electric mixer, beat egg whites until stiff peaks form. Fold 1/3 of the beaten egg whites into the egg yolk batter, then fold in remaining egg whites until no streaks remain.

Spoon batter into prepare cake pans. Bake approximately 20 to 25 minutes or until cake begins to pull away from sides of the pan. Remove from oven and let cool 10 minutes in the pan. Loosen edges with a knife and turn out onto wire cooling racks to finish cooling.

Prepare the Lemon Filling and Lemon-Orange Frosting.

When cake is completely cool, with a long-blade serrated knife, cut each layer horizontally in half to make four (4) layers.

Spread Lemon Filling between layers of the cooled cake. To keep cake from sliding to one side, insert a long wooden skewer into the middle and all the way to the bottom. Spread Lemon-Orange Frosting on sides and top of the cake.

Store cake in the refrigerator until serving time.
Lemon Filling Instructions:
In a medium saucepan over medium-high heat, combine lemon zest, lemon juice, and sugar. Bring just to a boil; reduce heat to medium-low and simmer 5 minutes. Add butter and stir until it has melted. Remove from heat and let mixture cool to room temperature.

When cool, beat eggs into the lemon-sugar mixture until well blended. Return to heat and cook, stirring constantly, 10 to 15 minutes or until mixture thickens and coats a spoon. Remove from heat.

Cool in refrigerator until ready to use.
Lemon-Orange Frosting Instructions:
In a medium bowl, beat butter until it has the appearance of thick cream. Beat in the lemon zest, orange zest, and lemon juice. Stir in the powdered sugar and orange juice, a little at a time; continue beating until mixture is very smooth (stir in enough orange juice to make a spreadable frosting).
Comments and Reviews